SMU Data and Models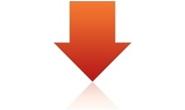 SMU Price Momentum Indicator Adjusted to Lower
Written by John Packard
August 16, 2016
---
For the past nine weeks, Steel Market Update (SMU) has had our Price Momentum Indicator at Neutral. A neutral rating means the market is either in transition or does not have enough momentum to push steel prices in one direction or another. Earlier today SMU adjusted our indicator to "Lower" from Neutral which is a sign that we anticipate flat rolled steel prices will move lower over the next 30 to 60 days.
We are making this adjustment due to the following circumstances which we believe are and will impact the market in the coming days and weeks.
First, we cannot ignore that the domestic steel mills have begun to compete for orders by adjusting base prices, freight considerations or extras (or a combination of the three) in order to fill their order books. As we look at benchmark hot rolled coil, the product peaked in the North American market the week of June 6th when the metal hit $635 per ton ($31.75/cwt average). Since then it has slowly eroded and has just broken through the $600 per ton level ($595 per ton or $29.75/cwt average).
Other flat rolled products have similar charts with prices peaking in early June and having come off modestly since then.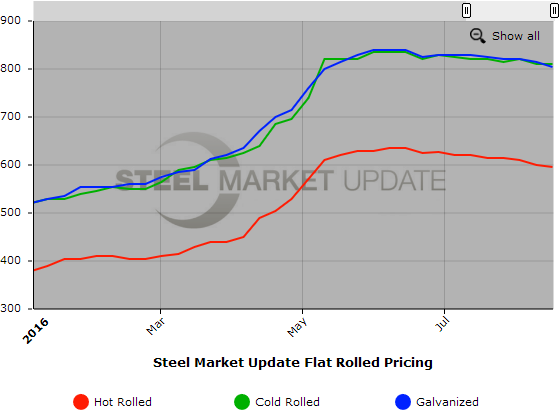 Lead times are changing and becoming shorter. The shorter the lead time the fewer purchases that need to be made thus putting pressure on the mills to adjust pricing in order to get orders released from their customers and placed on the mill.
When reviewing NLMK USA lead times from July 11th, we saw Farrell hot rolled lead times were the week of August 8th (5 weeks). Cold rolled fully processed (annealed) was the week of September 12th (10 weeks) and galvanized was the week of September 19th (11 weeks).
Now, more than a month has gone by and the NLMK USA lead times on hot rolled out of Farrell are the week of August 29th (3 weeks), cold rolled fully processed the week of October 3rd (8 weeks) and galvanized the week of September 29th (7 weeks).
We see similar results when checking the Nucor Berkeley lead times from July 12th against those dated August 15th. On July 12th hot rolled was being quoted for the week ending 8/13 on product out to 54" wide (5 weeks) and on August 15th the same product was being referenced as the week ending August 27th (2 weeks). Cold rolled went from 7 weeks down to 4 weeks while galvanized went for inquire only to 5 weeks.
Our sources are advising us that the "mini-mills" (EAF mills) are the most aggressive when it comes to hot rolled pricing as they are able to roll steel in less than two weeks if needed.
The Metal Service Center Institute (MSCI) released data earlier today showing flat rolled shipments in July as being off 10.4 percent year-over-year while inventories grew by 220,000 tons when the expectation was for a reduction in inventories. Our Apparent Excess model has flat rolled inventories going from a 164,000 ton deficit to a 48,000 ton excess during the month of July.
August imports, based on license data through today (16th), are pointing toward a 2.8 million ton month and flat rolled items are looking like no significant change from the last couple of months.
It is becoming clear that demand is not as good as was expected during the second half 2016. We will discuss demand in more detail later this week after we have concluded our analysis of the ongoing market survey we are conducting this week.
Based on these factors we are taking our SMU Price Momentum Indicator to Lower.
We do not think market prices will "crash" from here. Steel Market Update is not in the business of predicting steel prices. We will let others take the grief that goes along with those predictions.
We should receive a lot of good information about demand, pricing trends, imports and much more at our Steel Summit Conference at the end of this month.

Latest in SMU Data and Models