Steel Mills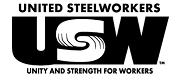 USW Files Grievance Regarding Worker Cuts at US Steel Gary Works
Written by Sandy Williams
September 7, 2016
---
The United Steelworkers have filed a grievance regarding recent layoffs and demotions at US Steel Gary Works.
USW District 7 Director Mike Millsap says the labor contract with US Steel does not permit layoffs and demotions without prior negotiation with union officials.
So far the union estimates 75 maintenance workers have been laid off from Gary Works and 200 more have received pay cuts. The latest cuts involved the demotion of about 25 to 30 full-time maintenance workers to labor gang.
Labor gang workers are paid $3-$9 less per hour, said Millsap, and are not afforded the opportunity of overtime.
Millsap said the union is also concerned that safety has been compromised by the lack of preventative maintenance and the amount of work orders waiting to be completed.
A preliminary hearing is scheduled for Thursday with a third-party arbitrator.
Latest in Steel Mills