Economy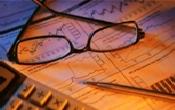 Manufacturing Expands in September According to ISM Report
Written by Sandy Williams
October 4, 2016
---
The Manufacturing ISM Report on Business showed manufacturing expanding in September after contracting in August. The Institute for Supply Management reports the September PMI was 51.5 percent, up 2.1 percent from the previous month.
New orders, production and employment gained 6, 3.2 and 1.4 percentage points, respectively. The index for inventories of raw materials rose one half percent to a reading of 49 percent. The prices index remained unchanged from August's reading of 53 percent, continuing a seven month run of higher raw material prices. Customer inventories increased 3.5 percent to 53 percent.
Supplier deliveries registered 50.3 percent, a decline of 0.6 percentage points from August. Readings above 50 indicates faster deliveries and below 50 indicates slower deliveries. Order backlogs contracted for the third consecutive month, registering an increase of 4 points to 49.5 percent.
New export orders grew at a slower pace in September, dipping from an index reading of 52.5 to 52.0 but continuing a seven month trend of expansion. Imports contracted for a second consecutive month but at a slower pace, gaining 2 points to register 49.0.
The overall economy, according to the ISM survey, is continuing an 88 month growth trend.
Of the 18 manufacturing industries surveyed, 11 reported contraction in September, including petroleum and coal products; transportation equipment; machinery, primary metal; fabricated metal products and appliances & components.
A selection of respondent comments follows:
"Business is still strong, but we are seeing some pushouts from certain consumer market products." (Primary Metals)
"Sales on the increase and positive outlook for the remainder of 2016." (Fabricated Metal Products)
"General business conditions are slowly improving with increased sales and sales leads." (Machinery)
"Some concern about fallout from the Hanjin Shipping bankruptcy. Spending time tracking containers — alternatives. Also, predicated on the impact to worldwide rates, there is some concern around both capacity and ocean rates in the near — to midterm future." (Transportation Equipment)
"Oil prices have increased with respect to the first quarter but they remain at low levels affecting our revenue and purchasing power." (Petroleum & Coal Products)
Below is a graph showing the history of the Institute for Supply Management Index. You will need to view the graph on our website to use its interactive features, you can do so by clicking here. If you need assistance logging into or navigating the website, please contact our office at 800-432-3475 or info@SteelMarketUpdate.com.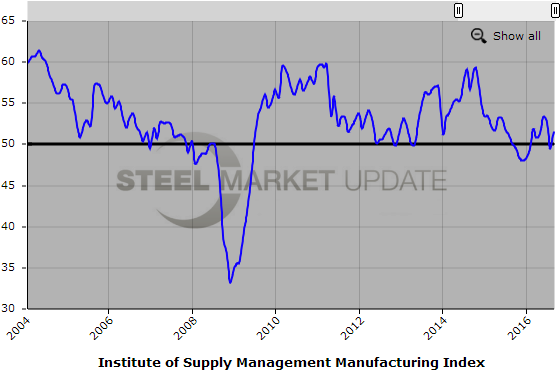 Latest in Economy