Steel Mills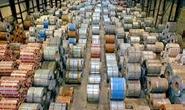 Steel Distributors Shipments Down 6.6 Percent in September
Written by John Packard
October 18, 2016
---
The trend for lower shipments and inventories out of the steel distributors in the United States continued during the month of September, according to just released Metal Service Center Institute (MSCI) data. The MSCI reported total steel shipments declined 6.6 percent compared to one year ago while inventories dropped 17.2 percent YOY.
September MSCI carbon steel shipment and inventories data showed demand as being below the normal seasonality expected.  September shipments were down 1.4 percent compared to August and the norm for September is for shipments to be up 1 percent MOM.
Total steel shipments were reported to be 145,000 tons per day down from the 146,900 tons reported for the month of August and well below the 155,300 tons recorded one year ago. There were 21 shipping days during the month of September.
Inventories (all products) declined by 237,700 tons and are 17.2 percent lower than what was reported one year ago. Based on the current daily shipment level distributors are holding 2.5 months supply up from the 2.3 months reported one year ago.
Carbon Flat Rolled
Flat rolled distributors' shipments dropped below 100,000 tons per day (98,600 tons/day) for the first time since March 2017 and were 2.3 percent below year ago levels.
Inventories of carbon sheet steel (flat rolled) dropped by 127,300 tons to 4,891,200 tons. The number of months supply which was at 2.2 months/supply at the end of August rose to 2.4 months/supply as of the end of September.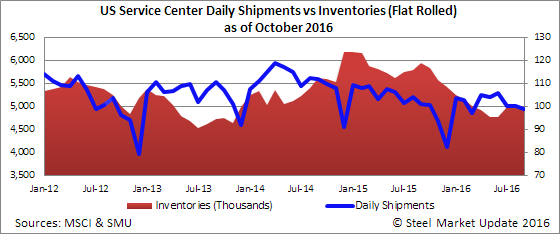 Plate
U.S. distributors of carbon plate products shipped 257,200 tons of plate during the month of September. The daily shipment rate was 12,200 tons per day which was the lowest shipping rate since December 2015. Plate shipments were 22.8 percent lower than year ago levels.
Inventories dropped by 45,800 tons month-over-month and the number of months supply rose to 3.0 months at the end of September vs. the 2.8 months reported at the end of August.
Pipe & Tube
Distributors in the United States shipped 186,000 tons of pipe & tube products at a daily shipment average of 8,900 tons per day. The shipment rate was down 14.3 percent below last year levels.
Inventories were reported to be 478,600 tons down from the 501,000 tons reported at the end of August. The number of months supply on hand based on the September daily shipment rate is 2.6 months. This is up slightly from the 2.5 months reported by the MSCI at the end of August.

Latest in Steel Mills