Steel Products Prices North America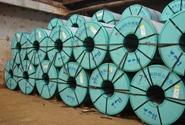 October and November Foreign Steel Import Analysis
Written by John Packard
November 17, 2016
---
With the antidumping (AD) and countervailing (CVD) duties cases on hot rolled, cold rolled and CORE (coated products such as galvanized and Galvalume) having gone through the investigation process, decisions on duties or deposit rates for various countries were announced in the Final Determinations. The US Department of Commerce (DOC) has issued deposit rates that were very favorable to the domestic steel industry and the expectation has been, for some time now, that import numbers would begin to decline.
Imports reached a peak monthly average of 3.7 million net tons during 2014. That was the year that imports peaked and raised the red flag to the domestic steel mills, leading to the filing of the flat rolled dumping suits in mid-2015. Imports have been slowly declining since then, but not as dramatically as was expected.
Imports averaged 3.23 million net tons per month during 2015 and so far this year foreign steel imports are averaging 2.76 million net tons per month. We have essentially returned to 2007 import levels. In 2007 foreign steel imports averaged 2.78 million net tons.
October imports will most likely be a tad above the 2.78 million ton level as the license data is suggesting a month around 2.8-2.9 million net tons.
November is trending a little lower at the moment with the license data collected by the DOC through the 17th of the month suggesting we could see the month come in around 2.6-2.7 million net tons. One area that is "light," based on the past couple of years, is the semi-finished tonnage. At this moment, November is trending toward a 326,000 net tons of slabs and the 12 month moving average is 538,000 tons.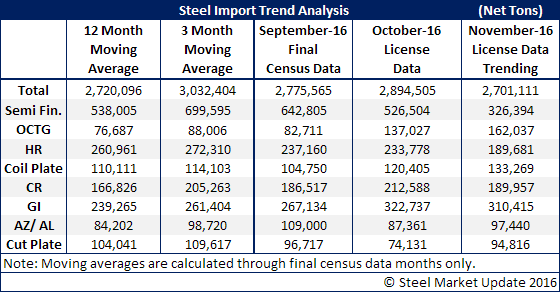 Perhaps more important is the percentage of apparent steel supply foreign tons are taking. In 2004 the percentage was 23.39 percent, in 2012 it was 24.05 percent, 2013 23.19 percent, 2014 28.25 percent, 2015 29.21 percent and so far this year it is averaging 25.34 percent.
Looking at flat rolled trend lines we are seeing lower imports on hot rolled and cold rolled. We are not seeing a slowing trend for galvanized steel and, in SMU's opinion, this is probably troubling to the domestic steel mills.
For the months of October and November license data is suggesting imports of galvanized in excess of 300,000 net tons. October at 323,000 net tons and November trending toward 310,000 net tons.
We believe that some of this is due to the circumvention complaint not yet hitting the Vietnamese orders that were produced or on the water at the time of the complaint filing. The September number was in excess of 50,000 net tons while October was closer to 40,000 net tons and November may be in the 30's.
Countries to watch when it comes to galvanized imports:
Thailand – there have been conversations between SMU and various trading sources who view Thailand as the next potential Vietnam.  Thailand shipped zero tons of galvanized to the United States in the 12 months prior to September 2016. Tonnage is now building with 6,800 net tons of licenses already requested for the month of November.
Egypt is now shipping galvanized to the U.S. as are Costa Rica, Guatemala, Russia, Pakistan and many others. You can find more information about those countries shipping steel to the United States on the SIMA website.

Latest in Steel Products Prices North America