Shipping and Logistics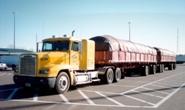 December Freight Report
Written by Sandy Williams
December 8, 2016
---
Early December logistic reports show no major problems in the shipping markets. Shipments on most transportation modes are expected to slow as the holiday season approaches.
A new Secretary of Transportation has been appointed by President-elect Donald Trump. Elaine Cho, former Secretary of Labor under President George W. Bush and Deputy Secretary of Transportation under President George H.W. Bush, will head the department responsible for maintaining and developing the nation's transportation and infrastructure system.
Seaborne Freight
MID-SHIP is "cautiously optimistic" about improvement in the dry bulk market in 2017. Supply and demand is slowing heading toward a balanced market as fewer new vessels enter the market following a year of ship scrapping.
Activity in the market is expected to slow as the holiday season approaches. China's coal imports continue to play a role in higher market rates. China coal imports were up 12 percent along with new highs for iron ore imports. Higher prices for oil are an indicator for an improved outlook for commodities in general, said MID-SHIP.
The Baltic Dry Index was 1,162 as of Nov. 7. In the past 52 weeks the BDI has ranged from 290 to 1,257. Yesterday's reading indicated a year-to-date return of 143.10 percent. The BDI tracks dry-bulk rates based on vessel size and shipping route and is a used as a benchmark for overall trade volume.
Said MID-SHIP in their final report for the year, "We will finish 2016 with freight rates on a much more positive note; we do expect 2017 to be another year of relatively soft freight rates (historically speaking). While vessel owners remain bullish, we cannot ignore the current forward curve for 2017 which is pointing to a correction in the current spot rates."
River
Cold fronts causing fog in the U.S. Gulf have caused barge delays between the Mississippi River and the Eastern Gulf. Repairs and replacement of the gate at the Industrial Lock in New Orleans is running about a week behind according to the Corps of Engineers. The lock is scheduled to reopen on Dec. 7.
On northern rivers, several lock closures are expected during the winter to accommodate repairs. Barge traffic is normally slow or non-existent on the upper Mississippi River during the winter due to freezing, making it an ideal to time to conduct repairs and maintenance.
Trucking
DAT Trendlines said load posts surged following the Thanksgiving holiday but the load-to-truck ratio was unseasonably high for all truck types. Flatbed load posts increased 59 percent and the load-to-truck ratio rose 27 percent to 18.8 loads per truck. The national flatbed rates increased 2 percent during the week with rates ranging between 3.22 per mile in the Northeast to $1.65 in the West. Diesel fuel was up 2.4 percent to$2.48 per gallon.
Rail
Rail traffic for the week ending December 3, 2016 rose 2 percent year-over-year to 53,130 carloads and intermodal units. . For November 2016, combined U.S. carload and intermodal originations were 2,638,197, up 1.1 percent from November 2015.
"There are glimmers of hope in rail traffic data in November, with carloads and intermodal totals both up over last year – something that hasn't happened for carloads in 22 months and for intermodal in nine months," said AAR Senior Vice President of Policy and Economics John T. Gray. "Hopefully, these results are indicators of continuing future growth for the manufacturing economy, for trade, and for rail traffic. It appears that economic fundamentals are trending toward more positive results than have been seen in the recent past."
Great Lakes
No ice on the lakes yet to disrupt freighter navigation. Last week a 100 foot section of sheet metal piling fell into the channel west of the Soo Locks. A ship's propeller wash broke temporary anchors on a wall of a pier that is under construction. The U.S. Army Corps of Engineers removed the obstruction to the navigation channel on Tuesday.

Latest in Shipping and Logistics