Economy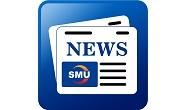 Flat Rolled Demand: Steel Buyers Commentary
Written by John Packard
December 15, 2016
---
Steel buyers and executives associated with the service center industry are reporting to Steel Market Update that end users are accepting that we are in a higher priced flat rolled steel environment and most have placed their first quarter 2017 tons. The expectation is for the market to "pause" here due to the holidays which are now just over a week away.
One large service center told Steel Market Update, "Data points are erratic this week.  Mills seem to have finally closed out the last of 2016 deals, so now we have to see who books well in January.  Quoting customers is a mixed bag if a competitor has old inventory or took a position using end-of-year deals.  The rapid fire price increases may have encouraged many to reload on inventory and protect their most stable and reliable customers, so if you're quoting new replacement costs the difference can look shocking.  Of course, we're doing the same thing back on the many customers we've positioned inventory for."
Most buyers are resigned to what they consider the fact that flat rolled steel prices will go higher from here. The question is one of timing and we have found on this the market is split. In our most recent flat rolled steel market trends analysis completed one week ago, 57 percent of the respondents believe there will be an increase prior to the New Year.
SMU has held many conversations with steel buyers and steel executives over the past week and based on those discussions the market seems to be split 50/50 as to whether the mills will move before January 1st. One of the mill executives told us in response to an inquiry we had made on the subject of the timing of any new steel price increase, "I think the market will decide that question. If bookings continue at current strong levels and lead times continue to extend there will be another announcement before Christmas. Otherwise I think it's a move after the next scrap bump." He then continued with, "Energy market recovery a positive that few expected this soon and that will move hot rolled."
Even so there are few in the steel industry that believe this market is long in the tooth but rather it is still cutting its teeth. With the restrictions of domestic supply due to furnaces being off-line at USS Granite City (where they will restart their hot strip mill but they are not yet restarting steelmaking operations) and AK Steel Ashland as well as the lower foreign steel imports (and expectations of further reductions in the coming months) the steel mills have momentum on their side.
So, the real question then becomes where will we see true demand as we enter the first half 2017?
SMU reported recently the comments made by Dr. Alan Beaulieu of the Institute for Trends Research at the recently concluded HARDI annual conference. Dr. Beaulieu told the HARDI members to anticipate 2.5 percent GDP (gross domestic product) growth during calendar year 2017. He said, "2.5 to 3.5 percent growth is good business. You should be making profit at those numbers."
For the wholesalers as a group, Dr. Beaulieu forecast 7.1 percent growth and for manufacturing a 3.9 percent rate of growth for 2017. All of these are very bullish numbers for the steel industry (SMU note: Dr. Beaulieu will once again be a featured speaker at our 2017 SMU Steel Summit Conference which will  be held in Atlanta, Georgia on August 28-30th).
Looking at demand from a market trends (our survey) perspective we are seeing demand growth as being in line with what we were reporting at this time one year ago. The optimistic point of the past few market trends analysis conducted by SMU is we are seeing fewer respondents reporting demand is in decline compared to one year ago.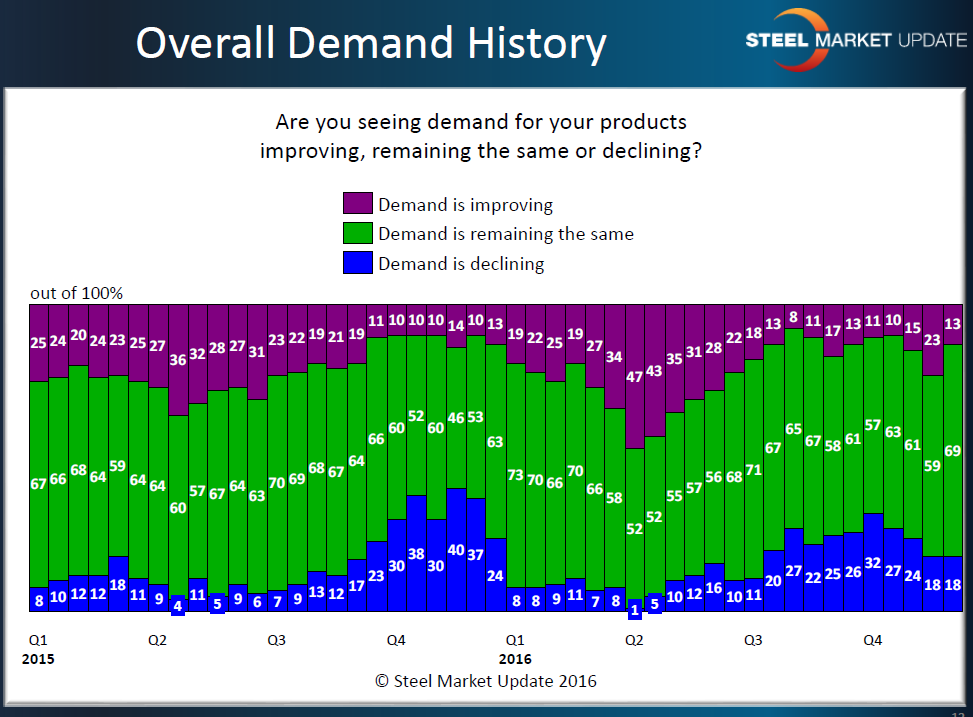 What is SMU Hearing in the Marketplace?
Steel Market Update discusses market conditions and how companies are seeing future business on an almost daily basis. Earlier today the president of a Midwest based service center told us that he had met with two of his customers from different industries and they both were forecasting 10 percent growth for 2017.
An executive with another large service center located in the Southern U.S. told us they expect "normal" growth in 2017. However, he continued his comments with the following observation, "I'm now thinking that this market has the potential to kick into the next gear and we could find ourselves back into frenzy mode. If we see outages/delays from winter weather up north, then it's almost guaranteed."
A Chicago based service center told us, "The market is very fluid right now.  HDG customers are unseasonably busy and prices are climbing quickly on fears of zinc increases and tighter restrictions on imports resulting from the circumvention case.  HR is the exact opposite, short lead times, customers are not busy, customers are frustrated by perceived supply manipulation by domestic mills pushing prices higher.  CR customers are more in the HDG camp than the HR camp, individual market segments are experiencing significantly varied degrees of demand.  We believe the normal price cycles will continue but the floor has been raised considerably due to NO Chinese supply and a great deal of uncertainty around the circumvention case & the precedent that it will set for all other imports. The sudden impact of the DOC agreeing to hear the circumvention case has caused a lot of the steel that was on the water not to arrive and customers have been caught short.  Forecast is for higher pricing for the for seeable future on light flat rolled products with the gap between HR & HDG continuing to expand.  Imports are increasing prices and keeping pace with the US market, a small value does exist.  The US market needs 20% to 30% imported steel to balance, and right now there is a shortage of qualified options.  My guess is that it will take 6 to 12 months to qualify a lot of the new import options before the market balances out."
From the East Coast we heard the following from a service center, "We are NOT forecasting strong demand for Q1. That matches what our customers are telling us. If they are wrong, expect steel shortages. Some foreign but very limited.  Very little HR that I would expect would NOT generate much interest. Yes, I expect another announced increase.  I do not know if it will stick, but it likely will."
A second East Coast service center said, "We are quite busy, but it is the last minute orders with quick deliveries that is keeping us this way.  No one is very optimistic with 2017…rather quiet on the contractual business.  Of course, everyone is wondering what our new government will bring to the manufacturing community and the distribution businesses. Prices are up and we expect another increase prior to the year-end.  Hot Rolled is $600-$630/short ton, Cold Rolled and coated items are $800-$820/short ton, fob the producing mills. Our biggest issue remains getting our customers to "buy-in" to the new prices.  Since they have no backlogs and not sure of where they are going in 2017, they believe they can say "no" to the increases.  Our experience is to wait it out and they give us the orders.  Not sure if it is a good price or others are out of steel. We are out of the spot market, at this time, since everyone is trying to get higher prices and we are not in need of many items. Foreign steel is limited, when it comes to offers.  The last price we received, yesterday, was $37.50 cwt delivered.  Pretty good price, but we have better pricing from other vendors.  I am sure the offer will sell out, since there are few offers coming from the foreigners."
A construction related manufacturing company told us, "Demand is still good as it was last year at this time. Our Nov was better than last November and our December is tracking about 2% better than last Dec. Customer backlogs are strong and labor continues to be the limiting factor for them. So, if good weather continues the 1st qtr will be good on natural demand. But as we component manufacturers start sending out our increases, then 1st qtr will be big as it will pull in some spring business."
Out of the Southeast we heard from a steel buyer, "…Customers are just figuring out prices are up.  Tons of quoting going up but most people just don't understand what limited availability there is on foreign. Got a quote today from Turkey and shipment was end of March.   None of us are happy about GC starting up.  Surprisingly it seems that USS has the cheapest contract pricing around.  Just getting ready for the holidays and no steel fairies dancing in my head for several days."
SMU Note: The temperatures in the Upper Midwest are dropping below zero. If these kind of temperatures continue over an extended period of time there will be an impact on the steel industry (be it equipment problems or the Great Lakes freezing over like they did a few years ago).

Latest in Economy