Steel Products Prices North America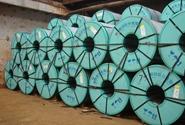 AIIS: U.S. Imports for Consumption of Steel Products December 2016
Written by Sandy Williams
January 30, 2017
---
U.S. steel manufacturers were successful in using trade cases to reduce steel imports into the United States, said AIIS. The report on steel imports from AIIS follows:
Falls Church, VA. January 27, 2017. Steel imports dipped 4.2 percent from November, coming in at 2.68 million net tons in December.
Despite the month-to-month decline, the total was still 14.6 percent higher than December 2015 imports.
Imports from the United States' NAFTA partners accounted for nearly the entire drop, with imports from Canada down 12.2 percent from November – but unchanged from a year earlier – at 434,000 net tons, and imports from Mexico down 16.9 percent – but up 49.1 percent from the previous December – at 249,000 net tons. Imports of 440,000 net tons from the European Union were 8.7 percent higher than the preceding month but 6.6 percent lower than in December 2015, while imports from Brazil decreased by 5 percent to 358,000 net tons and imports from South Korea slipped 3.2 percent to 263,000 net tons. Those totals were 85.6 percent and 12.1 percent higher than a year earlier, respectively.
For all of 2016, imports fell 14.9 percent to 33 million net tons. Among the United States' biggest trading partners, imports from the European Union recorded the biggest decline, 22.3 percent to 4.71 million net tons. This was followed by a 21.6 percent drop in imports from South Korea to 3.81 million net tons and an 18 percent decline in imports from Brazil to 4.36 million net tons. Imports from Canada fell 2.7 percent to 5.64 million net tons, while imports from Mexico, in contrast, increased 8.7 percent to 3 million net tons.
Semifinished imports in December were 76.3 percent higher than they were a year earlier at 539,000 net tons. The 2016 total of 6.48 million net tons, though, was 11.1 percent lower than in 2015.
There was a concerted effort in 2016 among domestic steel producers to reduce the amount of steel imported into the United States, and it was clearly successful. Trade enforcement actions have applied sometimes exorbitant duties to certain steel imports, driving up the effective average price of steel. This means that American businesses and consumers ultimately pay for these duties. In addition, the Trump administration has signaled that it will try to require the use of domestically produced steel in its planned infrastructure projects. This "America First" policy, besides most likely running afoul of World Trade Organization rules, will be nothing more than a subsidy to domestic companies paid for by U.S. taxpayers. If the steel import trends now underway continue into 2017 and beyond, the United States will risk both the health of its economy and its leadership role in the world.

Latest in Steel Products Prices North America