SMU Data and Models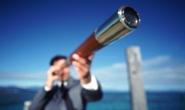 Steel Mill Lead Times: Stable to Slightly Shorter
Written by John Packard
February 19, 2017
---
Steel mill lead times, the time it takes for a new order to be produced by the domestic flat rolled steel mills, remain essentially unchanged from what Steel Market Update reported at the beginning of February. The lead times being reported are compiled by Steel Market Update as part of our flat rolled steel market trends analysis. The number of weeks shown by product are the average of the responses received from our questionnaire. Actual mill lead times will vary by mill and steel buyers need to be in contact with their steel mill suppliers to find out where their mill specific lead times are being promised.
Hot rolled lead times, at just shy four and a half weeks (4.40), are consistent with levels reported over the past couple of months. What is interesting is the average HRC lead time now is a week longer than what we reported one year prior (3.55).
Cold rolled lead times slipped slightly to 6.28 week from the 6.57 weeks reported at the beginning of the month. When looking at our data over the past couple of months, CR lead times peaked in mid-January 2017 at 7.15 weeks. We are now close to one week shorter than what we saw at that time. Last February lead times on CRC were reported as averaging 6.36 weeks or, about the same as today.
Galvanized lead times broke below 7 weeks and are now reported as averaging 6.71 weeks. Our respondents are reporting lead times as being a quarter of a week shorter than what we were reporting going back to mid-December 2016. Last year GI lead times were reported to be averaging 7 weeks.
Galvalume lead times were the same as what we recorded at the beginning of the month (6.90 vs. 6.89 weeks). In mid-December, our analysis reported lead times as averaging 7.8 weeks. Last February AZ lead times were reported by SMU as being 6.25 weeks.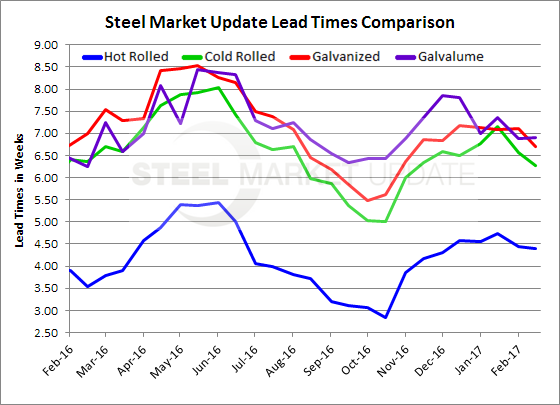 A side note: The data for both lead times and negotiations comes from only service center and manufacturer respondents. We do not include commentary from the steel mills, trading companies, or toll processors in this particular group of questions.
To see an interactive history of our Steel Mill Negotiations data, visit our website here.

Latest in SMU Data and Models