Service Centers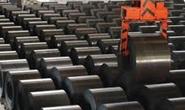 Service Center Inventories: Balanced, Too High, Too Low?
Written by John Packard
May 7, 2017
---
Steel Market Update (SMU) has been struggling to make sense of the most recent carbon flat rolled inventory numbers for service centers. What we learned from the MSCI did not match the conversations we were having with service center steel buyers across the country. SMU has been working on ways to provide a separate and independent review of distributor inventories. One of the ways is through our twice monthly flat rolled steel market trends analysis. We have added questions focused on inventories and, perhaps more importantly, how service centers are reacting to their current inventory situation either by becoming more active or less active buyer of flat rolled steels.
First, let's review what MSCI indicated for carbon flat rolled inventories on the service centers floors as of the end of March (April numbers will most likely be out during the week of May 15th). Total carbon sheet (flat rolled) stood at 1.82 month's supply.
The domestic steel mills quoted those numbers as did a number of the public service centers as a sign of the strength in this market. With inventories below 2.0 month's supply, the expectation is it is only a matter of time before there will need to be a major restocking effort by the distribution community.
The issue SMU has been having is we have not been hearing from the steel buyers at the service centers that their inventories are extremely low.
In the survey conducted this past week we asked the 53 service centers who participated where their company's inventories stood. This is what they told us: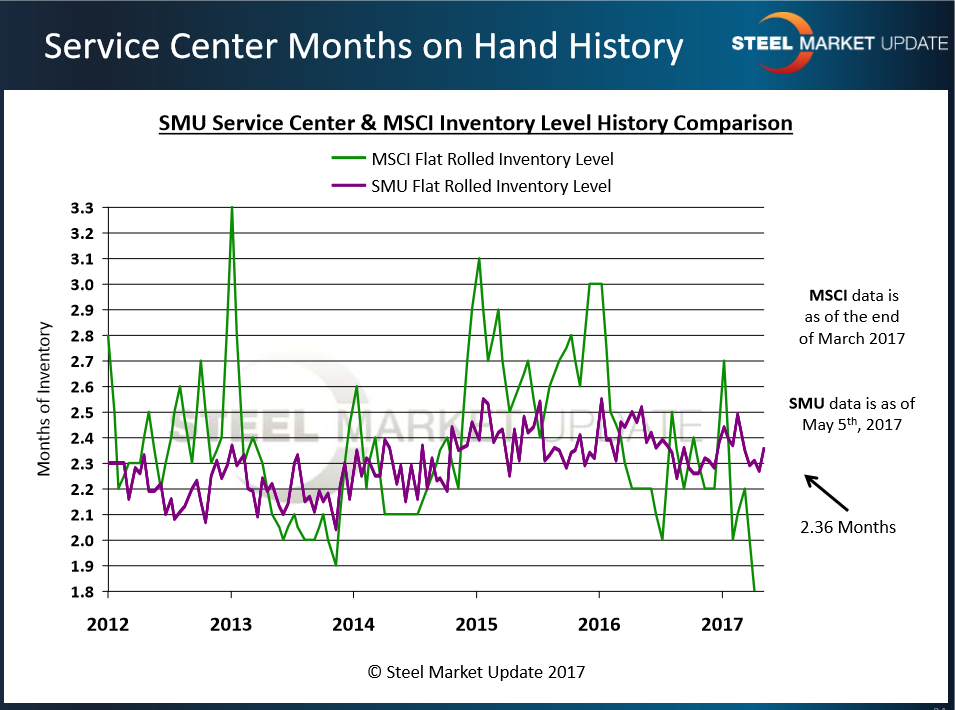 We have found through our survey process distributors tend to have inventories of 2.1 month's supply to as high as 2.5 month's supply. In our analysis, we do not give larger service centers more weight than the smallest distributor. All are treated equal.
The MSCI data has been out there and accepted for many years and SMU defers to the MSCI as having a proven track record and more developed analysis than the simple way we produce our numbers.
For the first time, in last week's survey we asked the service centers the "elephant in the room" question: "Does your company need to build back inventories or are you comfortable with the levels you are holding on your floor?" As you can see by the responses below the overwhelming majority of the service centers reporting to our survey last week believe their inventories are either in good shape (66 percent) or their concern was they had too much inventory (22 percent).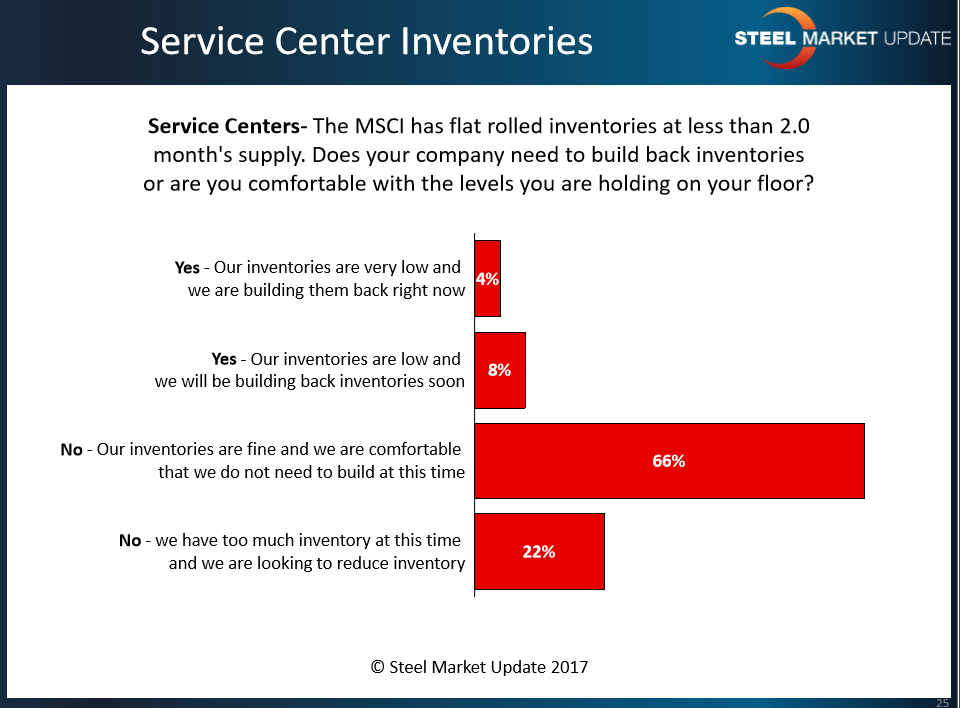 There is one question that we have been asking service centers since we began our flat rolled market trends analysis back in 4Q 2008.
What we see in the graphic below is service centers built back inventories in late fourth quarter 2016 and early first quarter 2017. Since then the move appears to be more focused on balancing or removing excess inventories.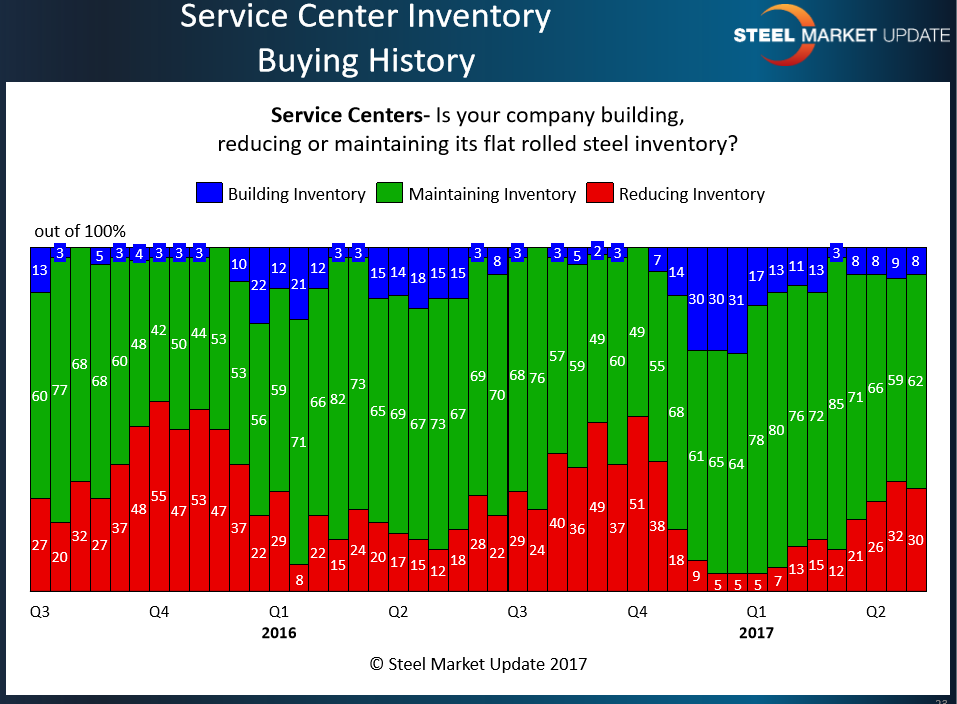 Service center inventories (or lack thereof) are a critical component to lead times and price direction. Steel Market Update will continue to review and improve our service center models in the hope that we can help answer critical questions when they arise.

Latest in Service Centers