SMU Data and Models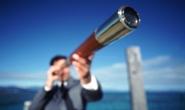 Steel Mill Lead Times are Shrinking
Written by John Packard
May 18, 2017
---
Flat rolled lead times have been shrinking over the past eight weeks according to the results of this week's SMU Flat Rolled Steel Market Trends questionnaire. Buyers and sellers of flat rolled steel are reporting shorter lead times than what we measured at the beginning of May and lead times on all products are much shorter than what we saw one year ago.
Shorter lead times are one of the keys when viewing future steel pricing. The shorter the lead time the more pressure on flat rolled steel pricing.
Hot rolled lead times slipped to 4.26 weeks. At the beginning of April lead times on HRC were reported to be 5 weeks (4.94 weeks). One year ago HRC lead times were 5.36 weeks.
Cold rolled lead times also dropped and were averaging 6.19 weeks down from 6.46 weeks at the beginning of May (6.78 weeks at the beginning of April). One year ago, CRC lead times were close to 8 weeks (7.92 weeks).
Galvanized lead times average 6.51 weeks, down from 6.82 weeks just two weeks earlier. One year ago, GI lead times averaged 8.53 weeks in mid-May 2016.
Galvalume lead times also dropped from 6.89 weeks at the beginning of the month of May and this week's 6.25 week average. One year ago, AZ lead times were reported to be 8.44 weeks.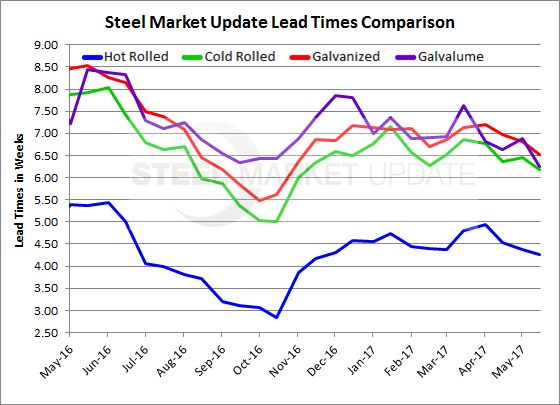 SMU Note: The data for both lead times and negotiations comes from only service center and manufacturer respondents. We do not include commentary from the steel mills, trading companies, or toll processors in this particular group of questions.
To see an interactive history of our Steel Mill Negotiations data, visit our website here.

Latest in SMU Data and Models