Service Centers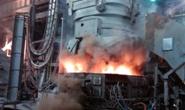 Schnitzer Expects Improved Results in Q4
Written by Sandy Williams
September 28, 2017
---
Schnitzer Steel Industries is expecting good results for its fourth quarter FY 2017, ending Aug. 31. Earnings per share are expected in the range of $0.60-$0.63, up from $0.59 in Q4 2016.
Autos and Metals Recycling ferrous net selling prices are expected to jump 25 percent year-over-year and ferrous sales volumes 7.0 percent. Although operating income of $27 to $28 per ferrous ton is expected to exceed that of $23 posted last year, income was adversely impacted by sharply higher ferrous market prices in August, which led to increased raw material costs, compressing margins on shipments contracted earlier in the quarter.
Cascade Steel and Scrap is expected to generate operating income of approximately $8 million for the fourth quarter of fiscal 2017, up from $3 million in the prior-year fourth quarter. Higher shipments of finished steel products, better finished steel metal spreads, and productivity improvements drove results. CSS's average finished steel selling prices are expected to increase by 7.0 percent and finished steel sales volumes by 20 percent compared to the fourth quarter 2016.
For fiscal 2017, total ferrous volumes, including internal and external sales by AMR and CSS, are expected to increase by 10 percent compared to fiscal 2016.
About Schnitzer Steel Industries
Schnitzer Steel Industries, Inc., is one of the largest manufacturers and exporters of recycled metal products in North America. The company operates facilities in 23 states, Puerto Rico and Western Canada. Schnitzer's vertically integrated operating platform includes retail auto parts stores, which sell recycled auto parts, and an electric arc furnace mill in McMinnville, Oregon, that produces finished steel products using recycled metal as its primary raw material.

Latest in Service Centers