Steel Products
Big River Steel Repays State Loan Early
Written by Sandy Williams
September 29, 2017
---
Big River Steel presented a check for $50 million to Arkansas Governer Asa Hutchinson for full repayment of a loan from the State of Arkansas—and did it 17 years early.
The early repayment of this $50 million loan is a strong indication of the financial strength of Big River Steel and reaffirms my confidence in the state's investment through Amendment 82," said Governor Hutchinson. "Not only has Big River paid off the loan early, but the company has strengthened our economy with hundreds of millions of dollars in investment."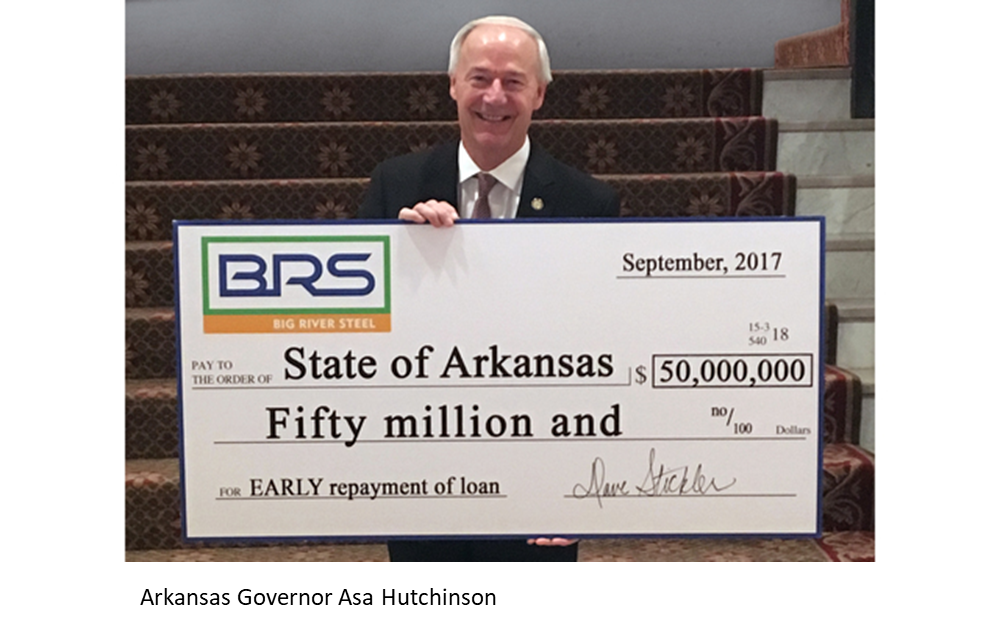 The loan from the state was part of a funding package that helped BRS to build its $1.2 billion scrap metal recycling and flat rolled steel production mill. In August, Big River announced the closing on $1.255 billion in financing that it is using to pay down its debts.
"Big River Steel is extremely proud to be able to repay our state of Arkansas $50 million economic incentive loan 17 years early," stated Big River Steel CEO David Stickler. "Arkansas is a great place to own and operate a business, and I look forward to exploring future growth opportunities with Governor Hutchinson."
Big River Steel is the single largest private investment in the history of the state of Arkansas. The company's Flex Mill produced its first steel in December 2016 and now has more than 120 customers in the automotive, energy, construction and agricultural industries.
{loadposition reserved_message}
Latest in Steel Products