SMU Data and Models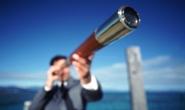 Flat Roll Lead Times Inch Down
Written by Tim Triplett
October 5, 2017
---
Flat rolled steel lead times have shortened up slightly since mid-September, according to the service centers and manufacturers who responded to Steel Market Update's market trends questionnaire this week. Lead time, which is the amount of time it takes for the domestic steel mills to produce a new order from the time the order was placed, is a rough indicator of the demand trend. The longer the lead time, the busier the mill and the stronger the demand. On average, flat rolled lead times are now less than four weeks for hot rolled, right at six weeks for cold rolled, a bit longer than six weeks for galvanized and a bit under six weeks for Galvalume.
As of Oct. 1, hot rolled lead times were reported to be averaging 3.60 weeks, down from 3.83 weeks in mid-September and 4.20 weeks in mid-August. A year ago, they were averaging 3.06 weeks.
Cold rolled lead times are down to 6.0 weeks from about 6.14 weeks in mid-September and mid-August.  The cold roll lead time has changed very little in the past two months, but is a full week longer than at this time last year.
Galvanized lead times are averaging 6.28 weeks, down from 6.43 a month ago, but up from 5.48 a year ago.
Galvalume lead times are now under six weeks (5.78 weeks), down from 6.55 weeks one month ago and 6.44 weeks one year ago.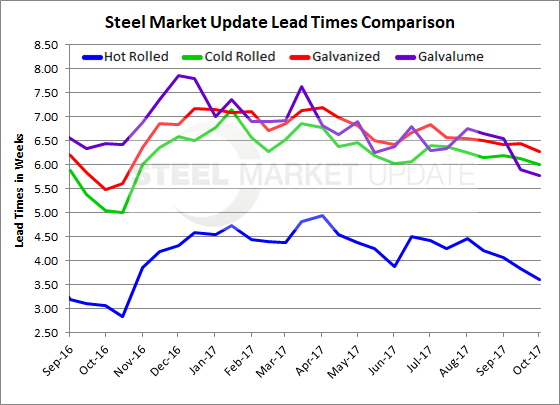 Note: These lead times are based on the average from manufacturers and steel service centers who participated in this week's SMU market trends analysis. Our lead times do not predict what any individual may get from any specific mill supplier. Look to your mill rep for actual lead times. Our lead times are meant only to identify trends and changes in the marketplace. To see an interactive history of our Steel Mill Lead Times data, visit our website here.
Latest in SMU Data and Models