Shipping and Logistics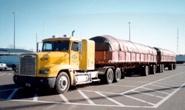 Shipping Hums Along in December
Written by Sandy Williams
December 4, 2017
---
It is a busy time for the shipping industries that move the nation's goods. Shipping sectors are busy lobbying for infrastructure funds to repair aging waterways, ports and rail lines. The U.S. rail system would like relief from regulatory burdens while independent truck drivers are asking for exemption from a new regulation that requires the installation of expensive electronic logging devices in trucks by mid-December. A healthy economy is spurring demand for goods along with seasonal increases resulting from the holiday season. Shipping rates are up in several sectors and capacity is tight in trucking. Following is a sampling of what has happened in the industry in the past few weeks:
Bulk Freight
Freight rates for bulk carriers are at the highest levels in three years, says the latest MID-SHIP Report. Spot rates have doubled and the market "is firm and appears to have good support in all sectors."  The dry bulk trade is expected to slow slightly in 2018, but early forecasts see a 3 percent gain for the sector next year.

The Baltic Dry Index, a benchmark for overall trade volume, rose even further since publication of MID-SHIP on Nov. 30.  As of Dec. 4 the index was at 1662.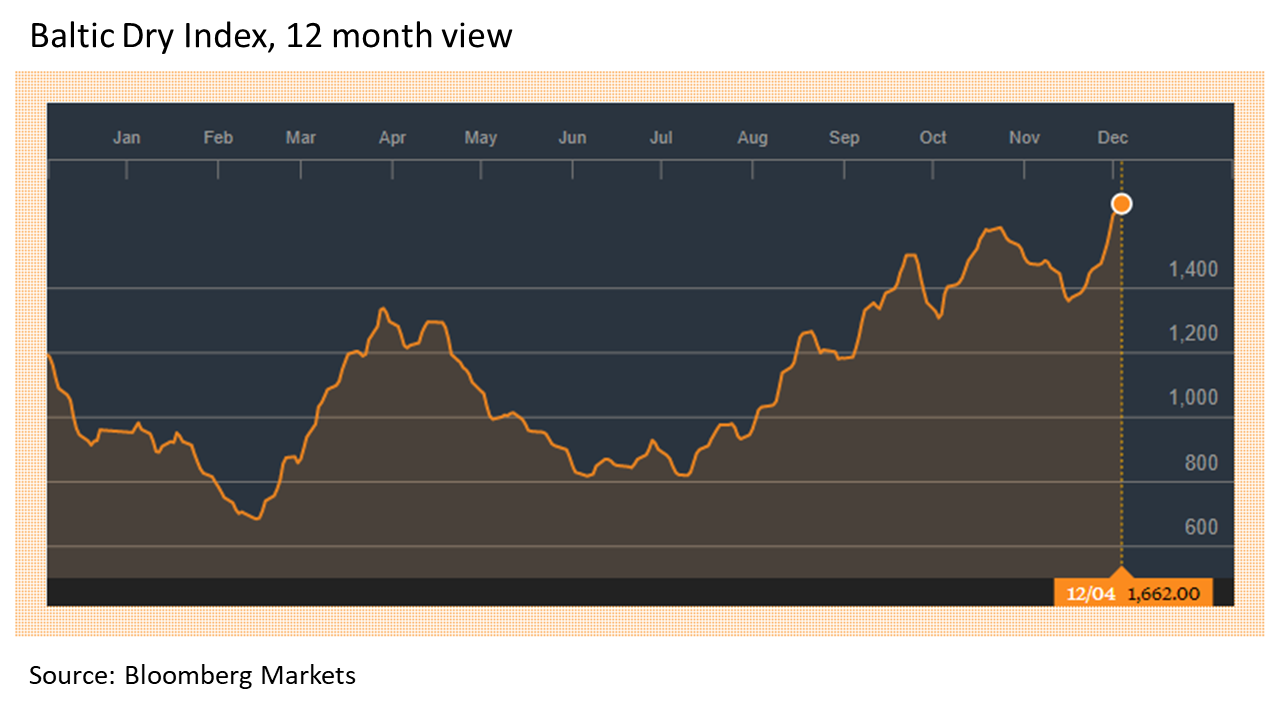 Barge
Continued congestion at Lock 52 on the Ohio River is driving up grain rates. The Lock has been closed while divers repair wickets in the navigation pass. The lock chamber is being used for tows while the repairs are underway, says MID-SHIP, but southbound tows of more than 12 barges cannot transit until repairs are completed.
Bulk commodities imports have increased to the U.S. Gulf, except steel imports. Steel tonnage to Mississippi barges was down to 77,000 mt, the lowest since November 2013.  A stevedore in New Orleans told MID-SHIP that they are expecting a further 25 percent reduction in steel-related business in the fourth quarter.
The Waterways Council is asking Congress to include $10 million in the FY 2019 budget for pre-construction engineering and design (PED) for the modernization and ecosystem restoration for seven locks along the Mississippi and Illinois Rivers. Arkansas and Oklahoma port operators are lobbying for funding to maintain the navigational integrity of the Marine Highway that carries an estimated annual 11.5 million tons of cargo worth about $4.3 billion. Backlog of critical maintenance projects on the waterway has increased 43 percent in two years, to $143 million. Operators along the system hope to have funding included in a potential infrastructure bill.
Trucking
Freight volumes surged following Thanksgiving, said DAT Trendlines. Rates increased for vans and flatbeds, while reefer rates were at an unseasonably high $2.43 per mile. Overall, spot market loads increased 64 percent during the week ending Dec. 2 compared to the previous week. 
Flatbed load-to-truck ratio jumped 18 percent to 30.6 loads per truck. Since spiking at 41.8 loads per truck in September, the ratio overall has been declining.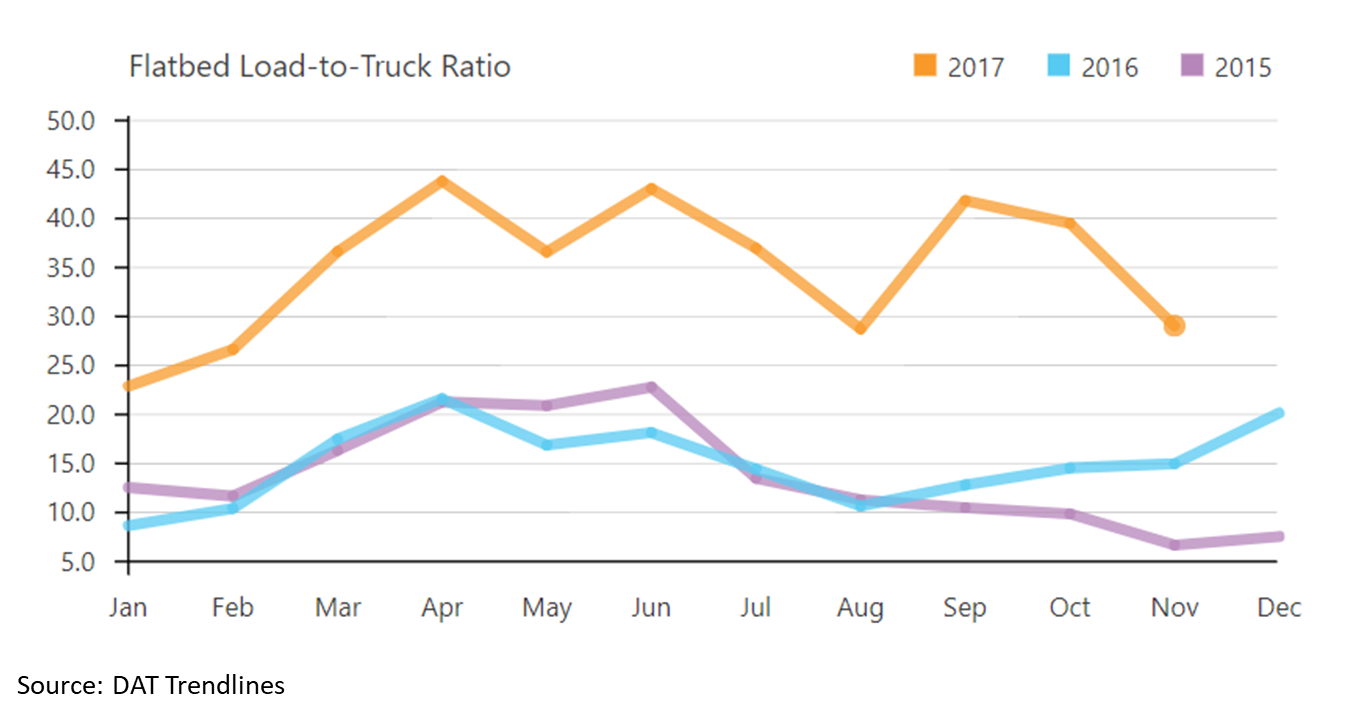 Flatbed rates increased one cent to $2.30 per mile in the week following Thanksgiving. Average price was highest in the Northeast at $3.91 per mile, followed by $2.90 in the Midwest, $2.55 in the South, $2.48 in the Southeast and $1.65 per mile in the Southwest. National average diesel price was $2.92 per gallon, a decrease of one cent.
Electronic logging devices for trucks will become mandatory as of Dec. 18. The Owner-Operator Independent Drivers Association has filed a petition with the Federal Motor Carrier Safety Administration to be exempted from the rule for five years, citing a safe driving record and the negative impact of purchasing ELDs. The OOIDA estimates it will cost $2 billion for the trucking industry to implement the new rule. OOIDA has 160,000 members that operate more than 240,000 individual heavy-duty trucks.
The American Trucking Associations released its latest forecast and projects that 15.8 billion tons of freight will be moved by trucks in 2017. By 2028, trucking freight is expected to rise 36.6 percent to 20.73 billion tons.
Rail
Rail traffic for the week ending Nov. 25 was up 2.4 percent year-over-year to 453,602 carloads and intermodal units. Metallic ores and metals increased by 1,616 carloads to 19,802.
The Association of American Railroads submitted comments to the Trump administration on Dec. 4 suggesting the repeal, replacement, suspension or modification of certain rules impacting the rail industry.
"The regulatory relief we call for," reads the filing, "is the license and flexibility to conceive, develop, and deploy innovative technologies and practices where they are effective and efficient, and to be regulated based on our success in achieving safety goals, not by outdated, prescriptive regulations."
Great Lakes
Wintry weather is expected to hit the upper Great Lakes this week with 45 mph wind gusts and snow accumulation of 5-9 inches. The seasonal closure of the Soo Locks and traffic on the Great Lakes-St. Lawrence Seaway System is tentatively scheduled for mid-January.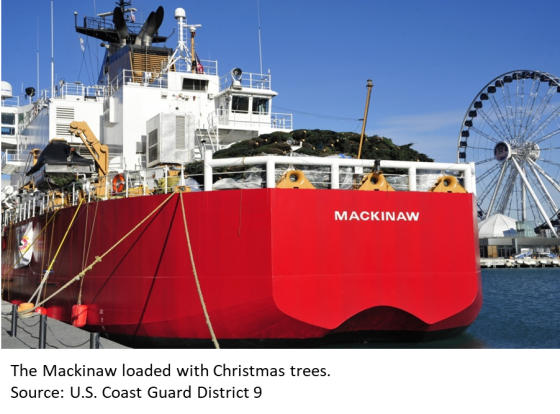 A tradition dating back more than 100 years took place Dec. 1 at Chicago's Navy Pier, when the Coast Guard Cutter Mackinaw delivered 1,200 Christmas trees for needy families in the Chicago area. The Mackinaw was the designated "Chicago Christmas Tree Ship" and delivered the trees from Northern Michigan that were purchased by private donations.
The annual trip is part of "Operation Fall Retrieve" where Great Lakes crews swap out or pull seasonal buoys before the ice season sets in. The buoys are replaced with smaller, lighter buoys, known as wintermarks or ice hulls, which are designed to ride underneath the ice but still stay on location.

Latest in Shipping and Logistics