Steel Products Prices North America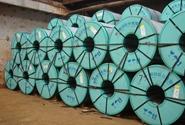 Despite AD/CVD Rulings, Imports Rise 13% in 2017
Written by Brett Linton
January 7, 2018
---
Foreign steel imports into the United States were almost five million net tons greater during 2017 than what was reported for 2016. The 13 percent rise in imports was primarily due to higher semi-finished (slabs/billets) being shipped to the domestic steel mills (+1,773,805 net tons). In addition, oil country tubular goods (OCTG) rose by 2,267,574 net tons, which was greater than during the "surge" year of 2014. Galvanized steel imports, at 3.4 million tons, were also higher than 2014.

There is some good news in the data released late last week by the U.S. Department of Commerce. Foreign steel imports declined during November and December 2017.
Final Census Data for the month of November revealed imports dropped 12 percent from October's 3.1 million tons to 2.7 million tons. November was well below the 12-month moving average, as well as the 3-month moving average (see table below).
The Department of Commerce also released new import license data for the month of December 2017, which shows the month coming in 11 percent below November's numbers and 22 percent below October levels.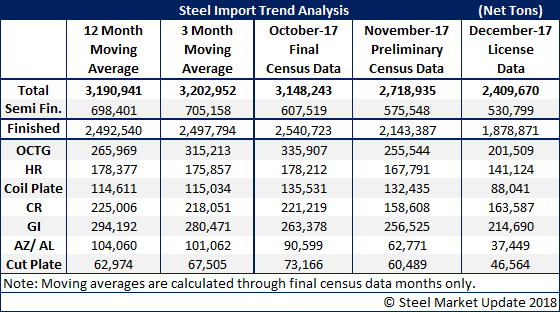 There's more good news in the data released by the DOC late last week. SMU compared the November and December totals with those from 2014, 2015 and 2016. As seen in the table below, November 2017 was slightly below the totals from the prior year and was well below 2014 levels. December looks even better, with imports well below 2016 and 2014 levels and pretty close to the 2015 totals for the month.

The key question is, will imports continue their downward trend into first-quarter 2018?

Latest in Steel Products Prices North America