SMU Data and Models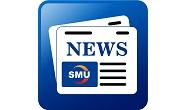 SMU Steel Buyers Sentiment Index: Less Confidence on the Future
Written by Tim Triplett
September 6, 2018
---
Future Sentiment, measured as both a single data point and as a three-month moving average (3MMA), is near its low point of the year as conflict on the trade front keeps buyers guessing.
Future Sentiment registered +55 in Steel Market Update's latest Steel Buyers Sentiment Index, down from +67 in mid-August. Current Sentiment registered +63, also down from two weeks ago when it measured +66.
The Current 3MMA, at +65.00, was basically flat from mid-August, and remains slightly below the +65.67 reading at this time last year. While still at optimistic levels historically, current sentiment is near its low mark for the year. Current sentiment peaked this year at +73.83 in mid-February.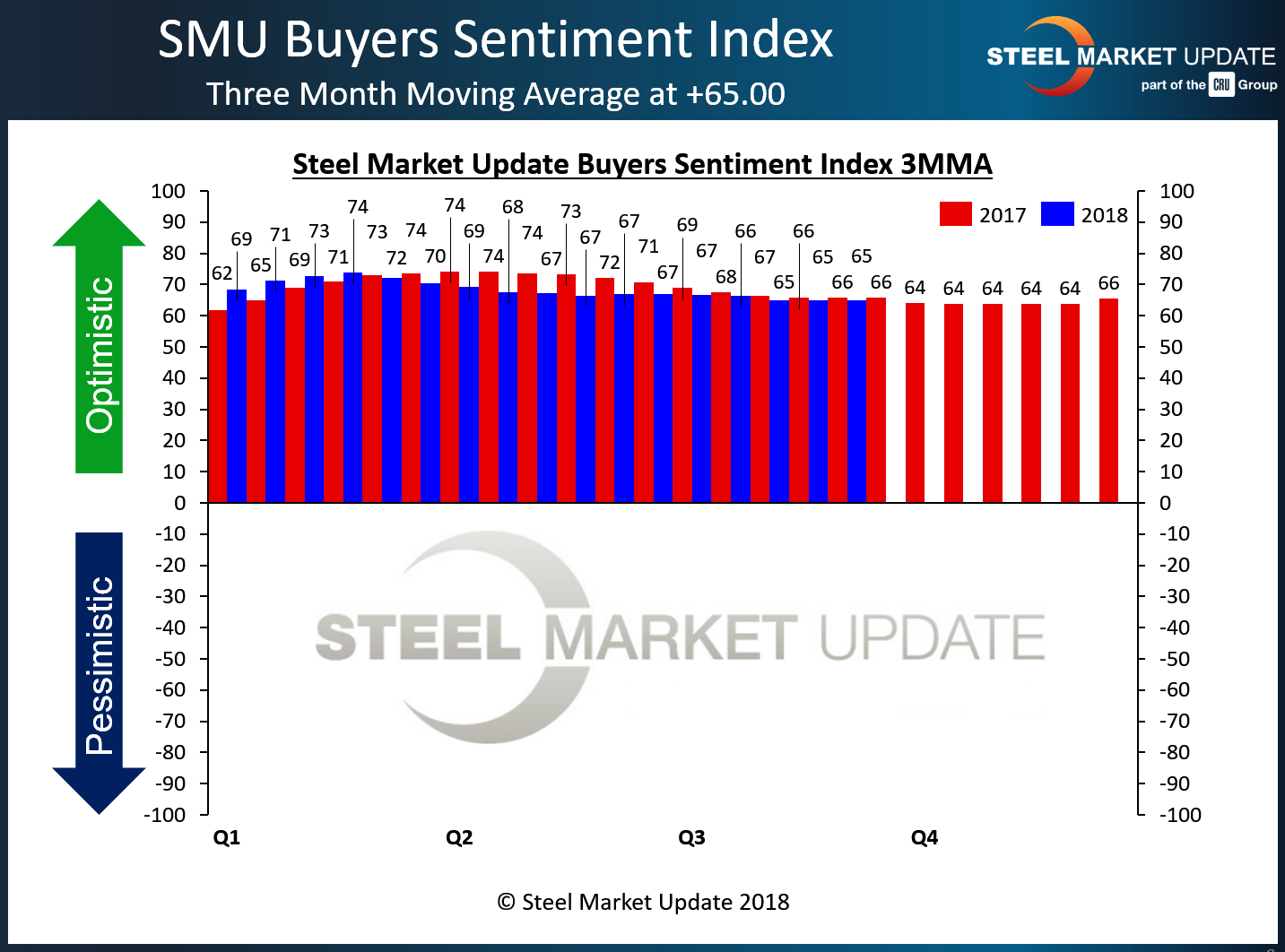 Future Steel Buyers Sentiment Index
Future Sentiment—how buyers and sellers of flat rolled and plate steel view their company's ability to be successful three to six months in the future—registered a 3MMA average of +59.50 in the latest data. That's a decline from 60.33 one month ago and from +67.17 at this time last year.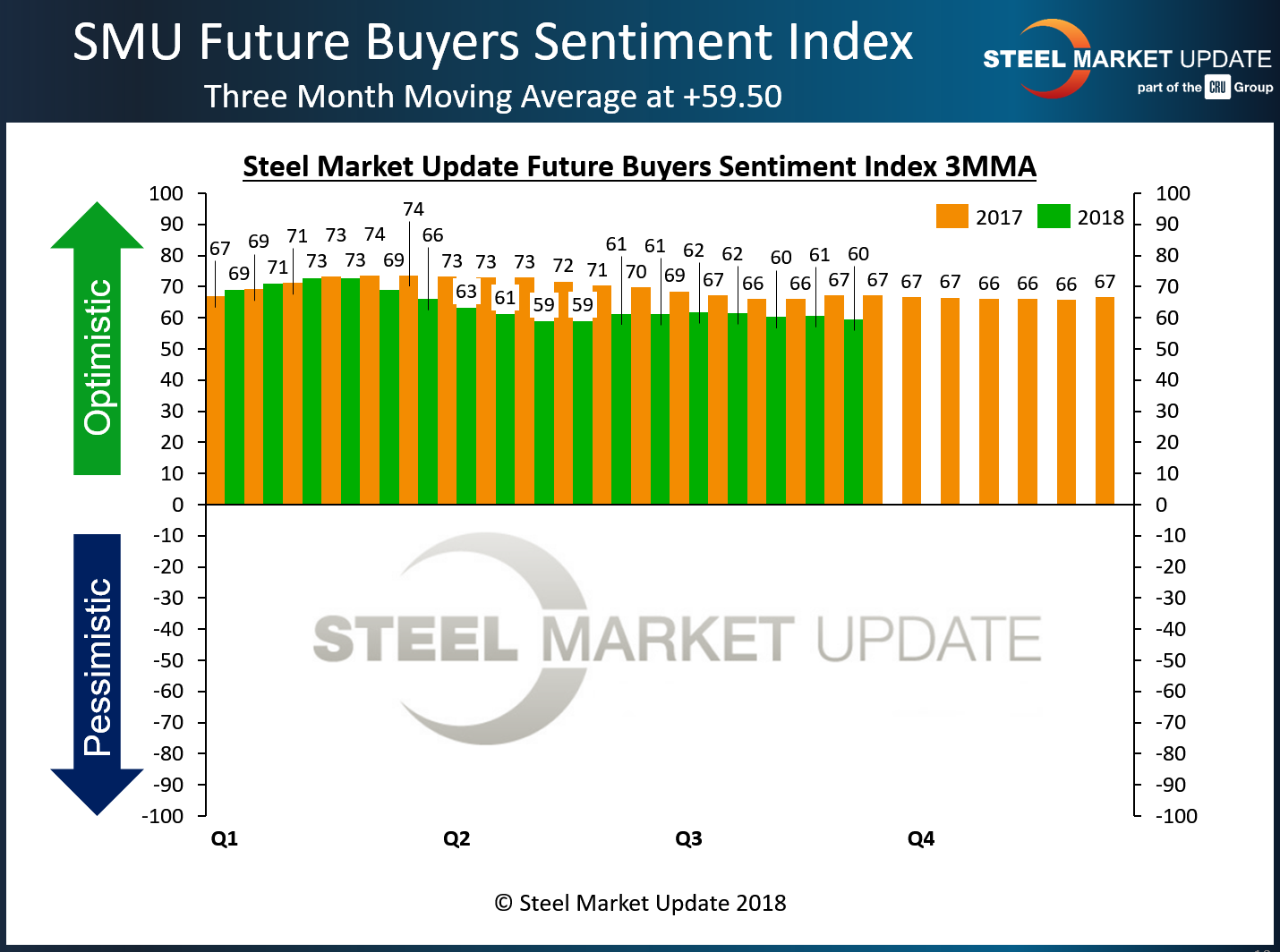 What Respondents are Saying
"Lead times appear to be falling. Not the sky, just lead times. That would be encouraging, except it is contract quoting season. Coating extras are falling. So, the mills have good reason to try and manipulate the supply side to push for higher priced contracts. Seems to me the mills will quickly look for ways to drive up lead times. Special offers to oil, gas, and water pipe manufacturers, perhaps?"
"Our goods are being replaced by Asian and European non-tariffed finished goods."
"There's still too much uncertainty, especially on trade."
"I continue to be concerned about other imports on the water and what Trump will tweet next."
"There are still too many variables and unknowns to feel comfortable."
"I think things will start to get worse, but I try to stay positive."
"I'm concerned that prices are falling and margins will get leaner, especially on light-gauge flat-rolled."
"Margins are very tight, but volume is good."
"We will adapt, but we will have to shrink in true tonnage output unless the playing field is leveled."
"The economy is still firing on all cylinders. I don't see things changing that much in three to six months."
"If Section 301 does go into effect, we will be able to compete with Chinese finished goods suppliers."
About the SMU Steel Buyers Sentiment Index
SMU Steel Buyers Sentiment Index is a measurement of the current attitude of buyers and sellers of flat rolled steel products in North America regarding how they feel about their company's opportunity for success in today's market. It is a proprietary product developed by Steel Market Update for the North American steel industry.
Positive readings will run from +10 to +100 and the arrow will point to the righthand side of the meter located on the Home Page of our website indicating a positive or optimistic sentiment. Negative readings will run from -10 to -100 and the arrow will point to the lefthand side of the meter on our website indicating negative or pessimistic sentiment. A reading of "0" (+/- 10) indicates a neutral sentiment (or slightly optimistic or pessimistic), which is most likely an indicator of a shift occurring in the marketplace.
Readings are developed through Steel Market Update market surveys that are conducted twice per month. We display the index reading on a meter on the Home Page of our website for all to see. Currently, we send invitations to participate in our survey to more than 600 North American companies. Our normal response rate is approximately 110-150 companies. Of those responding to this week's survey, 38 percent were manufacturers and 53 percent were service centers/distributors. The balance was made up of steel mills, trading companies and toll processors involved in the steel business. Click here to view an interactive graphic of the SMU Steel Buyers Sentiment Index or the SMU Future Steel Buyers Sentiment Index.

Latest in SMU Data and Models