Scrap Prices North America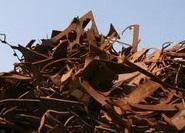 Ferrous Scrap Prices Settle Down $20-30 in September
Written by Tim Triplett
September 13, 2018
---
Ferrous scrap prices in most regions have settled down by $20 to $30 per ton in September and could fall further in October as mills schedule maintenance outages, report some Steel Market Update sources. Others believe stronger export demand could help sustain prices next month.
Prime grades declined by $20, while obsoletes dipped a bit more in some regions, reported Ryan McKinley, steel analyst for CRU North America. Strong flows into dealers' yards continued in August despite lower scale prices, but whether that will continue this month is unclear. "About half of the dealers I talked to say flows have slowed very little despite falling scale prices. The other half say their flows have been affected and they are seeing a noticeable slowdown."
Overall, mill demand for scrap remains solid on strong capability utilization rates, McKinley said. October scrap prices may have further to fall, however, given the upcoming mill maintenance outages. "October has seen an average price drop of about $30 per ton in each of the last five years because of mill outages, so at the very least there does not appear to be any upward movement at the moment," he noted.
Mike Marley at World Steel Exchange Marketing said ferrous scrap prices have slipped by an average of $20 per gross ton in September, though there were some deals down as much as $30 per ton in the Chicago area. This trend was driven by a few factors. For one, there was plenty of shredded and other obsolete scrap overhanging the market. At the same time, several mills scheduled maintenance outages for October and cut their scrap buys to match the lower output. That added to the oversupply and created a buying opportunity for other mills. Despite the ongoing freight problems and tight supply of trucks, dealer delivery performance reportedly has improved in the past month, which has added to the mills' scrap inventories. 
The U.S. market has stabilized at down $20 on shredded and busheling, agreed another SMU source. "There were a few buys of cut grades at down $25 to $30, but they were done early and not as the market seemed to be firming at the end of the buying period," he said. But export prices have rebounded in the last few weeks from around $305 to $328 per ton, which has taken some of the downward pressure off the market.
One dealer in the Northeast believes prices could move up in October, at least in the Ohio Valley. "Scrap exports remain strong and will keep a floor on the domestic market," he said. "There will be increased demand as the mills look to grow inventories into the fall."
Pig iron prices have remained stable at about $395 to $400 per metric ton delivered to New Orleans, said another source. "It's hard to say whether U.S. mills are still waiting for pig iron prices to continue to weaken before they make a buy. This [lower pig prices] seems rather unlikely, but they may win at the waiting game for a cargo or two." 

Latest in Scrap Prices North America