Scrap Prices North America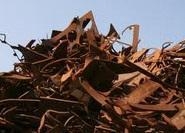 Ferrous Scrap Prices to Stop Their Slide in October?
Written by Tim Triplett
September 25, 2018
---
Ferrous scrap prices have been on the decline, but may find a bottom in October, as most Steel Market Update sources forecast flat to slightly higher pricing next month.
CRU Steel Analyst Ryan McKinley reports that sentiment seems to be building for a "strong sideways" market in October. "If this play's out, it will be the first October since 2013 where prices have not fallen between September and October. The last five years have had an average drop of $31 during this time period."
Mill maintenance shutdowns in October typically reduce demand for scrap, but there may not be as many mills taking outages this time around, McKinley said. Also, drops in scale prices are starting to affect inbound flows, and mills may not be willing to push prices lower and risk tightening supply. "On top of that, I don't think dealers are as willing to accept a price drop in October as they were in September."
"The market has clearly bottomed for the year, absent some black swan event," said a dealer in the Northeast. Any increases will be modest, he said, perhaps $10-15/GT across the board, possibly a bit more in regions that saw the biggest declines last month.
"October is definitely the bottom of the market," agreed another dealer in the North, calling that the consensus view, but he noted there is little agreement on how much prices might rise. Many shredders, seeing lower levels of infeed due to three months of declining prices, have started raising scale prices by $10-15/GT. "These same shredders are anticipating increases of at least this amount in October at the mills. The mills, on the other hand, are surveying the field to see if they can buy their shred programs from sideways to up $10/GT," he said.
"I have heard several mills are trying to line up fast moving tons of scrap at up numbers. This may mean they didn't get enough scrap last month. Northeastern dealers are looking for up $20," one source told SMU on Tuesday.  
Domestically, scrap demand remains firm despite the few mill outages scheduled for October, said the dealer from the Northeast. "As they typically do at this time of the year, mills will begin to think about owning scrap heading into the last quarter rather than have to chase it as we get closer to the end of the year."
Demand for scrap exports is lending support to U.S. prices, report various sources. Pricing for export scrap is up at least $20 from its bottom reached about four weeks ago on more consistent demand for both bulk and containers. The stable export markets for ferrous scrap will keep East Coast dealers from offering it to the inland mills. "At the very least this will create a floor going into October. Prime scrap is tight with new consumers such as JSW Steel entering the market looking for bush," added one scrap executive.
Scrap analyst Mike Marley of World Steel Exchange Marketing said mill maintenance outages may cut scrap demand in October, but could shift demand to November as steelmakers start to build scrap inventory for the winter. "We might not see any increases in October, but there is the potential for price spikes in November," he said.
In the pig iron market, prices are stable but starting to show a little weakness. "There was a rumor about a CIS cargo sold to the USA at $385, but producers there deny this and are saying the price today remains at $395-400 MT CFR," reported one dealer.

Latest in Scrap Prices North America