Steel Products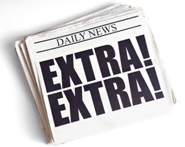 Leibowitz on Trade: U.S., Canada Stuck on Chapter 19
Written by Tim Triplett
September 27, 2018
---
Lewis Leibowitz, trade attorney and contributor to Steel Market Update, offers the following commentary on the latest developments in Washington:
According to Robert Lighthizer, the U.S. Trade Representative, "we are sort of out of time" to negotiate including Canada in a revised NAFTA (the North American Free Trade Agreement). 
There are a few sticking points with Canada, but the main one seems to be NAFTA's Chapter 19, the provision that creates an alternate means of challenging Commerce and ITC decisions in antidumping and countervailing duty proceedings. All three countries have antidumping and countervailing duty laws, but the alternate means were chiefly directed at perceived abuses by the United States against Canadian and (to a lesser extent Mexican) exports.
Briefly (I am oversimplifying here), Chapter 19 gives parties injured by antidumping and countervailing duty decisions by Commerce (dumping or subsidy determinations) and the ITC (injury determinations) the option of referring the challenges to a "binational panel" of five individuals, rather than the normal procedure of appealing the decisions to the Court of International Trade, a U.S. federal court based in New York, and then to the Court of Appeals for the Federal Circuit in Washington.
Unlike the U.S. courts, the binational panel system under NAFTA only has one stage of review. The panel decision is final. There is a provision for appeal to an "Extraordinary Challenge Commission," but that is reserved for extreme cases (e.g., alleged corruption). In the 25 years of experience with NAFTA Chapter 19, only three cases have gone before an Extraordinary Challenge Commission. All have failed to overturn the panel decision.
At first glance, the difference between going to the Court of International Trade and a binational panel may seem rather minor. Why would Canada risk sinking the negotiation of a new NAFTA (or whatever we will call it) over something apparently so trivial? Actually, it's not so hard to understand.
Chapter 19 was originally adopted as a compromise. Canada understandably takes the issue seriously. In the 1980s, when the U.S.-Canada FTA was negotiated, Canada objected strenuously to duties the United States imposed on imports of softwood lumber from Canada. Canada wanted reforms of the countervailing duty laws especially, which were used to punish Canada for its management of harvesting timber. The alternate appeal mechanism was thought to provide, at least symbolically, a bit of special treatment to Canada.
Canada was under serious pressure on this issue at home. The U.S. is obviously Canada's most important market. Free trade (the elimination of regular duties) was a huge opportunity for Canada, but it had to be reliable. If the government agreed to free trade and then saw their hard work negated by a series of trade remedy actions, there might be no benefits left. So, in the absence of an agreement to reform the trade remedy laws, a binational procedure was viewed as a sign that the most arbitrary decisions could be challenged; to Canada, arbitrary decisions on lumber abounded. This concern was anything but hypothetical. The softwood lumber dispute was raging then and is still raging now.
In practice, the binational panels have been important in certain cases. I've been involved in a few and I'm aware of others. The laws should be looked at because, like the steel and aluminum tariffs and the China 301 tariffs, antidumping and countervailing duties affect customers in the United States as well as foreign exporters. By imposing these duties, we are hurting ourselves as well as foreigners, a reality that is undeniable despite the government's desire to mute its impact (full disclosure—I have represented U.S. consumers of imported products for many years).
A glance at the current roster of binational panel cases under Chapter 19 confirms that the problem remains. The perennial lumber dispute continues. Of the seven cases currently before binational panels (all of which involve the United States as the country imposing duties), five are from Canada, and all five involve softwood lumber in some form (two of the cases involve Commerce determinations on uncoated groundwood paper—the major input for newsprint). As long as the softwood lumber dispute lasts, and it has gone on for 35 years now, Canada will not easily accept the elimination of Chapter 19.
The question is whether preserving Chapter 19 is more important to Canada than eliminating it is to the United States. That, of course, depends on the alternatives available to both countries if an agreement can't be reached. More about that soon.
Lewis Leibowitz
The Law Office of Lewis E. Leibowitz
1400 16th Street, N.W.
Suite 350
Washington, D.C. 20036
Phone: (202) 776-1142
Fax: (202) 861-2924
Cell: (202) 250-1551

Latest in Steel Products