Economy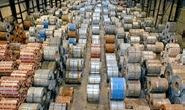 Secondary Steel Prices Moderate in a Tight Market
Written by Tim Triplett
October 6, 2018
---
Prices for secondary steel have followed the downtrend with prime, but to a lesser degree, report distributors of nonprime material. Finding enough material to meet customers' needs remains a challenge, they say.
Secondary steel is nonprime or excess material that did not meet the specifications for its original intended use, but is acceptable to other buyers for other applications. The Trump administration tariffs have reduced imports and tightened prime steel supplies, which has had the same effect on secondary. More customers are willing to accept coils with minor defects for fear they will be unable to find material at all in a short market.
Supplies of secondary steel in the high-demand 14-, 16- and 18-gauge types and grades remain tight, said one service center executive in the Midwest. "Secondary prices have slipped, but not as much as prime. We took orders last week at a buck less than the highs. The tariffs are keeping Canadian steel out of the Midwest market."
Another Midwestern distributor described the market as "very steady at a brisk pace." Secondary prices have declined along with prime, though not a much, he said. "There are some holes in my inventory, but I am still only buying what I have orders for. Very few speculative buys," he said. He expect business to remain steady for the rest of the year. The new USMCA trade deal with Canada and Mexico should bolster business. "Our biggest challenge today is finding qualified people to work, whether it be in sales or on the floor," he added.
Another service center exec said the downward pressure on steel prices since August has opened up the supply of non-prime and excess material a bit. "There are still some deals out there, but they will be snapped up quickly. We are close to a bottom on prime and non-prime pricing," he said.
He predicts both prime and secondary prices will rebound in 2019 as companies replenish low year-end inventories. "I expect we will go right back up the price climb in 2019. Prices will start firming up by March. The curve will look very similar to last year. GDP will remain strong. The new NAFTA deal will firm up the stock markets," he said.
Lisa Goldenberg, president of Delaware Steel Co. of Pennsylvania, Fort Washington, Pa., feels the market is a bit unusual. "September is usually strong for us. Sales are OK, but I expected a flurry of activity after Labor Day. It's just quieter than expected."
Secondary prices have trended down, but are holding up better than prime, which isn't entirely positive, she said. "Secondary prices are kind of flat, which is the worst market for [distributors]. We make money on the movement," she said.
Buyers' attitudes may be influenced by the unknowns of the upcoming election and the renegotiated trade agreement with Canada and Mexico, which surprised many by keeping the Section 232 tariffs in place. "Usually going into an election, the market is strong. I think things are just very uncertain," Goldenberg said.

Latest in Economy