Steel Products Prices North America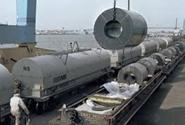 U.S. Steel Exports Remain Low in August
Written by Brett Linton
October 11, 2018
---
U.S. steel exports in August totaled 646,692 net tons (586,670 metric tons), down 1.4 percent over July and down 29.5 percent from August 2017. Surpassing July's low, this is now the lowest total export figure seen since May 2009 when 627,968 tons were shipped out of the country.
Prior to July and August levels, total exports had averaged around 850,000 tons for quite a few months, with the only sub-800,000 figure being for December 2017. The total August export figure is below both the three-month moving average (average of June 2018, July 2018 and August 2018) and the 12-month moving average (average of September 2017 through August 2018). Here is a breakdown of flat rolled and plate steel exports:
Cut plate exports decreased 0.8 percent from July to 75,068 tons, and were down 28.7 percent compared to levels one year ago. The last time cut plate exports were this low was October 2016 at 74,192 tons.
Exports of coiled plate were 27,202 tons in August, down 23.5 percent month over month, and down 37.0 percent year over year. This is the lowest level seen since November 2015 when 24,340 tons of coiled plate were exported.
Hot rolled steel exports fell 14.2 percent month over month to 47,269 tons, and were down 49.8 percent from August 2017 levels. The last time hot rolled exports were this low was February 2014 at 45,728 tons.
Exports of cold rolled products were 52,824 tons in August, up 16.5 percent from July, but down 15.1 percent over the same month last year.
Galvanized exports rose 14.3 percent month over month to 113,151 tons. Compared to one year ago, August levels were down 11.8 percent.
Exports of all other metallic coated products came in at 20,119 tons, a 3.6 percent decrease from July, and a 12.3 percent decrease compared to one year ago.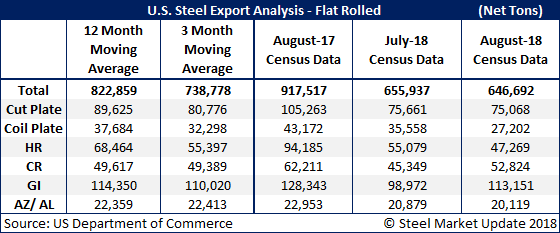 To see an interactive graphic of our steel imports history through final August data (examples below), visit our website here. If you need any assistance logging in or navigating the site, contact us at info@SteelMarketUpdate.com or 800-432-3475.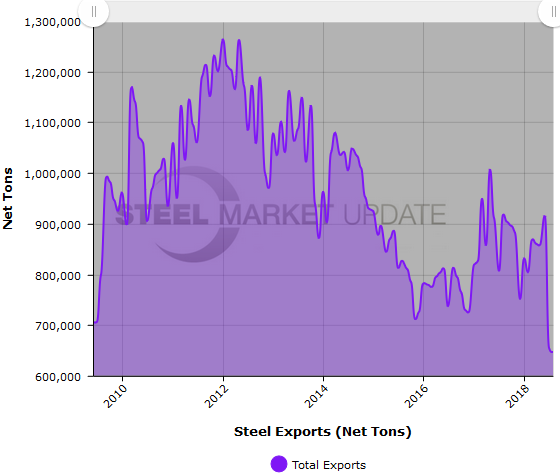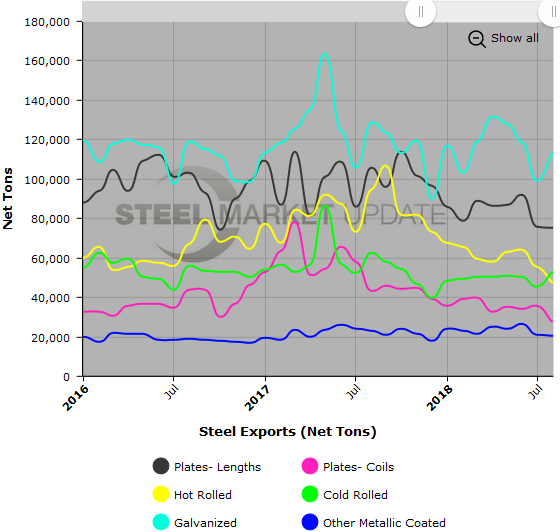 Latest in Steel Products Prices North America