SMU Data and Models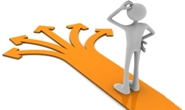 SMU Lead Times Move...But Enough to Break the Trend?
Written by John Packard
October 18, 2018
---
Lead times for most flat rolled steel products ticked up slightly this month, according to returns from Steel Market Update's latest market trends questionnaire. Could this signal the end of the downtrend? This is an important question considering the domestic steel mills announced price increases just last week.
Lead times for steel delivery are a measure of demand at the mill level—the longer the lead time, the busier the mill. The busier the mill, the less likely they are to negotiate on price. While the data from one two-week period hardly constitutes a trend, it is the first time in a long time that lead times for all products have moved out rather than in. And it would be consistent with the many who believe the market is near a bottom and flat rolled prices are poised to increase. Lead times for hot rolled now average about four weeks, cold rolled about six weeks, galvanized about six and a half weeks, and Galvalume about seven and a half weeks.
The lead times shown come from our flat rolled and plate market trends questionnaire, which is sent to approximately 640 individuals associated with the industry. The lead times are an average of the responses and have no connection with what any individual steel mill may be quoting. To get accurate lead times from any mill, you will need to speak with your representative of that mill. Our lead times are meant to provide an idea of the overall trend so both buyers and sellers can make buying and selling decisions.
Hot rolled lead times now average 3.96 weeks (4 weeks), which is essentially unchanged from early October (3.91 weeks). This year's longest lead time for hot rolled delivery was 5.73 weeks in April.
Cold rolled orders currently have a lead time of 6.06 weeks, up from 5.80 weeks two weeks ago. Prior to this week's move, CR lead times had declined steadily from 8.19 weeks in May.
The current lead time for galvanized steel is 6.66 weeks, up from 6.44 weeks early this month. Galvanized lead times this year peaked in June at 8.46 weeks.
At 7.60 weeks, Galvalume lead times are up from 7.11 weeks in the last poll. AZ lead times peaked this year at 8.40 weeks in June.
The movements in lead times we are measuring are relatively small and will need to extend further if the domestic steel mills want to actually collect the increases announced.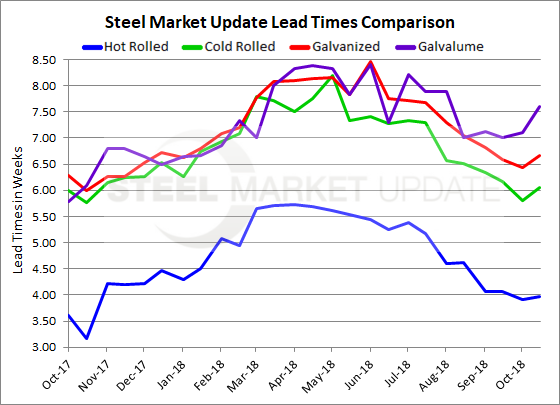 Note: These lead times are based on the average from manufacturers and steel service centers who participated in this week's SMU market trends analysis. Our lead times do not predict what any individual may get from any specific mill supplier. Look to your mill rep for actual lead times. Our lead times are meant only to identify trends and changes in the marketplace. To see an interactive history of our Steel Mill Lead Times data, visit our website here.

Latest in SMU Data and Models