SMU Data and Models
SMU Market Trends: Negotiations Tightening?
Written by John Packard
October 18, 2018
---
Steel buyers still have a strong bargaining position with the mills, but perhaps not quite as strong as a month ago. Steel Market Update tracks how buyers and sellers of flat rolled steel characterize the mills in price negotiations. A slightly lower percentage report mills willing to negotiate spot prices on new orders placed this week for hot rolled and cold rolled steel.
According to respondents to this week's Steel Market Update market trends questionnaire, 68 percent of hot rolled buyers said they have found mills willing to talk price, down from 93 percent in mid-September. About 32 percent say the mills are now holding the line.
In the cold rolled segment, 88 percent said they have found mills open to price negotiation, still  a very high percentage, but down from 96 percent a month ago. About 12 percent of respondents reported current mill prices on cold rolled as firm.
In the galvanized sector, buyers appear to have gained some leverage as 87 percent said the mills were open to price discussions, up from 78 percent one month ago.
For galvalume, 33 percent of those responding reported the mills as willing to negotiate AZ pricing, with 67 percent saying price offers were "firm."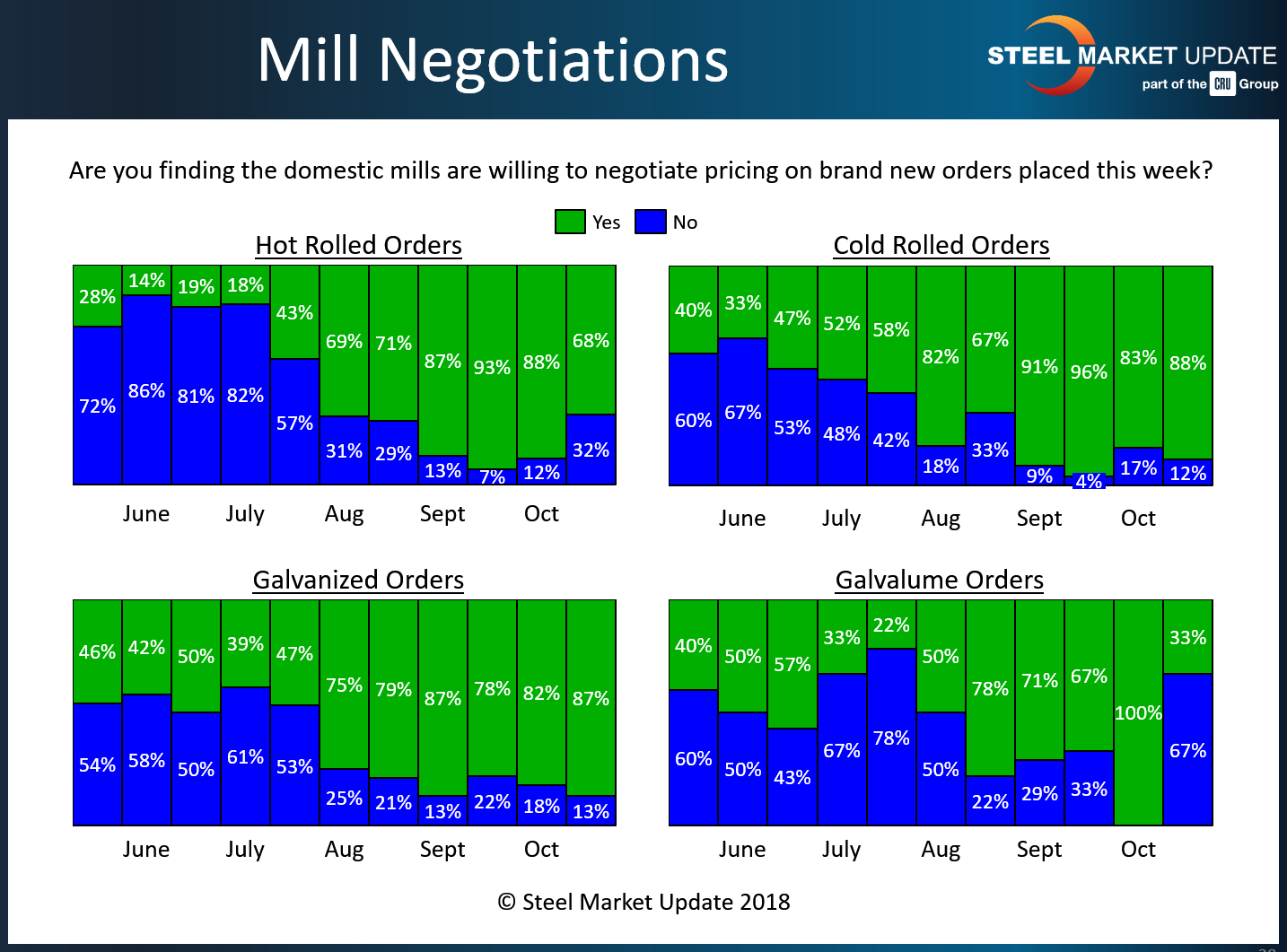 Note: SMU surveys active steel buyers twice each month to gauge the willingness of their steel suppliers to negotiate pricing. The results reflect current steel demand and changing spot pricing trends. SMU provides our members with a number of ways to interact with current and historical data. To see an interactive history of our Steel Mill Negotiations data, visit our website here.
Latest in SMU Data and Models