SMU Data and Models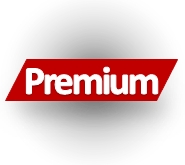 SMU Service Center Inventories Indices
Written by John Packard
October 22, 2018
---
For the past two weeks, Steel Market Update has been collecting data from the flat rolled and plate steel service centers in the United States who participate in our Service Center Inventories Index. The number of months of supply of flat rolled steel being held on the distributors' floors increased to 2.8 months. Plate inventories remained unchanged at 2.0 months of supply.
Flat Rolled Inventories Diffusion Index at 69.2
With 95 percent of those registered to provide data reporting, we found 51 percent reporting higher inventories at the end of September, 36 percent saw their inventories as being the same as August, and 13 percent reported lower inventories. Our diffusion index came in at 69.2 indicating inventories are growing. Last month, our diffusion index was 39.7.
The spread between the lowest inventory level reported compared to the highest grew slightly in September.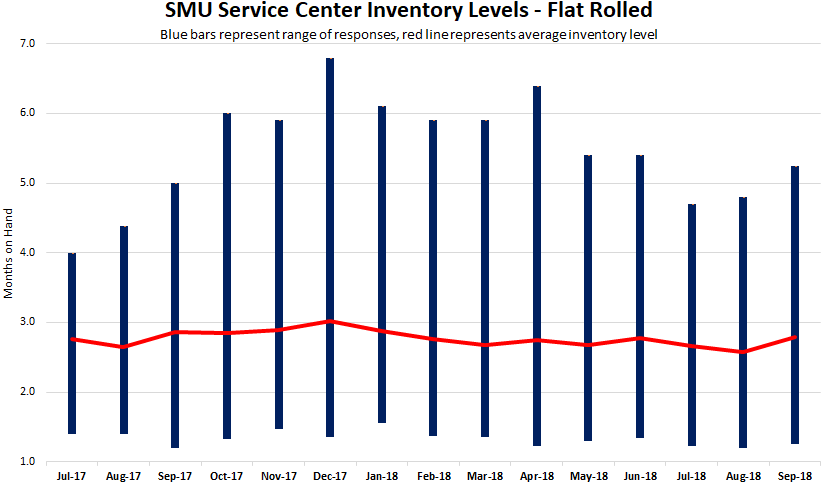 What Flat Rolled Respondents Had to Say
"The current market allows us to hold placing orders until the customer's order is confirmed, making it less likely to have to hedge the market. We're trying to reduce current levels [of inventory]."
"We have very little business locked down for 2019, so until then our inventories will be trending lower."
"Inventory continues to climb due to a drop in demand and early mill shipments for contract orders; in some cases, a month early."
"We have seen customers more cautious [not to] order too much, and we have seen our competition really start decreasing prices. We have some service centers on the West Coast offering more than $25/ton below where the market price is here. Material has come ready quicker at the mill, which increases our supply."
"…Shorter lead times and early deliveries took the [inventory number] up a bit. Shipments are steady and customers are expecting firm demand through year end."
"The only reason our inventory months are up is due to having only 19 shipping days in September. Based on the higher tons per day rates we are seeing, we expect inventories to fall well under 2 months for both products by end of October (23 days). Shorter lead times clearly allow for leaner inventory. However, there are a number of large planned outages to consider. Additionally, we appear to be approaching another transitional point in the market. The rate of price declines has slowed or even stopped. With scrap now increasing and import levels expected to decline in Q4, a price increase followed by and extension of lead times seems inevitable… [written prior to the Nucor announcement]."
"It's business as usual for us. Like everyone else, we are starting to be a little more cautious on opportunistic purchases."
"September was only a 19-day month followed by October at 23 days. Key KPI to watch is tons/day, which we expect to be modestly higher vs. July/Aug as buyers realize the price situation is probably not as weak as is being reported/predicted."
Plate Inventories Diffusion Index at 50.0
Plate service centers reported inventories on the floor at the end of September at 2.0 months of supply. With 91 percent of the registered distributors reporting, 60 percent saw their end of September inventories as being the same as August, 20 percent were higher, and 20 percent reported inventories as being lower. The SMU diffusion index was 50.0 (balanced) for the month, and up from 25.0 reported at the end of August (the number of months of supply was shrinking in August).
What We are Hearing About the Plate Markets:
"Demand has taken an odd turn in the last 6-8 weeks. Everyone, I do mean everyone, is taking a wait-and-see approach."
"We expect controlled order entry to go through Q1 2019 at a minimum."
"We have not seen mills dumping plate into the market. We're definitely seeing service centers 'dumping' irrationally. We scratch our heads daily as to why? Our average selling price is actually higher in the first week of October."
"Demand seemed to slow 10-12 percent in September from August. So far, October is about like September. It's hard to figure if it is other SC's dropping prices to take orders or if things are a little slower. Our customers say they are busy."

Latest in SMU Data and Models