Steel Mills

AK Steel Reports Best Q3 in 10 Years
Written by Sandy Williams
October 28, 2018
---
AK Steel reported its best third quarter in 10 years with net income of $67.2 million and a 39 percent year-over-year jump in adjusted EBITDA to $160.8 million.
Steady shipment levels and higher steel selling prices and shipments more than offset higher costs for certain raw materials, transportation and supplies, including graphite electrodes, said the company.
AK Steel shipped 1.4 million tons of flat-rolled steel in the third quarter, a 1.0 percent decline from the second quarter but a 4.0 percent increase from a year ago. Net sales totaled $1.7 billion due to higher average selling prices. Shipments into the automotive market were down about 5 percent from the second quarter due to seasonal slowdowns at various OEMs.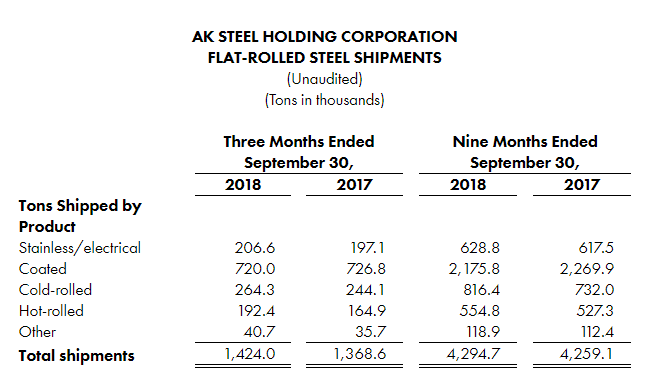 Increased shipments and higher steel selling prices helped the company make up for higher costs in the quarter. Iron ore prices are expected to increase further in 2019. Fourth-quarter results are expected to decline due to a seasonal slowdown in shipments and lower average selling prices. Outage costs are expected to total $15 million in the fourth quarter compared to $4.7 million in the third quarter. That said, AK Steel executives said they expect fourth-quarter adjusted EBITDA to be among the best performances the company has seen in the last decade.
Operations are back to full capacity at the Middletown Works after a fire at the temper mill in the second quarter.
CEO Roger Newport noted that AK Steel's advances in lightweighting solutions are providing new market opportunities for its products, such as NEXMET advanced high-strength steels. The company recently received a $1.2 million Department of Energy grant for the development of low-density steels for automotive structural applications.
Newport said AK Steel supports the Trump administration's actions to address global steel overcapacity and unfair trade practices, as well as the new tentative trade agreement between Mexico, Canada and the U.S. The company continues to be concerned about the import of electrical steel downstream products that power the nation's electrical grid and the attempts by other nations to circumvent Section 232 duties. U.S. production of those products is adequate, said Newport, and exclusion requests for electrical steel should be denied.

Latest in Steel Mills