Steel Products Prices North America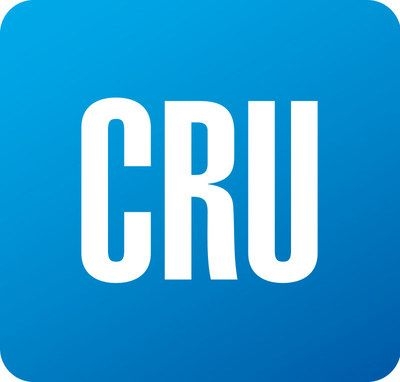 U.S.-Canada Tariffs Push Inventories Up, Prices Down
Written by Tim Triplett
October 28, 2018
---
The following article was contributed by CRU North America Steel Analyst Ryan McKinley
The trade dispute between the United States and Canada has caused inventories to build and put downward pressure on prices.
The 25 percent duties on steel imports in place by Canada and the U.S. against one another is eroding profits and driving up costs for Canadian manufacturers. In some cases, these manufacturers are hit from both sides as they move material from Canada into the U.S. and then back again, disrupting their supply chains and erasing margins. Still, the effect of these duties further upstream appears to be an erosion of finished steel prices in the U.S.
U.S. tariffs on steel imports from Canada, along with reciprocal measures by Canada, have resulted in a sharp drop in bi-lateral steel trade between the two countries. This decrease has led to a build-up in service center inventories, pressuring prices of finished steel. We expect this reduction in trade to continue so long as tariffs remain in place, and for the rise in inventory levels to continue eroding prices. 
Finished carbon steel imports into the U.S. from Canada have declined by 570,000 tons year-to-date August from the same time a year earlier, while those into Canada from the U.S. have declined by 215,000 tons for a total trade reduction of 785,000 tons. The net trade decline has coincided with a 300,000 ton increase in U.S. service center inventory levels. 
U.S. service center inventories and Canadian imports of U.S. steel share a strong, inverse correlation—as one measure rises the other declines. Over the past 13 months, every 1,000-ton decline in Canadian steel imports from the U.S. has coincided with a 2,100-ton rise in inventory levels.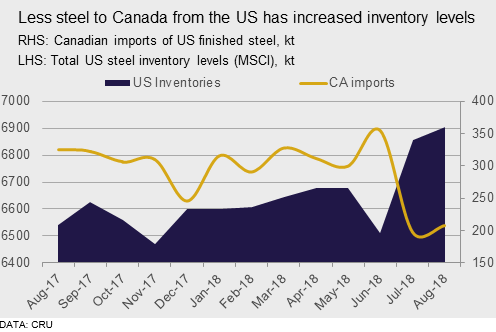 While inventory levels often build in high-demand environments as service centers work to secure material ahead of price hikes, we believe the market distortion caused by steel tariffs is, and will continue, putting downward pressure on U.S. steel prices. With mills and service centers in the U.S. unable to export as much steel to Canada, more material has stayed domestic and remained in service centers' inventories. For example, inventory levels from July through September grew by 80,000 tons. Meanwhile, between July and October, HRC prices have dropped by $79 per ton. As shown on the following chart, it appears the inventory level rise began impacting HR coil prices in July, following Canada's announcement of reciprocal duties on U.S. steel.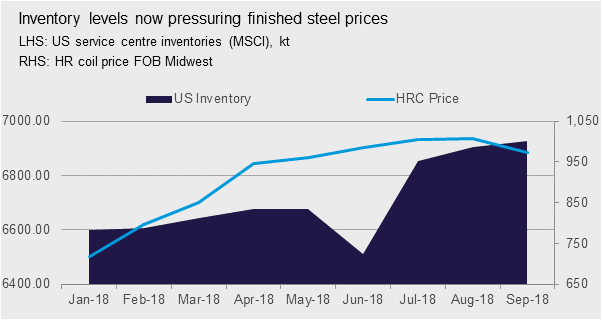 Other products have also been affected by these trade actions. A dearth of rebar exports to Canada has put an extra 12,000 tons in the U.S. domestic market, mostly out of the Northeast.   
In short, as long as the two countries continue their existing steel tariffs, we expect U.S. inventories to continue to climb and, as a result, for prices to decline.

Latest in Steel Products Prices North America