Steel Products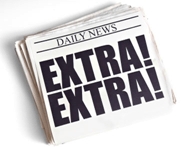 Two New Members Join NASA Buying Co-op
Written by Tim Triplett
November 16, 2018
---
The North American Steel Alliance, the service center industry's top buying co-op, has recruited two new members: Texas Iron & Metal and Beaver Steel Services, bringing NASA's total membership to 124 companies.
Texas Iron & Metal in Houston is a family owned company that offers a selection of steel and pipe products to the agriculture, construction, fabrication, manufacturing and ship building industries. The company stocks all types of steel including carbon and stainless and various alloys in 100,000 square feet of warehouse and 10 acres of stockyard. It offers saw cutting and shearing services up to one-half-inch by 12 feet.
"We had been thinking about becoming a member of NASA for some time. Our participation was originally centered around networking opportunities with those in the co-op. We look forward to exploring the purchasing power that has been built. I will enjoy contributing to the growth of our alliance," said Texas Iron & Metal President Max Reichenthal.
Beaver Steel Services has been a family owned company since 1989. Originally serving HVAC metal contractors, the company now provides flat-rolled carbon steel to manufacturers, fabricators and job shops within a 300-mile radius of Pittsburgh, Pa. The company's operational capabilities include cut-to-length, multi-blanking, leveling from 10 gauge to 32 gauge, as well as first operational shearing. Beaver Steel also offers value-added fabrication processing with lasers, press brakes, punches and a powder coat paint line.
"[Joining NASA] gives us a great opportunity to work with great suppliers that understand the customer's need for excellence and to collaborate with steel service centers that share our vision of growth and customer service," said founding owner and President Tony Treser.
NASA is a member-owned purchasing cooperative serving the metals distribution industry. NASA is comprised of 124 independently operated steel service centers throughout the United States and Canada with over 430 distribution and processing facilities. Collectively, NASA represents annual revenues exceeding $9 billion dollars. 

Latest in Steel Products