Steel Products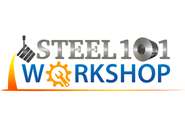 Steel 101 Workshop on Oct. 20-21 Open for Registration
Written by Brett Linton
October 5, 2020
---
We'd like to invite you to join us for the Steel 101 Workshop, which will be running Oct. 20-21, 2020, in our customized virtual platform.
This workshop is a must for anyone in the steel industry, or related business, who would like to understand how steel is made, processed, bought and sold, as well as some of the market factors that impact the price and supply of steel into the marketplace. We have already trained close to 1,000 individuals in our on-site Steel 101 workshop. We wish we could visit a working steel mill as we have done in the past, however we are providing the next best thing in this virtual worrld.
Our workshop is recommended for those who are new to the industry, those who are looking for a refresher course, executives who are moving into new positions (especially sales, purchasing or management positions),or those who want to learn more about the industry. We have had individuals in our classes who were on their first day on the job all the way up to presidents of companies. There is something of value in our program for everyone.

Our team of instructors has decades of experience and will present and describe the structure of the steel industry and the steelmaking process, starting with raw materials and going all the way through the various rolling mills and coating processes.  You will have the opportunity to ask questions in live Q&A's after each main topic, plus we'll have a networking happy hour on Day 1 so you can meet and mingle with the instructors and other workshop attendees.
The advantages of the virtual workshop are many, including the ability to watch segments both live and on-demand if you miss something or want to re-watch a particular topic. There will be resources to download, live networking, and an extended time to explore the workshop material and message the instructors after the live programming with more specific questions.
The fee for the two-day virtual workshop is $1,400 with a $100 multi-registration discount and $100 discount for our member subscribers.  This is $600 per person lower than our live workshops. You can view the workshop details including the schedule, by clicking here.
If you would like to join our Oct. 20-21 workshop, you can register here and we'll send you the pre-workshop information and workbook. If the October date does not work with your calendar, we will also be holding a workshop Dec. 8-9, 2020. Just let us know, and we'll be happy to let you know when that registration opens.
If you have any questions, please do not hesitate to contact us at info@SteelMarketUpdate.com
We look forward to hearing from you soon!

Latest in Steel Products