International Steel Prices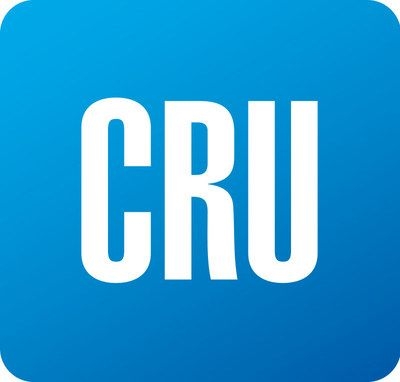 CRU: Global HR Coil Market Still Rising
Written by Josh Spoores
October 29, 2020
---
By CRU Prices Analyst George Pearson, from CRU's Steel Sheet Products Monitor
HR coil was the standout product across all regions this week. HR coil deal prices and buyer bids increased in Vietnam, strong demand data supported prices in China, and tight availability continued to bolster U.S. prices and sure up the market in Europe.
North America
The rise in U.S. Midwest sheet prices has continued at a record pace. Overall volume recorded on CRU's index has fallen over the past two weeks, though we expect this is from a lack of availability at domestic mills. Lead times remain extended and buyers are primarily looking to book January orders. The fastest w/w gains were recorded by HR and HDG coil products. We continue to anticipate a plateau in prices in the next few weeks as some of the initial rebound in post-lockdown demand eases alongside some return of seasonality. Yet as new data points emerge, we continue to adjust our expectations accordingly.
In the plate market, prices have increased over recent weeks yet are now $63 /s.ton below HR coil prices, the lowest discount to HR coil we have ever recorded in weekly prices. This difference helps to illustrate a market imbalance between supply and demand fundamentals of the sheet and plate markets.
U.S. West Coast steel consumers are reporting increased order activity with no seasonal slowdown forecasted. Mill prices increased with higher offer prices and some small spot orders, though buying remains limited. Due to higher prices and extended lead times at domestic mills, import offers have become more competitive with several buyers reporting purchases for material to be delivered in January and February. 
Europe
European sheet prices rebounded after dipping slightly last week and some pushed higher than two weeks ago. Italian prices increased by €1–3 /t and German prices were up by €6–9 /t. HR coil and HDG coil reached new highs, rising by €6 /t and €9 /t, respectively. Many participants view the current market as stable with prices at fair value—German HR coil has remained in the range of €490–500 /t for a month. Next available shipment of import offers is January or February, and offers are in a range of €495-510 /t CIF European port, except for Turkey, which was offering €460 /t CIF late last week and has increased to €470 CIF on further sales for flats and longs and a small rebound in scrap prices. Turkey remains unattractive because of an ongoing EU anti-dumping investigation. Several European buyers are now looking to adopt a hand-to-mouth purchasing approach. Both buyers and sellers appear to be comfortable at this price level. 
China
Chinese domestic sheet prices grew again on strong underlying demand and positive sentiment. HR coil increased the most, up by RMB50 /t to RMB1,960 /t. China's auto association reported another week of strong sales for passenger cars, which increased by 18% y/y in the third week of October. The home appliance sector continued to show better than expected results—freezer output more than doubled and washing machine production grew by 13.3% y/y in September. Home appliance exports kept growing significantly with fridge exports increasing by 72% and washing machine exports by 21% y/y. On the supply side, the Tangshan government has stepped up its efforts to improve bad air quality in the region, ordering stricter inspections. But the market remained active and sheet inventories fell by 3% w/w. Demand in November is expected to be slower and domestic supply is expected to ease. Sheet prices may fall back alongside an anticipated fall in iron ore prices. 
Asia
HR coil prices in the Asia import market increased on active buying interest from Vietnam. CRU assessed HR coil prices at $535/t, CFR Far East Asia, up $10/t w/w. CR coil and HDG prices were both unchanged w/w at $625/t and $630/t, respectively.
For HR coil SAE1006 grade, offers were heard in the range of $545-560/t CFR Vietnam from India, China, South Korea, and Taiwan and buyers increased bids to $525-530/t, which were $5-10/t higher than the previous week.
For HR coil/sheet SS400 grade, Chinese material was offered at $530-540/t CFR Vietnam with the highest bid heard at $525/t. There were several deals concluded for this grade in the previous week at $520-529/t.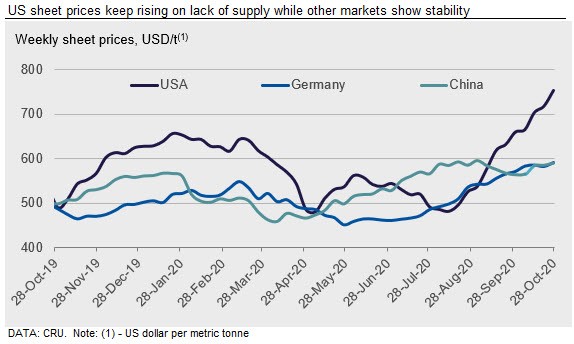 Request more information about this topic.
Learn more about CRU's services at www.crugroup.com
Latest in International Steel Prices