Steel Products Prices North America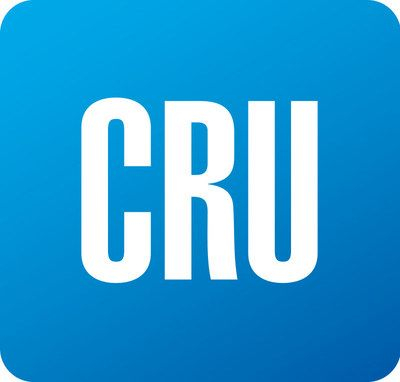 CRU: Sheet Buyers Start to Panic as Supply Becomes Scarce
Written by Josh Spoores
November 3, 2020
---
By CRU Principal Analyst Josh Spoores, from CRU's Steel Sheet Products Monitor
The global sheet market has seen a few key trends emerge across a variety of regions. First, demand has continued to rise from the pandemic-related lows recorded earlier this year. While sheet demand continues to be driven by sequential increases in automotive demand, other industries such as appliances and construction have now made a more visible impact on demand.
As sheet demand rises from end-use sectors as well as inventory building, we are now seeing a concerted effort by mills to restart idled furnaces. Most recently, these restarts have been seen in Brazil and Japan. In Brazil, ArcelorMittal restarted BF#3 at Tubarão while CSN has restarted BF#2 at Volta Redonda. Together these furnaces have annualized capacity of 4.0 Mt. In Japan, Nippon has announced plans to restart blast furnaces at Muroran and Kimitsu, which will increase annualized output by around 4.5 Mt.
With demand gains driving the decision to restart furnaces, the third key trend has been higher sheet prices across all markets. In North America, sheet prices continue to rise very rapidly; in fact, HR coil prices have risen at the fastest pace ever recorded, since bottoming in mid-August. These higher prices have come as mill production remains constrained. In the U.S. and Canada, approximately 7 Mt of blast furnace capacity remains temporarily idled.
Mills here have not brought any capacity back online since August, which may be partially due to the pending acquisition of ArcelorMittal's USA assets by Cleveland-Cliffs. We do expect that, so long as this transaction closes over the next couple of months, more blast furnaces will be restarted. However, restarts could be further delayed not only by a resurgence of Covid-19, but more so by a lack of iron ore inventory that cannot be transported once the northern Great Lakes freeze over. More recently, various mill production issues have continued to extend lead times and limit the availability of production. 
In China, demand continues to rise y/y and prices have recently jumped over the past several days after slowly falling in September and October. As sheet prices were sliding in the last couple of months, inventories at traders was drawn down in order to minimize price risk ahead of a seasonally weak period. Though above last year's levels in absolute terms, this destocking during a time of a continued demand recovery has helped sheet prices to rebound from the beginning of October.  As domestic prices in China have increased again this week, Chinese export offers have been rapidly repriced to the southeast Asian market. This has left buyers scrambling to procure supply.
In Europe, sheet prices have not only continued to rise, but they are doing so at a faster rate. In the majority of years, November is a time when post summer holiday price gains start to fade. Not this year, as the post-pandemic demand recovery has outpaced the availability of supply, even as mills here have already restarted many of the furnaces idled earlier in the year. 
Overall, sheet prices have risen across the board. In some markets, specifically in Europe and North America, buyers have panicked as mill supply has become scarce. Reflecting the trend of higher global prices, CRU's Global Flat Products Price Indicator (CRUspi flats) has risen by 6.8% m/m, its fourth consecutive monthly increase and has reached 174.0, the highest level assessed since November 2018.

Outlook: Seasonal Demand Pressures and a Covid Resurgence Will Pressure Prices, But Will it Matter?
Historically, Q4 is a period when prices tend to fall across multiple regions. This often comes as demand slows due to seasonal trends such as the onset of winter and holiday periods. Due to the pandemic-related disruption this year we expect that, while seasonality will play a role, that role will be diminished.
Certainly, construction activity in northern hemisphere markets will slow alongside colder temperatures, yet manufacturing activity across multiple segments will continue to drive demand for sheet products. However, as various blast furnaces continue to be restarted, supply tightness will start to fade. We expect slab prices will be a key indicator to watch as Brazil's furnace restarts will allow them to again become a slab exporter, rather than importer.
Furthermore, with increased production any slowdown in seasonal demand may quickly alter global trade. The CIS is a good example so far, where domestic demand has slowed, yet due to the low cost position of Russian steel producers on the cost curve, alongside a weaker ruble and strong markets elsewhere, exports have started to rise. 
Lastly, the primary downside risk is how the ongoing resurgence of Covid-19 will affect underlying demand. We have seen multiple regions return to strict lockdowns. We continue to watch for any evidence of these restrictions presenting a new obstacle to further demand growth.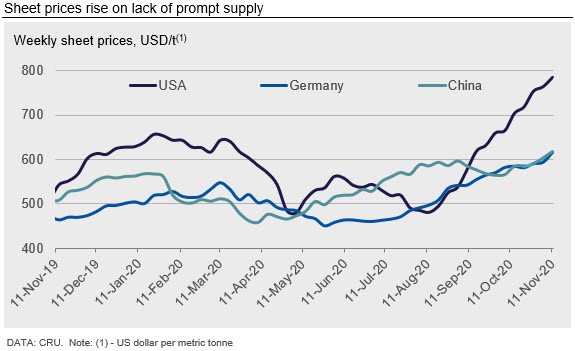 Request more information about this topic.
Learn more about CRU's services at www.crugroup.com
Latest in Steel Products Prices North America