Economy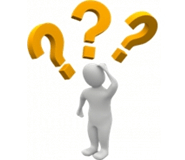 Business, Politics and Trade: Is There Any Going Back?
Written by Sandy Williams
November 19, 2020
---
Expect another two months of uneasiness and confusion on the future of the economy, says Armada Corporate Intelligence Managing Director and Economist Chris Kuehl. Although a recovery is under way, its sustainability will depend on consumer attitude, potential lockdowns and the speed of a vaccine.
In a FABTECH webinar this week, The New Global Normal: Is There Any Going Back?, Kuehl and Paul Nathanson, senior principal at Bracewell LLP, discussed what U.S. businesses can expect going forward as the nation begins 2021 under a new administration and a continuing pandemic.
The newest virus restrictions in the U.S. are not as encompassing as they were in the spring and will mostly affect the service industries leaving manufacturing relatively untouched, said Kuehl. Looking forward, Armada expects manufacturing to grow into 2021 before flattening out. With businesses less confident in global sourcing, expect to see more reshoring of supply chains, more inventory management and a continuing trend toward expansion through new equipment and robotics. The sector is still suffering from a shortage of skilled workers.
The auto industry saw a sharp bump in demand as buying vehicles became popular again with millennials who are steering away from Uber and Lyft. Aerospace is expected to be flat until next year when confidence in air travel returns. Kuehl said recreational travel is returning as the holidays approach, but business travel and events continue to be stalled.
Machinery sales are increasing as are primary metals sales. Primary metals are expected to show strong growth before retreating to pre-pandemic levels. Fabricated metals will continue to grow steadily and remain at higher levels.
Electrical equipment sales have been in decline due to weak demand from service centers, hotels, events, etc. Computers are showing recovery due to more Americans working from home and holding online events.
Kuehl does not expect inflation to become an issue for some time. The Federal Reserve will resist raising rates in favor of promoting economic growth.
Nathanson and Bracewell represent the U.S. metalworking industry and Nathanson currently manages the Coalition of American Metal Manufacturers and Users.
The last four years have been the most volatile trade period in decades, said Nathanson. The U.S. initiated a number of trade disputes including the ongoing battle with China. Sections 201, 301, and 232 of the Trade Act were used to impose tariffs on a wide variety of products including steel, aluminum, washing machines, solar panels, aircraft and almost everything that is imported from China. The U.S. tariffs were met by billions of dollars in retaliatory tariffs and disrupted trade relations with allies.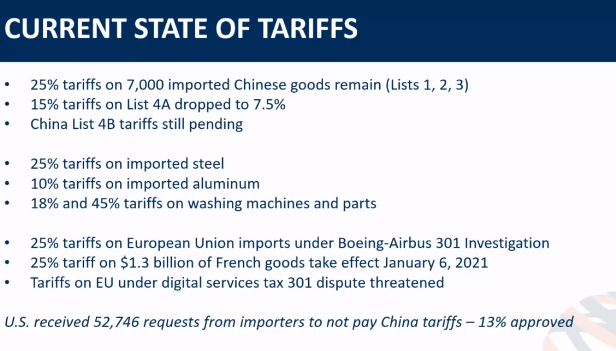 Political advisors sold President Trump on Section 301 tariffs for China hoping to delay tariffs on steel and aluminum, said Nathanson. Those advisors were out of the government within a year and Trump imposed both the China tariffs and the Section 232 tariffs on metals.
President-elect Biden was cautious on trade talk during the campaign, but he is not known as a "free trader." He is likely to return the U.S. to a pre-Trump era of multilateralism trade with an emphasis on environmental protection and labor rights. It is unclear how aggressive Biden will be in combatting China trade policy, but Section 301 tariffs will likely remain, at least in the near term. Biden will work to improve trade relationships with allies to present a united front in dealing with China. The Section 232 tariffs are expected to gradually deteriorate.
Robust use of trade measures like antidumping and countervailing duties will continue as will incentives for reshoring supply chains and production, Nathanson said. The new administration may move to close some loopholes in the Buy America regulations, which could cause tensions with Canada and Mexico.
Nathanson emphasized that when the U.S. imposes tariffs on China, the U.S. importer of those goods pays the tariffs. "The fact is the tariff is a tax and raises the price of goods."  Tariffs can be an effective tool, he said, but should be used for some purpose. A policy of just tariffs without leading to a negotiated settlement or improvement in circumstances doesn't make sense.
Kuehl agreed that using taxes to shape behavior is rarely successful. "We do everything in our power to avoid taxes, and so does everyone else."  China is trying to develop a domestic consumer society that is not as dependent on exports, which could be good for the U.S, he added.
Like it or not, the world will continue to trade, said Nathanson. Of note is the new Regional Comprehensive Economic Partnership led by China and signed this week by 15 countries, excluding the U.S. The Trump administration pulled the U.S. out of trade agreements with allies, and China is stepping up to take the lead.
Kuehl predicts that countries recovering from the global recession will become protectionist as they rebuild their economies. The mindset will be, "if we can keep imports out, we will make more money," a strategy that doesn't really work, he said.

Latest in Economy