SMU Data and Models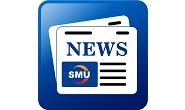 SMU Steel Buyers Sentiment: Dips on Availability Concerns
Written by Tim Triplett
December 23, 2020
---
Sentiment among steel buyers, as measured by Steel Market Update's Dec. 21 questionnaire, saw a small dip as the year comes to a close on concerns about tight steel supplies. As one respondent said, "We need supply in order to be successful. I am not able to line that all up so far for 2021." Added another expressing a common lament: "Our only concern is steel availability, especially for coated products through the first quarter. We need the mills to open up some availability for spot in February."
Every two weeks, SMU asks steel buyers how they view their company's chances for success in the current environment as well as three to six months in the future. The Current Sentiment Index declined by seven points to a still-healthy reading of +61. That's still up by 69 points from the pandemic-induced low of -8 back in April.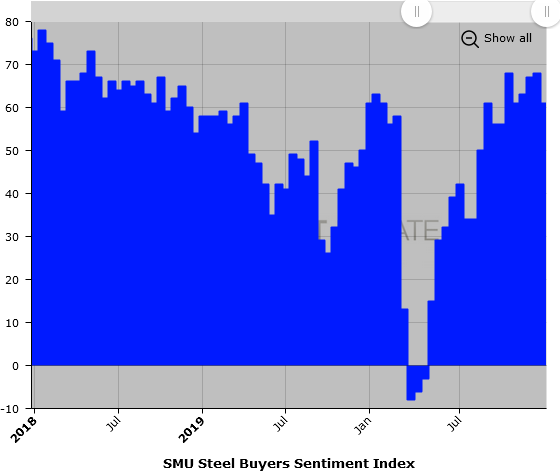 Future Sentiment
SMU's Future Sentiment Index also moved down by a few points to register +61 last week. While a bit lower, a reading in the 60s is still well above average for the past two years and up by 51 points from the low of +10 eight months ago.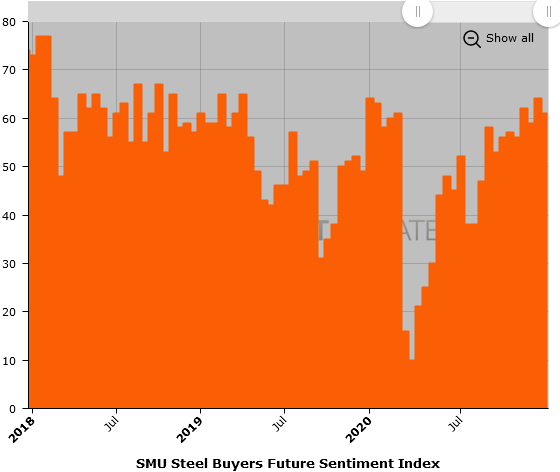 Three-Month Moving Averages
Calculated as three-month moving averages (3MMAs) to smooth out the monthly variability, Current Sentiment now measures +64.67 and Future Sentiment +59.83—comparable to readings late in the boom year of 2018 just prior to the Great Recession.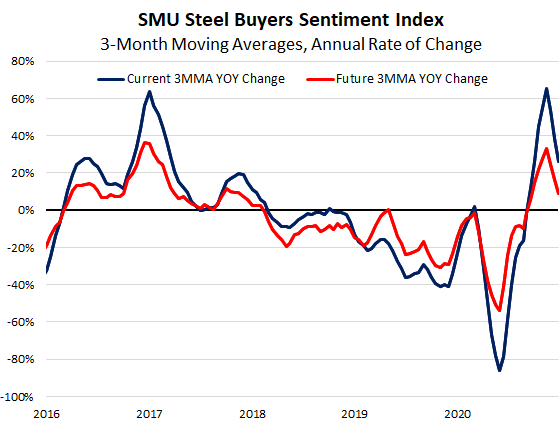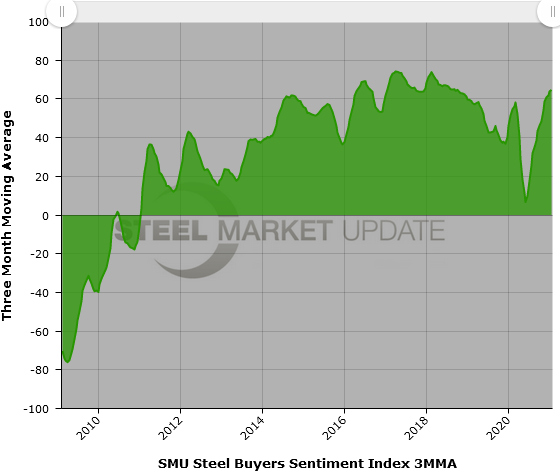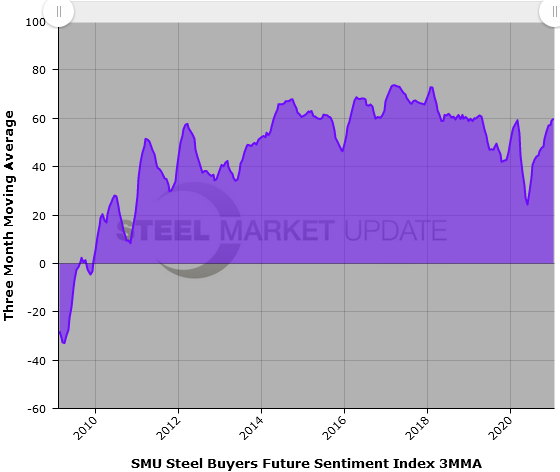 The surprisingly high steel prices seen this year as the economy has dealt with the COVID pandemic have also given a big boost to industry optimism—a hopeful trend for 2021.
About the SMU Steel Buyers Sentiment Index
SMU Steel Buyers Sentiment Index is a measurement of the current attitude of buyers and sellers of flat rolled steel products in North America regarding how they feel about their company's opportunity for success in today's market. It is a proprietary product developed by Steel Market Update for the North American steel industry.
Positive readings will run from +10 to +100 and the arrow will point to the righthand side of the meter located on the Home Page of our website indicating a positive or optimistic sentiment. Negative readings will run from -10 to -100 and the arrow will point to the lefthand side of the meter on our website indicating negative or pessimistic sentiment. A reading of "0" (+/- 10) indicates a neutral sentiment (or slightly optimistic or pessimistic), which is most likely an indicator of a shift occurring in the marketplace.
Readings are developed through Steel Market Update market surveys that are conducted twice per month. We display the index reading on a meter on the Home Page of our website for all to see. Currently, we send invitations to participate in our survey to more than 600 North American companies. Our normal response rate is 100-150 companies; approximately 40 percent are manufacturers, 45 percent are service centers/distributors, and 15 percent are steel mills, trading companies or toll processors involved in the steel business. Click here to view an interactive graphic of the SMU Steel Buyers Sentiment Index or the SMU Future Steel Buyers Sentiment Index.

Latest in SMU Data and Models