Scrap Prices North America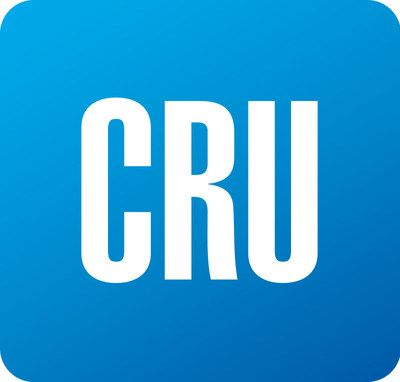 CRU: Sheet Loses Upward Momentum on Absent China
Written by George Pearson
January 15, 2021
---
By CRU Prices Analyst George Pearson, from CRU's Steel Sheet Products Monitor
U.S. sheet prices have continued to increase, but this week is the lowest w/w rise since the uptrend started. In Europe, HR prices have fallen, albeit marginally, for the first time since October last year. Although we believe prices are at or near their peak, plateaus or falls in Europe and Asia are partly a result of reduced trading activity during the Chinese New Year. From this week our commentary also includes India, which plays an important role as both an importer and exporter, selling primarily to Asia, the Middle East and Europe.
North America
Sheet prices have again risen in the U.S. Midwest market, though the w/w gain of the three prices averaged out to the lowest w/w increase since the uptrend started. We continue to hear of restricted mill supply and higher offer prices, yet availability appears to be somewhat improved from mills East of the Rockies. Additionally, buyers are overwhelmingly reporting increased availability of import material that is significantly cheaper than domestic offers. The tradeoff is lead times are later out with some as early as May, though the majority of import arrivals list June or July dates. Lastly, inventories of sheet products at service centers, as tracked by Steel Market Update, have likely bottomed this past November and December and have now started to rise. Due to the amount of material on order, we expect intake at service centers over the next few months to rapidly increase.
On the U.S. West Coast, demand continues to increase not only in California but also in the Pacific Northwest, where demand had been weaker. As steel buyers wait for the mills to inform them of their May pricing, they have been purchasing required material from one another and taking advantage of import offers. With buying still being limited by the domestic mills, service centers have been unable to replenish their inventories. 
Europe
European sheet prices differed across products this week. HR prices coil prices have decreased marginally in Germany and Italy, but CR and HDG coil prices were stable or higher. Buyers are still willing to pay high prices for CR and HDG coil because of ongoing tight supply. By contrast, there is more availability for HR coil. This week is the first time we have recorded a fall in HR coil prices since the fourth week in October 2020. Service centers have placed HR import bookings for March-April shipments arriving in May-June. Domestic purchases are now mostly to top-up stocks. There is no interest to book imports for May-June shipments, which would arrive in early Q3. Although there are still disruptions to supply and some planned maintenance has been announced, European domestic production is now running at a higher level than it was before the COVID-19 outbreak last year. For HR coil, higher supply, signs of lower demand, and a gap between European and Asian prices means that buyers are waiting. 
China
There is no China commentary this week because of the New Year Holiday. Commentary for China will resume next week. 
Asia
Sheet product prices in the Asian import market were flat or lower this week. The new year holiday will start this Wednesday. HR coil prices were unchanged, while CR and HDG coil fell by $10 /t.
On the supply side, Chinese mills raised offers by $10-30 /t for April shipment material because of rising raw material costs. Offers for HR coil SAE1006 from mills were all above $700 /t CFR Vietnam. However, buyers were still able to secure volume with traders at $650 /t CFR Vietnam last week for this grade. For HR coil/sheet SS400, deals were heard at $625 /t CFR Vietnam last week. In addition, market participants were cautious because of the likely change in the export tax rebate scheme in China. The announcement will be made in March. 
India
Diverging trends emerged in the Indian steel sheet market this week. While HR coil prices continued to trend downwards (having fallen by 5% since the last week of January), CR coil prices rose by as much as INR1000 ($14) /t w/w, recouping a large chunk of the recent losses. The consistent downtrend in Indian HR coil prices in early February is a consequence of increased availability as local traders try to liquidate their stocks, fearing further downward pressure from import arrivals from March. The fear of this import threat emanates from the fact that the Indian government has cut the import duty on steel sheet products from 12.5% to 7.5%, thus increasing the attractiveness of sheet imports from non-FTA countries such as China. Meanwhile, export sales of Indian mills have been falling, while their output continues to rise gradually.
The same is not true, however, for CR coil and HDG coil, availability of which continues to remain constrained. CR coil supplies are expected to improve strongly once JSW brings back online the 1.8 Mt /y CRM#1 at Vijayanagar Steel Plant, sometime in March. Until then, demand will continue to outpace supply, providing suppliers an opportunity to cherry pick buyers and charge hefty premiums for prompt deliveries.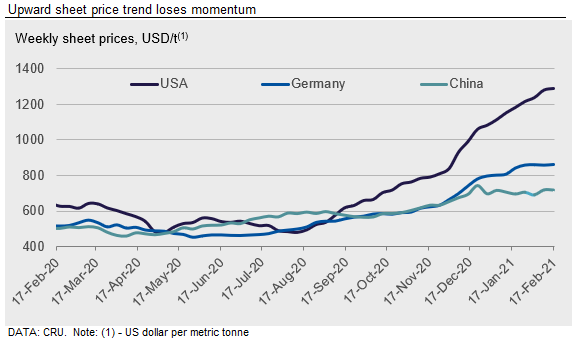 Request more information about this topic.
Learn more about CRU's services at www.crugroup.com
Latest in Scrap Prices North America