Steel Mills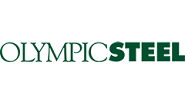 Strong Quarter for Olympic Steel
Written by Sandy Williams
February 25, 2021
---
Demand is strong and approaching pre-COVID levels in the first quarter, said Olympic Steel President and COO Andrew Greiff during the service center's fourth-quarter 2020 earnings call. All three company divisions contributed to earnings for Q4 with specialty metals turning in its third strongest quarter in the company's history as well as the strongest quarter for the year. Specialty metals sales increased 9.0% percent, pipe and tube 5.0%, and carbon flat products 1.0% year-over-year.
"Market dynamics became increasingly favorable throughout the fourth quarter, as shipping volumes approached pre-pandemic levels and metals prices rose, driving sales increases across all three of our segments," said CEO Rick Marabito. "At the same time, we maintained the disciplines enacted early in the pandemic, including operating expense reductions, improved inventory turns and reduction of debt to a four-year low, all of which contributed to the successful fourth quarter."
Olympic Steel posted sales of $332 million in the fourth quarter for net income of $1.8 million.
High demand, long lead times and supply shortages are keeping steel prices elevated. Coated and cold rolled steel are expected to remain tight through the first quarter, said Greiff, noting that mills have put customers on allocation for stainless steel. Aluminum also remains very tight.
Mills are trying to catch up, but even when product is available shipping is incredibly challenging, said Marabito. Trucking availability is scarce and rates are significantly higher—a situation not likely to alleviate anytime soon.
Pent-up demand contributed to the strong economic rebound, said Marabito. From mid-March through June, auto production was at a standstill and dealership inventories fell to historic lows. With travel and entertainment restricted, consumers had more money to spend on new vehicles. Dealership inventories are being backfilled and Olympic Steel expects auto, as well as appliance, to remain robust throughout 2021.
Market segments are strong across the board, including industrial and agricultural equipment, auto, truck trailer and recreation vehicles, construction and appliance. White metals are very strong with kitchen, restaurant and food markets coming back. Contract customers are very optimistic going into this year and see increases over their forecasts in Q4 for Q1, said Greiff.
No change in tariffs or Section 232 are likely in the near term, said Marabito. "With the new administration and their large agenda, 232 is probably not at the top of the agenda in the first few months."  Record-high steel prices will increase petitions to eliminate Section 232 tariffs,  he added. "We are fans for demand providing a stable marketplace regardless of whether tariffs are in place." Marabito expects significant industry growth this year and believes demand is sustainable.
Olympic has been a bigger player in the import market in the past, especially to its East Coast facilities, Connecticut and Georgia, but hot rolled import prices are not worth the risk right now, added Greiff. He did note some opportunities in cold rolled and coated imports because of market tightness.
Olympic Steel is excited about its acquisition of Action Stainless & Alloys in December and the expansion of the company's geographical footprint and product offerings. Marabito said the company looks forward to additional acquisitions in 2021.
By Sandy Williams, Sandy@SteelMarketUpdate.com

Latest in Steel Mills