Steel Mills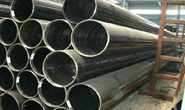 Tenaris Expects Improvement for OCTG in 2021
Written by Sandy Williams
February 26, 2021
---
Tenaris, a leading manufacturer of pipe and tube for the energy sector, saw sales rise 12% in the fourth quarter as drilling activity improved in the Americas and sales expanded in the Middle East. Sales of OCTG products rose 11% from the prior quarter in the U.S. and Canada, totaling $391 million for the region.
Fourth-quarter results reflected global recovery from the pandemic. Sales in the quarter totaled $1.1 billion for net income of $110 million, a 405% improvement from the third quarter.
However, full-year 2020 results included a 29% decline in sales to $5.1 billion for a net loss of $642 million, the company reported.
"Our sales and results in 2020 were severely affected by the COVID-19 pandemic, the measures taken around the world to contain it, the impact this had on global oil demand which caused a collapse in prices and rapid buildup of excess inventories, and the consequent drop in investments in drilling activity by our oil and gas customers," said Ternium in a press release. "While sales held up relatively well in the Eastern Hemisphere regions, they plunged along with drilling activity in the Americas, where in Argentina, for example, drilling activity was halted for a couple of months."
Looking forward, Tenaris notes increasing global oil consumption along with strong industrial production. "Oil prices have returned to levels where selective investment activity could move forward and natural gas prices have also increased following temporary market shortages due to weather events and production outages," said the company.
Drilling activity rose in the U.S. and Canada in the past three months along with drilling in Latin America, providing cautious optimism that it will rise further during 2021. Drilling activity is close to bottoming in the Eastern Hemisphere and is not expected to recover significantly this year.
"In this still uncertain environment, we anticipate a gradual recovery in sales through most of the year. In the first quarter, however, our EBITDA will be impacted around $20 million by additional costs and production losses in the USA and Mexico associated with this month's Texas gas and power shortages. After a first-quarter EBITDA similar to that of fourth-quarter 2020, EBITDA should increase with margins stabilizing around 20% as price increases compensate for higher raw material costs," the company said.


Latest in Steel Mills