Steel Products Prices North America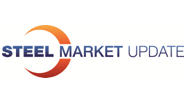 SMU Survey: Prices High, Trucks and Workers in Short Supply
Written by Michael Cowden
May 13, 2021
---
Steel prices stand at $1,540 per ton ($77/per cwt) and are likely to hit at least $1,600 per ton – with no obvious signs of demand destruction in the short term, according to respondents to Steel Market Update's most recent survey.
And some respondents reported back that the only thing harder to find than metal was the labor and the wheels to move it.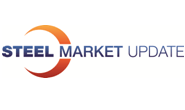 The Price
"I think it is a lock that we hit $1,600/ton. And so far, every time I've said (that prices have peaked), it has only gone higher," one survey respondent said. "$1,700/ton is very doable at this stage."
Approximately 55% of survey respondents predicted that prices would peak above $1,650 per ($82.50/cwt), with about 21% reporting that prices might not peak until $1,750 per ton or more.
Another 38% hazarded that prices would peak at $1,600 per ton. A mere 7% predicted that prices would peak roughly where they stand now.
"The mills appear to be now raising prices weekly, and with no notice either," a second survey respondent said.
Case in point: Some sources reported receiving offers this week from domestic mills seeking $1,600 per ton for July tons. And they said mills had advised them that numbers would soon move higher.
Others said they had given up trying to find a summit and instead resigned themselves to a continued upward trek.
"Throw a dart? I really have no idea how high this can go," a third survey respondent said.
While some sources reported seeing "holes" in mill orderbooks in late July and early August, most said there was little indication of supplies loosening up.
"No summer doldrums this go around," one respondent said.
"There is nothing to alleviate the supply situation in the short term," said another.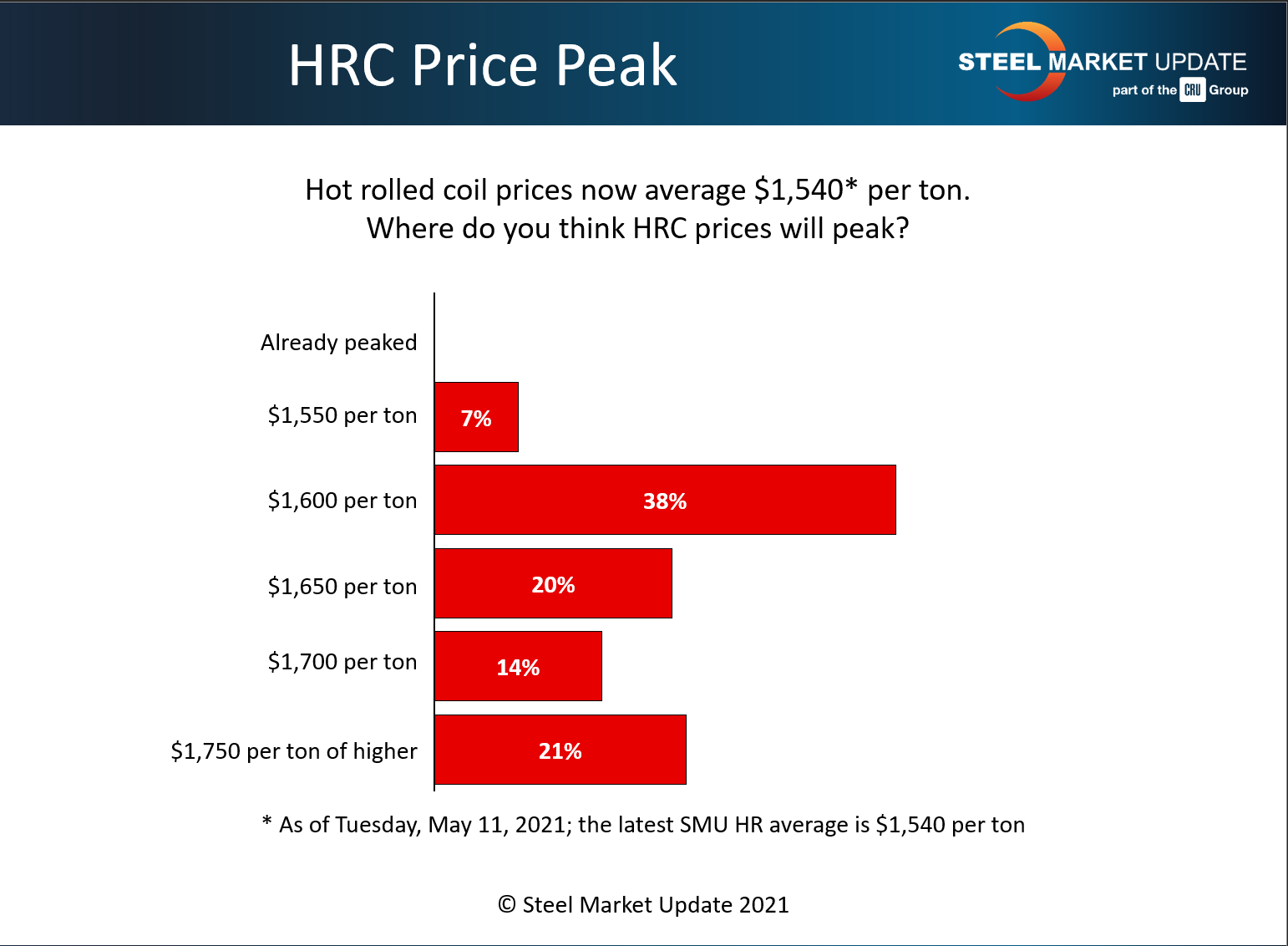 What Demand Destruction?
Most survey respondents, 55% to be precise, continue to report back that demand is improving. And 37% said demand was steady. Only about 8% responded that demand was declining.
"Spot demand is way up. We're hearing from customers we never did business with before," one survey respondent said.
"Not sure if it is customers wanting to buy ahead of increases, or new projects. Nonetheless, demand remains strong for the next 90 days," said another.
One respondent said his company was limiting sales because it could not secure enough steel or workers to meet additional demand.
Such situations appear to have created opportunities for those with more abundant supplies of metal and manpower.
"We have seen an influx of business due to our inventory position and reliability in the market," a survey respondent said. "And outages at our competitors are driving business in our direction." 
Hot Wheels
While it's not entirely clear whether demand is improving or just holding steady, one thing that's nearly unanimous is that trucks are in short supply – and that freight rates are moving up perhaps even more quickly than steel prices.
A whopping 84% of survey respondents said they were having difficulty securing the trucks, trains and vessels necessary to move their material.
"I don't care if it is rail cars, containers on a vessel, or curtain vans – the freight side is a nightmare," a survey respondent said
The situation appeared to be most pronounced on the truck front, notably in the Southeast. The area has been hit by a fuel shortage stemming from a cyberattack on a key pipeline last week, as well as by a crack on a bridge over the Mississippi River connecting Memphis, Tenn., to steel mills in Arkansas.
"Trucking is the second most challenging part to our business" behind only finding the steel to put on those trucks, another survey respondent said.
And if there's one thing harder to find than trucks, its butts to put behind wheels to drive them: "The trucking situation was tight at the start of the year. This past month, truckers are extremely hard to find. And rates have jumped about 20% in 60 days – scary!" 
Tipping Point
While most survey respondents were bullish about prices and demand – they were nearly evenly split on whether the market might finally be nearing a tipping point that could see steel prices finally inflect downward.
About 48% of survey respondents reported that record high steel prices were nearing a tipping point. A narrow majority, 52%, said they were not.
What should the savvy steel buyer keep an eye out for?
"We have noticed in the last week a gradual downturn in our roll forming footages," one survey respondent said.
"By end of June, we will start seeing some holes on light-gauge acrylic Galvalume" a trend that will then "migrate to HRC," a second predicted.
But a third said it was probably too early to pronounce an end to steel's unprecedented bull run.
"We're always waiting and listening for the music to stop. And we are still hearing it blaring. Maybe the volume is dying a little, but it isn't stopping yet – that is for sure," the third said.
It's also possible that any lowering of the volume might instead result from our ears growing numb to the noise. 
By Michael Cowden, Michael@SteelMarketUpdate.com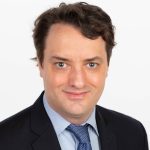 Latest in Steel Products Prices North America