Final Thoughts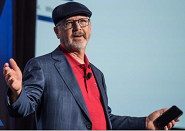 Final Thoughts
Written by John Packard
May 27, 2021
---
A reminder to our readers – Steel Market Update will not publish a Sunday evening issue due to this weekend being a national holiday here in the United States (Memorial Day). We will publish as normal on Tuesday, June 1.
Inventories are a key component when it comes to understanding the squeeze we have with steel prices right now. As inventories remain unbalanced, we can expect to see flat rolled and plate steel prices continuing to move higher. As inventories grow, the pressures on supply will be reduced, buyers will be able to push back on making future purchases, and the mill order books will also become balanced.
During this week's Flat Rolled and Plate Market Trends Survey, we asked our data providers: "When will your inventories become balanced or at a comfortable level given current market conditions?" Here are the results of that question…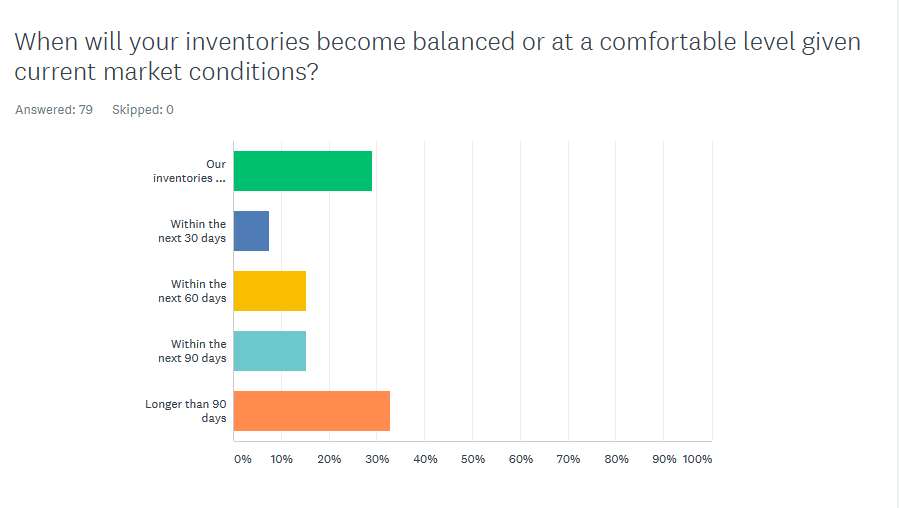 The first segment above in green is stating that their inventories are already balanced (29%). The largest percentage were those reporting longer than 90 days at 33%.
One of the respondents who is associated with a Japanese trading company made an interesting comment that we all need to think about: "I don't hear inventory meeting demand for a number of months. And if demand increases, they could go lower before they rise."
We asked our data providers if steel prices were near a "tipping point," and we found an almost even split with 49% saying yes and 51% saying no.
Our total market surveys are conducted every other week with the results being presented to our Premium level members on the Friday of the week the analysis was conducted. This week's results will be provided to our Premium members tomorrow. If you would like to learn how you can upgrade your Executive level membership to Premium, please contact Paige Mayhair at Paige@SteelMarketUpdate.com or by phone at 724-720-1012.
If you would like to become a confidential data provider, you will also receive a copy of the PowerPoint presentation (you do not need to become a member of SMU). You can inquire about becoming a data provider by emailing us at Info@SteelMarketUpdate.com.
If you are a service center inventorying flat rolled or plate steels, we would love to have you participate in our monthly Service Center Inventories & Shipment Report. You can inquire about becoming a confidential provider and what you receive in return by contacting Estelle Tran at Estelle.Tran@crugroup.com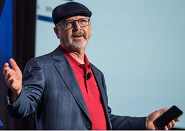 I thought the following comments from Ken Simonson, the chief economist for the Associated General Contractors, would be of interest to those who missed this week's SMU Community Chat webinar with Phil Bell, president of the Steel Manufacturers Association. "Another excellent program. You do a GREAT job of using 40 minutes to convey a lot of fresh, valuable information, intelligently interview guests on multiple relevant topics, field questions, and slip in some dry/wry humor (my favorite kind). Delighted to hear you are bringing back Timna Tanners next time. She always delivers excellent content."
You can view a recording of this week's webinar with Phil Bell by clicking here. You can register for the July 7 SMU Community Chat Webinar with Timna Tanners of Bank of America by clicking here. You can view all past Community Chat Webinars by going to www.SteelMarketUpdate.com/blog/smu-community-chat-webinars
I was reading a report produced by Axios about the decline in coronavirus in the United States. New cases dropped by nearly 20% over the past week. This is the fifth straight week of double-digit declines. The vaccines are working, and if you have not yet been vaccinated, please take the time to do so. The country is opening back up and we would all be safer with everyone vaccinated. You can read the Axios article here.
Bookings for the 2021 SMU Steel Summit Conference continue to grow and the number of bookings per week are increasing as we move closer to the Aug. 23 start date for this year's conference. Here are the companies who booked over the past few days (those with an * mean more than one person is attending): CSN*, Doosan Bobcat*, Independent Steel, Lafayette Steel and Aluminum, Lozier Corporation, Metal Master*, North Star BlueScope Coated Product*, O'Neal Industries, OWC*, Plateplus, Inc.*, Precoat Metals, Quaker Houghton, Steelscape Inc., and Westman Steel Industries. We also received new registrations from the following companies that already had people attending: Charter Steel Trading*, Kloeckner Metals*, and Ryerson Holding Corporation*. For a more complete list of attending companies for 2021 please click here.
If you would like to register for the 2021 SMU Steel Summit Conference, please click here. If you would like more details regarding the agenda, speakers, costs to attend, etc. please click here.
As mentioned earlier this week, Commercial Metals Chairman, President & CEO Barbara Smith will be the mentor to this year's SMU NexGen Leadership Award winner. Please take a moment to recognize the young talent in your organization by nominating someone (or more than one) for this prestigious award, which is sponsored by the Steel Manufacturers Association. You can find more information about the award, nomination process, past award winners, what the winner will receive, etc. by clicking here.
Next week (June 2 & 3) we will host one of our virtual Steel Hedging 101: Introduction to Managing Price Risk workshops with Spencer Johnson of StoneX. You can learn more about the workshop, costs and how to register by clicking here.
The Metals Service Center Institute (MSCI) elected new directors to their board this week. The new board chair will be Richard Marabito, CEO of Olympic Steel. He is replacing Eddie Lehner, CEO of Ryerson. Joining Marabito on the board are John Ganem, CEO of Kloeckner Metals; Brian Hickey, president of Lapham-Hickey Steel; Karla Lewis, president of Reliance Steel & Aluminum; Barbara Smith, chairman, president and chief executive of Commercial Metals Company; and Theresa Wagler, executive vice president and CFO of Steel Dynamics.
We want to take a moment to wish all of you in the United States an enjoyable Memorial Day Weekend. I hope you have an opportunity to visit with your family and friends (which is possible if they have been vaccinated). My son lives in Sweden now, but he is here in Florida for the weekend for the first time in more than a year. After living through more than a year of a pandemic, it is family and friends that make life worth living. So, please enjoy your long weekend and we will talk to you again on Tuesday…
As always, your business is truly appreciated by all of us here at Steel Market Update.
John Packard, President & CEO, John@SteelMarketUpdate.com

Latest in Final Thoughts