Steel Products Prices North America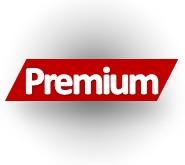 May Import Market Share for Sheet and Plate Products
Written by David Schollaert
July 14, 2021
---
Steel Market Update is pleased to share this Premium content with our Executive members. For information on how to upgrade to a Premium-level subscription, email Info@SteelMarketUpdate.com.
Steel demand continues to outpace supplies in the U.S., leading to one price increase after another. Buyers are struggling to source enough steel to meet their customers' needs and are hoping a surge of imports in the second half will provide some relief. May data shows the beginning of that trend as imports' share of total sheet product shipments rose to 15.5%, up from 12.6% the month prior and the highest level in nine months. The market share of plate product imports in May slipped to 17.5%, down from a two-year high of 19.9% in April.
Imports' share of domestic sheet product shipments reached its lowest level in more than a decade at 9.7% at the beginning of 2020. Since then, imports into the U.S. rose in February and March before contracting in April. Although shipments of sheet products by domestic mills edged up 1.3% in May, imports of sheet products jumped 28.8% month on month, pushing imports' share to 15.5%.
Total plate products, on the other hand, saw the opposite in May. Domestic shipments of plate products edged down 2.5%, while imports plummeted by 16.6% during the month. Overall, apparent supply of plate products was down 5.3% in May when compared to the previous month, but was still the second highest since August 2019.
Domestic sheet shipments in May totaled 4.419 million tons, up from 4.364 million tons in April and the second highest total since March 2020. Imports of sheet products in May totaled 807,818 tons, up from 625,414 tons the month prior, the second highest mark since January 2019 when imports totaled 827,988 tons. The import share of hot rolled coil (HRC) rose slightly to 11.0% in May, up from 10.9% in April, totalling 222,267 tons and the highest total imports since October 2018. HRC imports moved up in May by 2.0%, after jumping more than 16.0% the month prior.
The import market share for plates in coil in May hit its highest level since December 2016. Although total imports waned by 3.2% in May when compared to the month prior, at 101,372 tons, plates in coil imports are 47.5% of the U.S. market share, as domestic shipments have fallen by nearly 12.0% since March.
The table below displays total supply to the market in three months and 12 months through May 2021 for sheet and plate products and six subcategories. Supply to the market is the total of domestic mill shipments plus imports. It shows imports on the same three- and 12-month basis and then calculates import market share for the two time periods for six products. Finally, it subtracts the 12-month share from the three-month share and color codes the result green or red according to gains or losses. If the result of the subtraction is positive, it means that import share is increasing, and the code is red.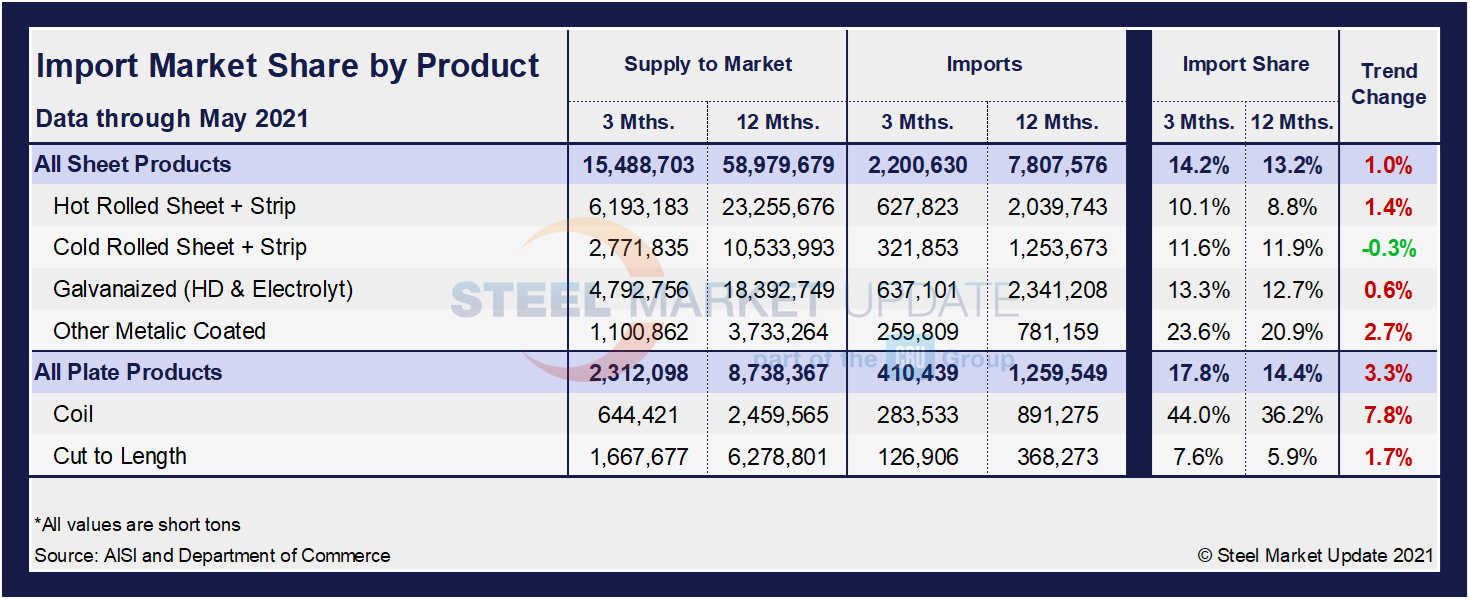 The big picture is that a month-on-month rise in imports' share might signal the beginning of second half jump in total imports, providing some much-needed supply-side relief to buyers. All subcategories for sheet and plate products were up, except for cold rolled coil. This illustrates how imports have competed versus domestic products in three months compared to 12 months, which reflects how high prices have gotten in the U.S. Most notable of those subcategories are plates in coil (7.8%) and other metallic coated (2.7%) in three months compared to 12 months through May 2021.
The historical import market share of plate and sheet products and the import market share of the four major sheet products are show side-by-side in Figure 1. The import market share of individual plate products as well as a breakdown of the market share for plates in coil are displayed together in Figure 2. The import share of plate had been decreasing erratically over the past six years, but has trended up this year and is back to pre-pandemic levels. Sheet product imports' share has also trended down over the past several years and has continued to move lower in recent months despite some correction from the COVID-19-related doldrums. The import market share of plates in coil is now nearly at 50.0% and trending up since the beginning of the year.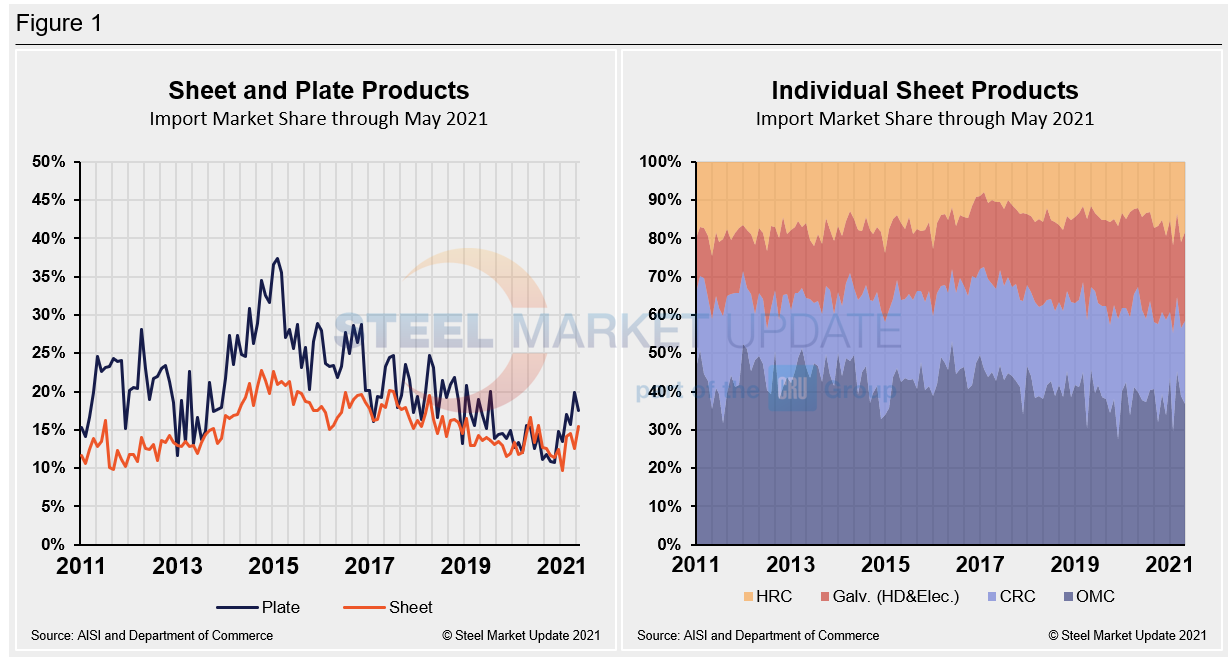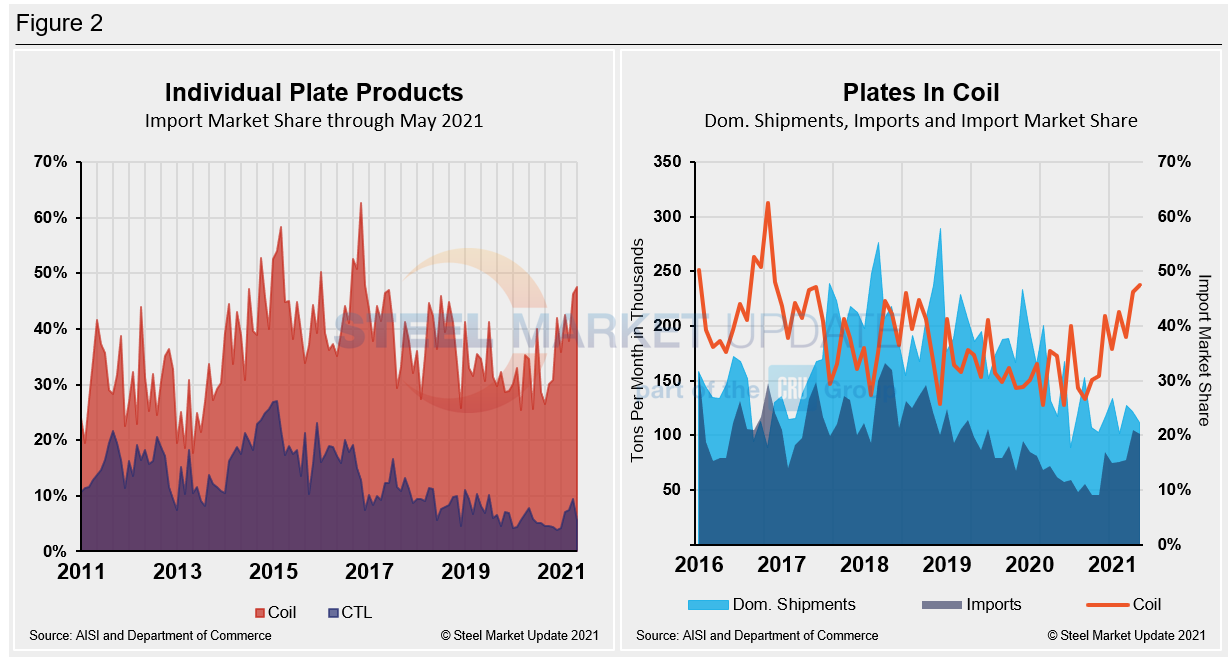 By David Schollaert, David@SteelMarketUpdate.com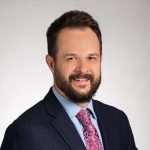 Latest in Steel Products Prices North America