Economy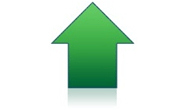 ISM: Manufacturing Economy Grows in September Despite Many Hurdles
Written by Brett Linton
October 4, 2021
---
New orders, employment, and production grew through September, while supplier deliveries slowed and backlogs lengthened, said the Institute for Supply Management in its latest Manufacturing ISM Report on Business. The Manufacturing PMI rose 1.2 percentage points to 61.1% in September, the second consecutive monthly increase, indicating continued expansion for the overall economy. As a three-month moving average, the index rose 0.2 percentage points to 60.2%.
"Business Survey Committee panelists reported that their companies and suppliers continue to deal with an unprecedented number of hurdles to meet increasing demand. All segments of the manufacturing economy are impacted by record-long raw materials lead times, continued shortages of critical materials, rising commodities prices and difficulties in transporting products. Global pandemic-related issues – worker absenteeism, short-term shutdowns due to parts shortages, difficulties in filling open positions and overseas supply chain problems – continue to limit manufacturing growth potential." said Timothy Fiore, chairman of the ISM Manufacturing Business Survey Committee.
ISM's New Orders Index was unchanged from August at 66.7%, while the Production Index fell 0.6 percentage points to 59.4%. The Backlog of Orders Index decreased by 3.4 percentage points to 64.8%.
"All of the six biggest manufacturing industries — Petroleum & Coal Products; Computer & Electronic Products; Chemical Products; Food, Beverage & Tobacco Products; Fabricated Metal Products; and Transportation Equipment, in that order — registered moderate to strong growth in September," said Fiore.
Comments from panel respondents included:
"Many electronic components and assemblies shortages showing up (due to) port issues, lack of containers and other issues. Problematic, but nothing completely shut down yet. Watching COVID-19 restrictions country by country." [Computer & Electronic Products]
"In the U.S., labor availability is the most significant supply challenge for our company, with raw materials just behind. Plastic resin, polyurethanes, small-volume steel purchases and electronics are the biggest material challenges." [Transportation Equipment]
"Delivery and availability of raw materials, primarily carbon steel, are becoming more and more difficult to source. This has resulted in delaying order deliveries. Computer numerical control (CNC) machining services are at a premium; it's difficult to get the deliveries needed to complete jobs. Traditional in-house machining now has to be outsourced due to a lack of experienced machinists. All this has had a negative impact on production throughput." [Fabricated Metal Products]
"Customer demand continues to swell as we prepare for the fourth quarter, and overall growth has been extremely good for the year. Supply chain concerns are growing beyond electronics and chips into most other commodities. Lead times are extending, shipping lanes are slowing, and we will not see an end to this in 2021." [Electrical Equipment, Appliances & Components]
"We are still amazed by the labor market. We used to have 100 applicants for an opening; we are now seeing about 10 — and often, the applicant does not show for the interview." [Paper Products]
"Our company's entire supply chain continues to have significant challenges getting manpower, which is impacting production of parts and our ability to meet daily build schedules. Additionally, the logistics problems — especially port delays and a shortage of shipping containers — are significantly impacting inbound and outbound shipments. Raw materials costs still are at record highs, and we have raised customer pricing, with additional increases in the near future due to labor costs going up. Huge customer orders are nine months out due to backorders. Seeing this domestically and internationally." [Machinery]
"Global supply chain constraints are still a major concern and focus. Inventory builds continue to compensate for potential supply disruption." [Miscellaneous Manufacturing]
An expanded analysis is available here on the ISM website.
Below is a graph showing the history of the ISM Manufacturing Index. You will need to view the graph on our website to use its interactive features; you can do so by clicking here. If you need assistance logging into or navigating the website, please contact us at info@SteelMarketUpdate.com.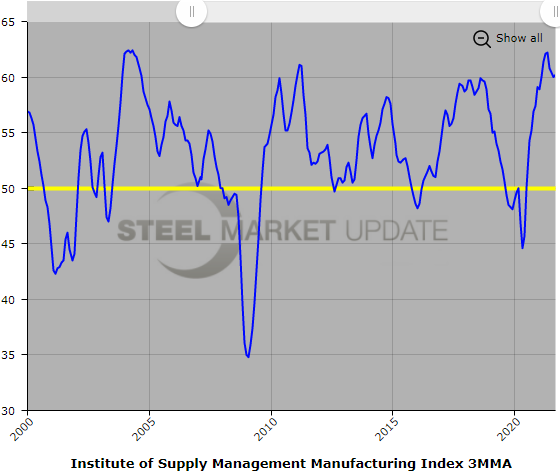 Latest in Economy