Economy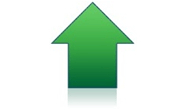 ISM: Manufacturing Economy Still Growing, Albeit at a Slow Rate
Written by David Schollaert
November 2, 2021
---
New orders, production and employment grew in October, while supplier deliveries slowed at faster rate and backlogs lengthened further, said the Institute for Supply Management in its latest Manufacturing ISM Report on Business.
The Manufacturing PMI fell for the third straight month in October, down 0.3 percentage points to 60.8% in October, but still indicating expansion in the overall economy. October's results mark the 17th month in a row of economic growth following a contraction in April 2020.
"Business Survey Committee panelists reported that their companies and suppliers continue to deal with an unprecedented number of hurdles to meet increasing demand," said Timothy Fiore, chairman of the ISM Manufacturing Business Survey Committee. "All segments of the manufacturing economy are impacted by record-long raw materials lead times, continued shortages of critical materials, rising commodities prices and difficulties in transporting products."
ISM's New Orders Index fell 6.9 percentage points in October to 59.8% when compared to September's reading of 66.7%. The Backlog of Orders Index registered 63.6% in October, 1.2 percentage points lower than the month prior, while the Employment Index was up 1.8 percentage points to 52.0% during the same period.
"Manufacturing performed well for the 17th straight month, with demand and consumption registering month-over-month growth in spite of continuing unprecedented obstacles," added Fiore.
"All of the six biggest manufacturing industries — Food, Beverage & Tobacco Products; Computer & Electronic Products; Chemical Products; Fabricated Metal Products; Petroleum & Coal Products; and Transportation Equipment, in that order — registered moderate to strong growth in October," said Fiore.
Comments from panel respondents included:
"Global supply chain issues continue. Getting anything from China is near impossible — extreme delays. Microchip and circuit breaker shortages are expected to continue into 2022." [Computer & Electronic Products]
"Business is getting stronger, but the supply chain is getting worse every day." [Chemical Products]
"Strong sales continue; however, we have diverted chips (semiconductors) to our higher-margin vehicles and stopped or limited the lower-margin vehicle production schedules." [Transportation Equipment]
"Import costs and delays are hurting business, requiring more safety stock for uncertainty. Rolling blackouts in China are starting to hurt shipments even more." [Food, Beverage & Tobacco Products]
"Domestic original equipment manufacturer (OEM) capital spending is trending up for our business. We are seeing an increase of capital equipment with life spans of more than 10 years in the fourth quarter." [Fabricated Metal Products]
"Demand continues to be strong, but we continue to be held back by supply chain issues — logistics delays, as well as capacity and labor issues at suppliers." [Electrical Equipment, Appliances & Components]
"Business remains strong, with brisk incoming orders. We have become much more supply driven versus demand driven due to shortages of labor, materials and freight. Costs continue to increase on all fronts, and we are considering our third price increase of the year for our customers." [Furniture & Related Products]
"Customer demand remains high. COVID-19 related supply chain issues still hamper our ability to meet demand. Labor is still difficult for our suppliers to obtain, and labor costs are rising." [Machinery]
"Demand for our products remains strong, but we continue to struggle to secure enough raw material to keep our manufacturing lines running." [Miscellaneous Manufacturing]
"My prediction is that 2022 will be very similar to 2021 — similar demand, constrained supply, restricted logistics and rampant inflation." [Plastics & Rubber Products]
An expanded analysis is available here on the ISM website.
Below is a graph showing the history of the ISM Manufacturing Index. You will need to view the graph on our website to use its interactive features; you can do so by clicking here. If you need assistance logging into or navigating the website, please contact us at info@SteelMarketUpdate.com.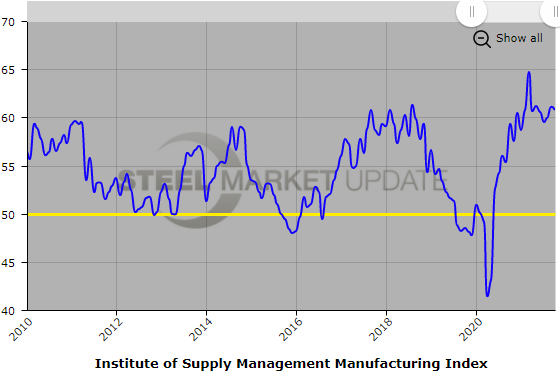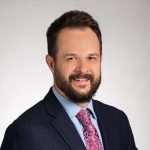 Latest in Economy