Futures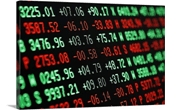 HRC, Bus Futures Making Lower Lows; Still No Signs of a Bottom
Written by David Feldstein
November 10, 2022
---
Editor's note: SMU Contributor David Feldstein is president of Rock Trading Advisors. Rock provides customers attached to the steel industry with commodity price risk management services and market intelligence. RTA is registered with the National Futures Association as a Commodity Trade Advisor. David has over 20 years of professional trading experience and has been active in the ferrous derivatives space since 2012.
The December CME Midwest HRC future continues to decline, falling another $33 per short ton (st) over the last two weeks to $636/st and trading at a new recent low of $621/st on Tuesday. The December contract continues to be the lowest-priced month on the curve.
December CME Hot Rolled Coil Future $/st

Since Thursday, Oct. 27, the front three months have declined $30-37/st, with declines in the months of February through June '23 down $16-28/st. July and August declined by the most, falling $42/st and flattening out the spread between May, June, July, and August.
CME Hot Rolled Coil Futures Curve $/st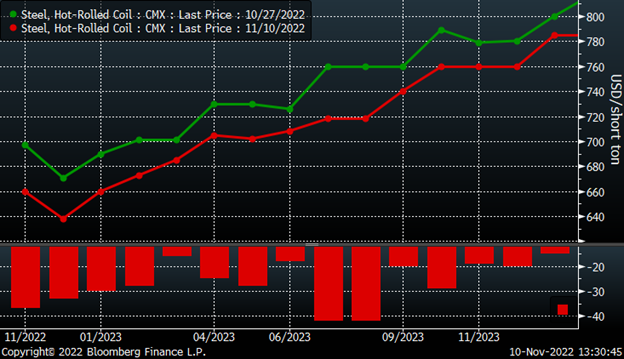 There has been a slight uptick in open interest, which is the number of outstanding futures contracts, or tons in the case of the CME HRC futures. Open interest is about 20k tons above where it was following the second Wednesday CRU print in October, with five prints scheduled for November. However, it sits near its lowest levels since late 2020 as a growing herd of forward buyers remains collected on the sidelines.
It will be interesting to see not only what might pull them back into the market but also if it creates a frenzied rush to lock in 2023 pricing. Perhaps the catalyst is an event or perhaps simply the calendar as we quickly approach 2023. Then again, perhaps it doesn't materialize as the buying community bets on ample supply to be available in the spot market. Historically speaking, though, there have been some sharp and compressed rallies over just a few weeks in the final two months of the year. The second month HRC future rallied 13-45% in the final two months of the year in 2010, 2011, 2016 and of course in 2020 too.
Rolling 2nd Month CME Hot Rolled Coil Future $/st & Open Interest

Trading volume has declined rapidly over the past couple of weeks as illustrated by the yellow five-day moving average of daily volume across all months. This decline in volume coupled with low open interest equates to relative illiquidity, leaving futures susceptible to a spike in volatility if a buying or selling stampede suddenly develops.
November CME HRC Future $/st w Aggregate Curve Volume & 5-Day Avg.

While volume dives in HRC, there has been a sharp jump in trading volume across the busheling futures curve as it falls to yet another new low.
Rolling Front Mo. CME Busheling Future $/lt w Agg. Curve Volume & 5-Day Avg.

The increase in trading volume has been due to new positions being opened, with open interest across the curve exploding to 180k tons – a new all-time high in busheling. Recall that expanding open interest along with the direction translates into a technically strong bear market in this case as the December future now takes over as the front month contract. However, the rolling second month will jump to $390 following today's expiration of the November contract, which settled down $26.82 MoM at $359.72.
Rolling 2nd Month CME Busheling Future $/lt & Open Interest (red)

The busheling future is just $10 above the Turkish scrap future as the two products continue to be dislocated from the reality of why busheling is also called prime.
Front Month Busheling ($/lt) and Turkish Scrap ($/mt) Futures

There are some reasons to be optimistic with the uncertainty of the US midterm elections and Chinese National Congress now behind us as well as some hopeful developments in the war in Ukraine. The knee-jerk reaction following China's National Congress meeting was to sell, sell, sell. But there has been a rebound across base metals, Chinese HRC, and other commodities since the start of November. After trading below $80/t, the SGX iron ore future rebounded and has settled above its five-month down trend. Keep an eye on iron ore as a canary in the coal mine for all things ferrous.
Rolling 2nd Month SGX Iron Ore Futures

October's YoY change in the US Consumer Price Index was announced this morning at 7.7%, with the CPI Ex-Food & Energy at 6.3%, both down vs. September and below expectations warranting a serious reaction and repricing across markets. The S&P 500 surged 5.5% while the 10-year US Treasury rate fell almost 30 basis points on the day to 3.81% – settling below its multi-month uptrend with authority.
US 10-Year Treasury Rate

The US Dollar Index also declined sharply to just above 108, providing further confirmation that this year's fever in the dollar has been broken. The decline broke below another longer-term uptrend line going all the back to the start of April. Of course, commodity prices are negatively correlated to the dollar, so if the dollar sees a sharp drop ahead, commodities will catch a tailwind.
U.S. Dollar Index

Disclaimer: The content of this article is for informational purposes only. The views in this article do not represent financial services or advice. Any opinion expressed by Feldstein should not be treated as a specific inducement to make a particular investment or follow a particular strategy, but only as an expression of his opinion. Views and forecasts expressed are as of date indicated, are subject to change without notice, may not come to be and do not represent a recommendation or offer of any particular security, strategy or investment. Strategies mentioned may not be suitable for you. You must make an independent decision regarding investments or strategies mentioned in this article. It is recommended you consider your own particular circumstances and seek the advice from a financial professional before taking action in financial markets.
By David Feldstein, Rock Trading Advisors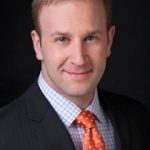 Latest in Futures