Scrap Prices North America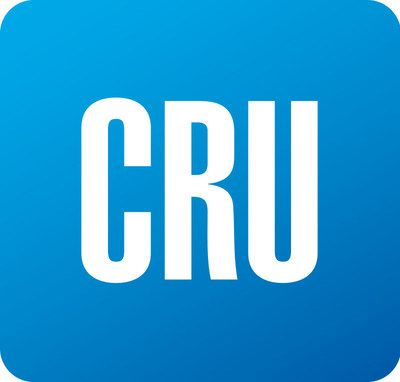 CRU: Key Global Metallics Prices Continue to Decouple
Written by Puneet Paliwal
November 13, 2022
---
By CRU Senior Analyst, Puneet Paliwal, from CRU's Scrap, DRI/HBI & Pig Iron Monitor
The CRU metallics price indicator (CRUmpi) for November fell by 3.5% month-on-month (MoM), to 298.3, which is the lowest level since December 2020. Global scrap demand continues to be undermined by weak steel market fundamentals in key markets, causing prices to stay subdued and decouple further from those of pig iron.
Over the past few months, scrap supply has outpaced demand in several regions, lowering delivery lead times and forcing scrap suppliers to reduce prices on falling buyer bids. Despite the decline in prices, trade volumes have been limited as buyers expect further price falls, while having sufficient inventory at hand. Also, the support for ore-based metallics prices in the last month – due to the escalation of the war in Ukraine – was short-lived, yet the premium over scrap remains wider than historical levels.
In the coming months, seasonally weaker scrap supply in major markets may provide some support to prices, the extent of which will be dictated by the intensity of supply cuts versus demand conditions.

We continue to believe that steel market sentiment across the key metallics demand centers of North America, Europe, and China will remain subdued as we approach the end of 2022. These regions continue to grapple with macroeconomic challenges including a rapid rise in inflation, a widening energy crisis, and volatile exchange rates. Concerns around the overall economy have impacted steel demand across key end users, while steelmakers are conserving cash to comfortably ride through a potential crisis.
One of the measures mills have taken to protect cash flows has been to reduce their raw material inventory and delay purchases for as long as possible. This is a risky move as a supply disruption in steelmaking raw materials and metallics can hit mills hard, but they seem confident of ample availability in the coming months.
A key phenomenon playing out in the market is a decoupling across metallics prices in various regions. For instance, US busheling prices remain much lower than shredded scrap and pig iron, while South Asian scrap prices are still much higher than those in Far East Asia.
In the US, November marks the second consecutive month of shredded scrap holding a premium to #1 busheling, a trend last observed in 2016. This is because the supply of prime scrap has remained robust due to higher automotive output while that of obsolete is affected by approaching winter and disincentivized collection due to subdued prices. Moreover, while scrap prices have fallen by $20–30 per long ton MoM in November, pig iron prices were sideways, causing the decoupling between the two to widen further.
Foreign pig iron suppliers to the US, mainly in Brazil, are citing higher input costs (particularly for charcoal) as a reason for hot tags. But such cost support is not there for scrap prices.
In Europe, scrap prices have held MoM, despite cost support from high energy prices subsiding. A key development in the European market is that the variable implementation of government policies to control and reduce energy and electricity prices has upset the competitive landscape between European steelmakers.
For example, the Italian government has implemented electricity cost subsidies through the months of October and November, compensating producers for 40% of their electricity costs. This has given Italian steelmakers an advantage compared to neighboring countries, where similar policies are yet to come into effect.
Italian mills have quickly taken advantage of this, selling finished steel into southern Germany at price levels where German producers cannot compete given their own cost structures. This has translated to greater demand for Italian scrap, which has led to diverging trends in Italian prices compared to the rest of Europe. However, Italian scrap tag increases have slowed compared to last month.
In Asia, ample scrap supply alongside weak steel production has dragged down prices again this month. Chinese domestic scrap prices suffered huge declines in October, falling RMB400 per ton between the start and end of the month, only to find some support in early November.
While Southeast Asian prices remain subdued, South Asian scrap prices have found some support due to steady flows of scrap imports by India and Bangladesh, although at a much slower rate than in recent months. Japanese exporters have been offering larger volumes due to a low domestic demand appetite in the country.
Outlook: Prices to Stay Rangebound
We expect that metallics demand will remain weak for the remainder of Q4 alongside inventory management and the continued weakness in finished steel production and demand. Meanwhile, scrap prices are expected to remain rangebound in the next month as supply availability will start to ease.
Further ahead, CRU continues to believe that reduced scrap supply due to low collection rates during winter in the Northern hemisphere will provide some supply-side support to prices. But lower steel production and, more importantly, lower steel prices and margins, will continue to undermine scrap prices.
In Europe, weak macroeconomic conditions with the ongoing energy crisis will keep the steel and metallics market sentiment subdued as we enter 2023. In the US, the ongoing rare inversion of shredded and busheling prices is likely to extend through to the first quarter of 2023 as we expect little to change on the supply side in the few next months.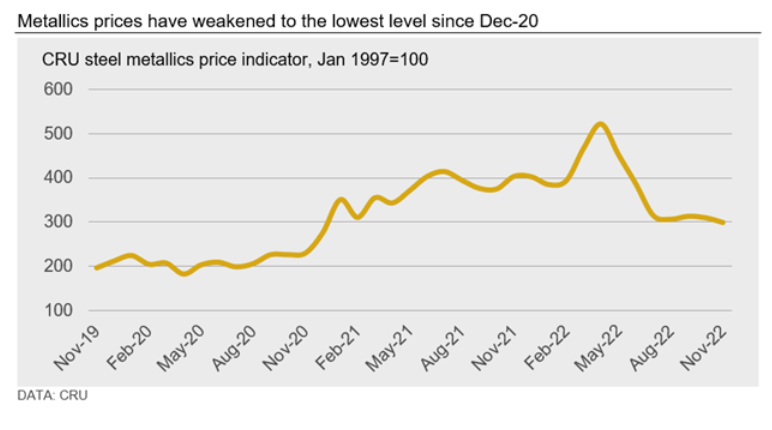 This article was originally published on Nov. 11 by CRU, SMU's parent company.
Request more information about this topic.
Learn more about CRU's services at www.crugroup.com
Latest in Scrap Prices North America