Steel Products
CRU: US Pig Iron Prices Diverge From Prime Scrap Tags
Written by Brett Reed
September 17, 2023
---
Mixed trends were observed in prices of ore-based metallics as demand stayed subdued in Europe and the US. Buying activity had been limited in the US due to several upcoming mill outages and ahead of the UAW strike. However, prices have found stability despite declines in prices of prime grades of scrap.
In the CIS, pig iron prices increased $39 per metric ton to $355 per ton FOB Black Sea. Local mills continue to favor crude steel production, causing merchant pig iron output and export volumes to decline in July and August. Additionally, high transportation costs have limited demand for Ukrainian material, with the main exporting destinations for Ukraine remaining Poland and Romania.
Russian export volumes have continued to decline the last two months because naval blockades in the Black Sea have caused logistical issues. But export prices received support month over month (m/m) driven by restocking activity and a rise in scrap prices. Additionally, depreciation in the ruble has supported profitability for Russian producers.
In Europe, pig iron prices declined $5 per ton m/m to $395 per ton CFR Italy, though the price range of deals has widened this month. US pig iron prices, in contrast, gained stability, rising $5 per ton m/m to $440 per ton CFR NOLA.
The stability in pig iron price stood in contrast to prices for busheling scrap, which declined sharply m/m. Buying activity had been limited due to multiple planned mill outages and ahead of the UAW. Also, pig iron supply in Brazil has begun to tighten slightly as steel production in Brazil has stabilized over recent months. That has allowed pig iron producers in Brazil to keep prices flat m/m and raise offer prices slightly to buyers in the US.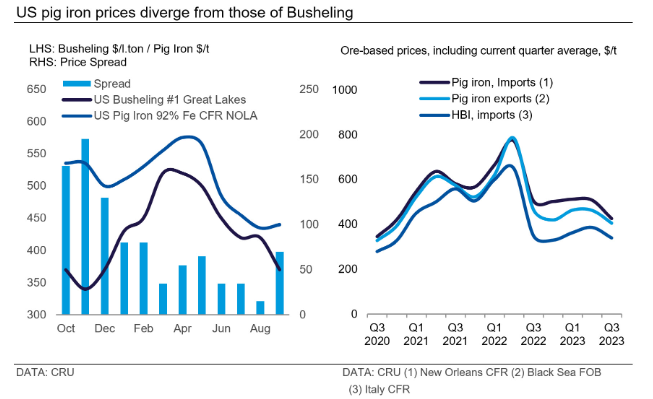 Editor's note
This article appeared first in CRU, SMU's parent company. You can request more information about this topic. You can also learn more about CRU's services at www.crugroup.com
Latest in Steel Products