OCTG
Imports Fall in September, But Flat Rolled at Three-Month High
Written by Laura Miller
October 31, 2023
---
The decline in steel imports from August to September was more pronounced than license applications suggested earlier this month.
Total Steel Imports
Steel imports totaled 2,186,760 net tons (1,983,798 metric tons) in September's preliminary count, according to the US Steel Import Monitor maintained by the Department of Commerce's International Trade Administration.
September's count is 4.1% lower than August's imports of 2,281,066 tons and 2.3% lower than September 2022's imports of 2,238,793 tons.
License application data for September had suggested imports were flat from August and higher than the same month last year.
September was the slowest month for steel imports since November 2022 (Fig. 1).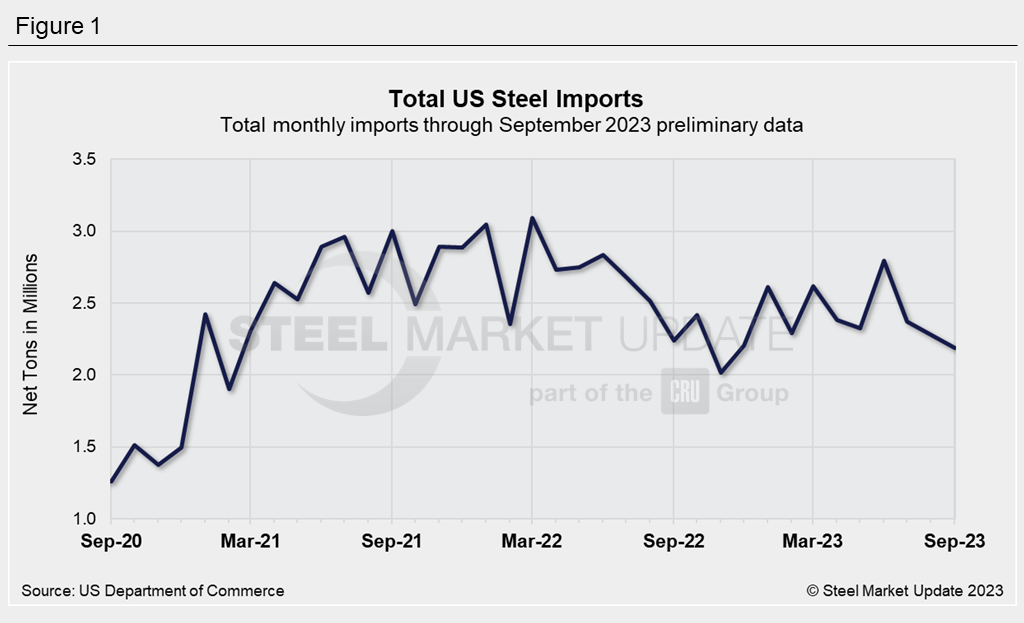 Imports as a 3MMA
Looking at imports on a three-month moving average basis to smooth out the month-to-month fluctuations, we can see that imports have been fairly steady for most of this year but took a dip in September (Fig. 2).
September's 3MMA slid 8% from August to 2,280,413 tons.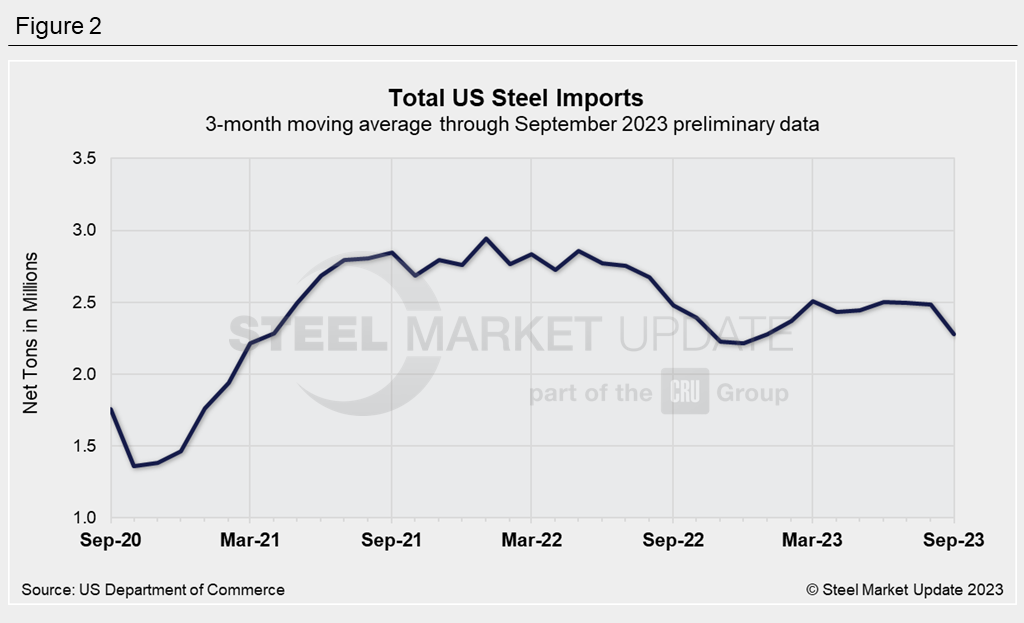 Semi-Finished and Finished Steel
Semi-finished steel imports hit a 23-month peak of 783,911 tons in June, but then fell back for two consecutive months to 409,348 tons in August. Semi imports then bounced back in September, jumping 45% month on month to 592,162 tons.
Accounting for the bulk of the increase, slab imports from Brazil more than doubled MoM to 328,943 tons, according to the government data.
Finished steel imports, meanwhile, fell back 15% from August to 1,594,598 tons in September. We have to go back to February 2021 to see a slower month for finished steel imports (Fig. 3).
Long products and pipe and tube imports slowed notably in September (see Table 1 below), accounting for the large drop off in finished steel imports.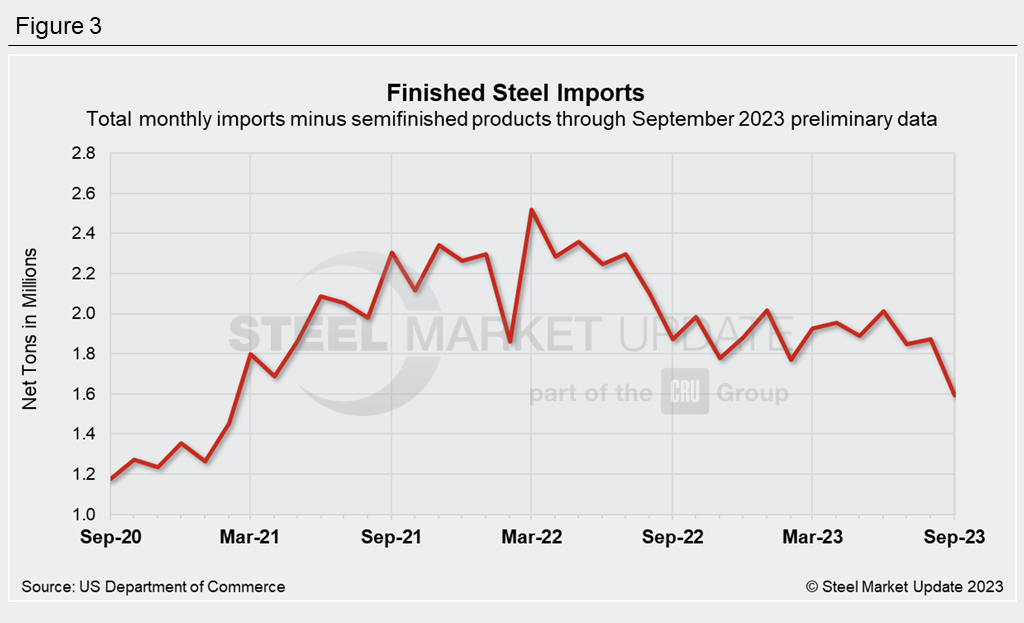 Flat-Rolled Steel
Flat-rolled steel imports were at a three-month high of 862,263 tons in September (Fig. 4).
Hot-rolled sheet imports jumped 49% MoM to an 18-month high of 256,963 tons. There was a spike in hot rolled shipments from South Korea to 94,372 tons. Recall that imports from South Korea and Brazil have been higher in the final months of the quarter, as importers seek to fill hard quotas in place for those two countries. The hard quotas are in place instead of the 232 tariffs many other countries are subject to.
Hot rolled imports from Japan were at a recent high of 29,930 tons, according to the import monitor, as were imports of the same product from Brazil at 9,560 tons.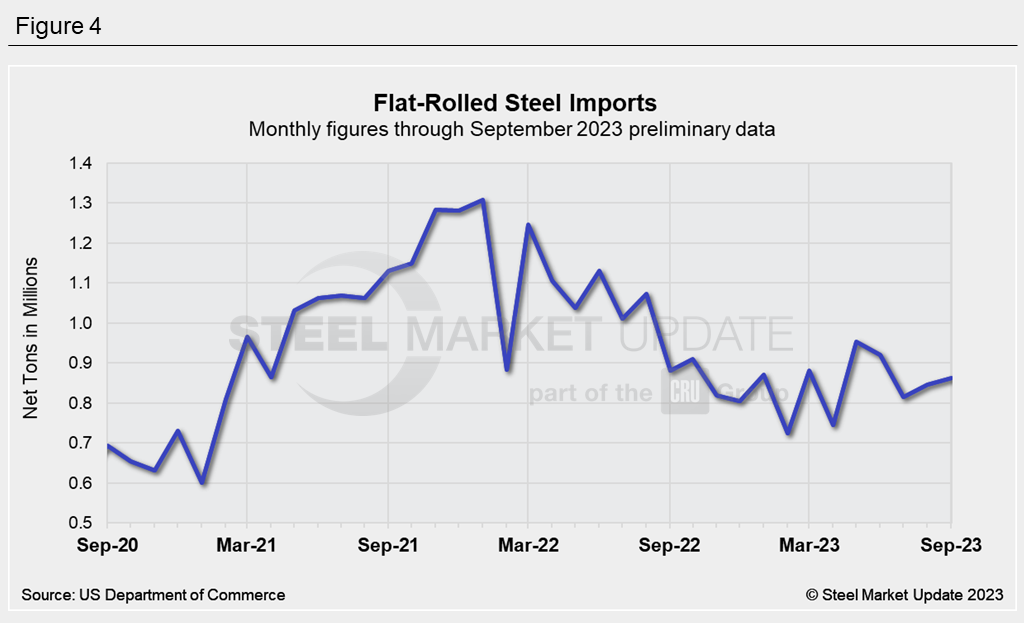 Pipe & Tube
Pipe and tube imports hit a 25-month low in September of 351,168 tons (Fig. 5), mostly due to a slowdown in imports of OCTG.
In April, OCTG imports hit a recent high of 341,595 tons, but in September they declined to a 31-month low of 107,630 tons.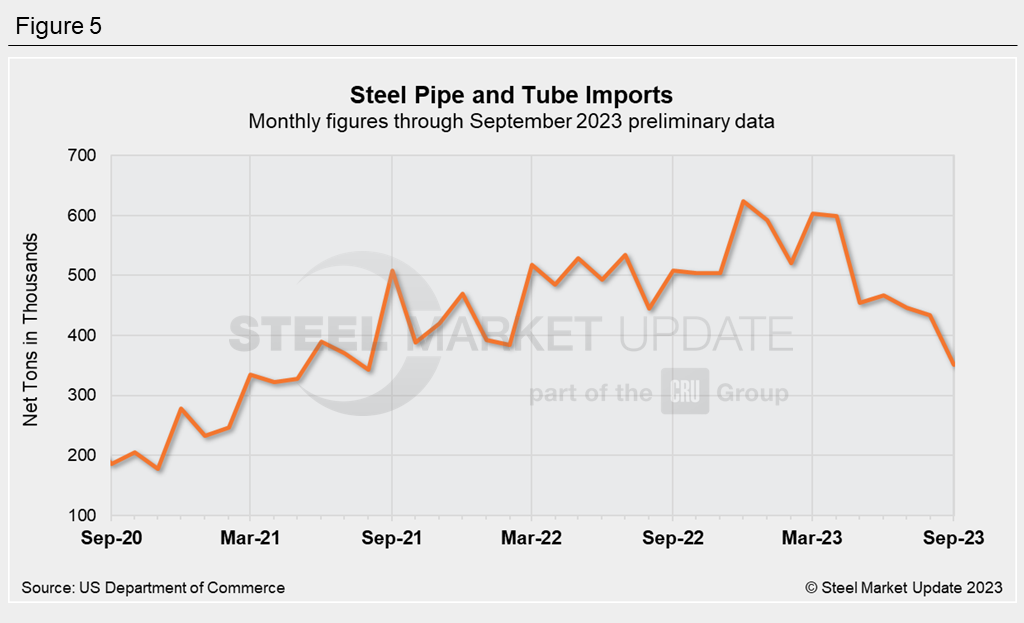 Imports By Product
The chart below provides further detail into imports by product, highlighting high-volume steel products.
Note the significant decline in long product imports: rebar, wire rod, wire drawn, hot-rolled bars, and heavy structurals all showed noticeable MoM and YoY declines. Rebar imports decreased drastically. This is mostly due to slowing shipments from Algeria and Egypt, whose rebar shipments to the US have been significant in recent months.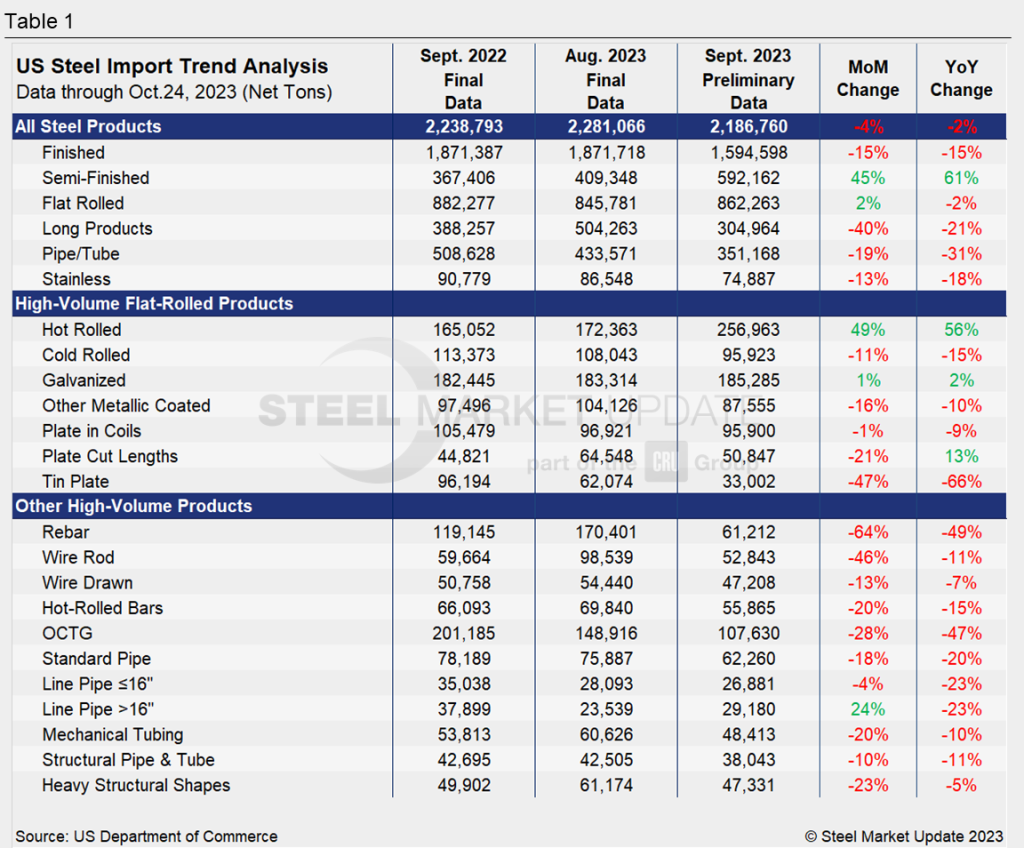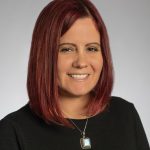 Latest in OCTG