Steel Products
SMU MoMo Negative for Fourth Week
Written by John Packard
February 8, 2013
---
Utilizing a trailing average hot rolled coil (HRC) price, the SMU Price MoMo Index for flat rolled steel in the U.S. remained below zero percent this week for the fourth week after eight consecutive weeks of positive momentum readings.
MoMo is based upon the current hot rolled coil price weighed against the previous 12 week average spot price as recorded by Steel Market Update. MoMo, as we like to call it so as to not confuse it with our SMU Price Momentum Indicator, was measured at -1.13 percent this week. MoMo increased 1.79 percent over last week's measurement of -2.92 percent. The graph below demonstrates the relationship between hot rolled coil and the momentum in pricing.
The SMU MoMo meter – now negative– serves as a lagging indicator demonstrating the historical price momentum trend.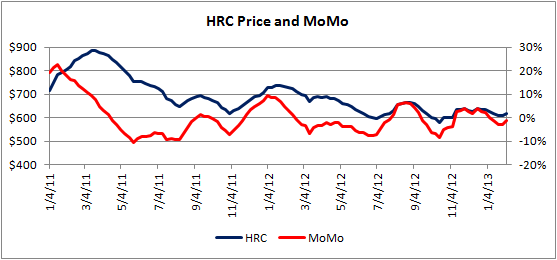 Latest in Steel Products