Steel Products
Big River Steel Collecting Investors – Nucor Getting Nervous
Written by Sandy Williams
February 20, 2013
---
Written by: Sandy Williams
The Arkansas Senate and House questioned a panel of economic development and finance officials last week on plans for the $1.1 billion Big River Steel project in Osceola, Ark. The meetings were a preliminary step in legislature approval of a $125 million bond issue for the proposed steel plant. The state's Amendment 82 allows for the Arkansas legislature to use general obligation bonds for major economic development projects.
 
The proposed state investment is comprised of a $50 million loan, a $50 million grant, $20 million for pilings and infrastructure and $5 million for bond insurance. Other incentives offered to the project include sales tax refunds on building materials, machinery and equipment; 4 percent income tax credit for five years; $10 million from the Governor's Quick Action Closing Fund; $5 million from the Department of Workforce Services Trust Fund; a recycling tax credit equal to 30 percent of eligible recycling costs; and a sales tax exemption on utilities including natural gas and electricity.
In addition, Mississippi County is providing $12 million for infrastructure needs and the City of Osceola is giving the project $2 million. Burlington Northern and Santa Fe Railway will contribute $25 million to ensure railway access at the mill site. The Arkansas Teacher Retirement System has agreed to invest $60 million in the project as a 20 percent stakeholder.
Big River Steel founder John Correnti is putting together a developer group that will commit $90 million for a 30 percent stake in the company. Koch Industries has been identified as investing $120 million for a 40 percent ownership and a third investor fund has committed $30 million for a 10 percent share.
Big River will produce flat roll steel and low alloy, high strength steel for use in the automotive, oil and gas and electrical industries. Potential customers include Siemens, ABB, Emerson Electric and possibly Little Rock Welspun and the new Tenaris plant in Bay City, Texas, both manufacturers of OCTG.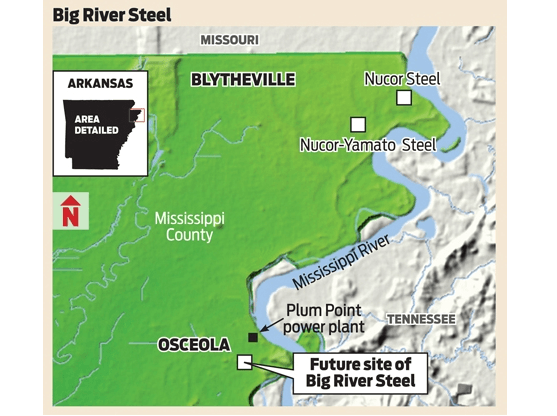 Nucor Concerned
Nucor is expressing concern over proposed new neighbor Big River Steel in Mississippi County. Nucor currently has two flat rolled facilities in the county, Nucor-Yamato (Castrip) in Blytheville and Nucor-Hickman.
The City Wire reports Nucor representatives have disseminated documents to Arkansas lawmakers that suggest the proposed mill in Osceola will be much more competitive with Nucor's facilities than previously disclosed. Nucor says the overlap in business will be significantly more than 20 percent when Big River Steel enters the market.
One document stated, "Big River project will be able to make 100% of what Nucor Hickman currently makes."
Also being distributed is a list which outlines how Big River will compete with the Arkansas operations for talent, scrap, energy and transportation. The City Wire reported Nucor's resource concerns as:
Poaching Nucor talent
Shortage of talent and skilled labor
Scrap availability and pricing
Energy supply/prices
Availability of rail cars and cost of rail service
Nucor has also reminded lawmakers of its strong and continuing support of the Arkansas and Mississippi economy. The City Wire reports that in the last 25 years, Nucor has invested more than $1.9 billion in Arkansas and says it is planning to invest another $138 million in 2013. Nucor also plans to invest $115 million in its Nucor-Yamato plant in Blytheville to expand its hot rolled sheet piling production. Completion of the project is scheduled for early 2014.
Ever since the Big River announcement, there has been skepticism whether the area can support another mill when existing U.S. mills are running at capacities between 75 and 77 percent. Full capacity is generally considered to be 85 percent and, according to the AISI's February 9, 2013 report, domestic capacity is at 76.1 percent, down from 80.7 percent in 2012. Delta Trust identified several risk factors when assessing the Big River proposal for the Arkansas Teachers Retirement System, including the risk the new mill could end up operating at below capacity.
Another risk that Delta, and now Nucor, has put forth is the possibility of significant overruns in the construction of the facility—a fatal flaw that occurred in ThyssenKrupp's Alabama mill and has occurred in other John Correnti projects—notably in Mississippi, Ohio and North Carolina. The failed projects offered the same promises of capital investment, jobs, and incentives only to have private financing fall through.
Not all of Correnti's projects have failed, however, and as a former president of Nucor, the company is well aware of the formidable opponent it may be facing.

Latest in Steel Products