Steel Products
Existing Home Inventory Dropping—Sellers Market says NAR
Written by Sandy Williams
February 22, 2013
---
Written by: Sandy Williams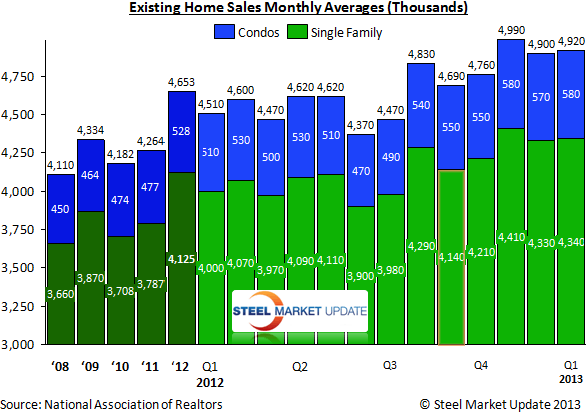 A sellers market is beginning to develop, says the National Association of Realtors, as inventory drops and prices begin to rise. Existing home sales rose a slight 0.4 percent in January to a seasonally adjusted annual rate of 4.92 million from a downwardly revised 4.90 million in December. The annual sales rate in January was 9.1 percent above the 4.51 million units pace a year ago.
"Buyer traffic is continuing to pick up, while seller traffic is holding steady," said Lawrence Yun, NAR chief economist."In fact, buyer traffic is 40 percent above a year ago, so there is plenty of demand but insufficient inventory to improve sales more strongly. We've transitioned into a seller's market in much of the country.
Housing supply at the end of January was at its lowest level since April 2005—a 4.2 month supply at the current sales pace. Inventory dropped 4.9 percent at the end of January to 1.74 million existing homes for sale.
Distressed homes, foreclosures and short sales accounted for 23 percent of January sales, a decline of 1.0 percent from December and a drop of 35 percent from January 2012.
Existing single-family homes rose 0.2 percent to a seasonally adjusted annual rate of 4.34 million and 8.5 percent above January 2012 levels. Condos and co-ops rose 1.8 percent to an annualized pace of 580,000, 13.7 percent higher than a year ago.
Regionally, existing home sales increased 4.8 percent in the Northeast and 3.6 percent in the Midwest. Median prices rose by 2.4 percent ($230,500) and 8.6 percent ($131,800), respectively, from January 2012 levels.
The South had a 1.0 percent increase in January and was 14 percent above sale levels in 2012. The median price in the south rose 13.4 percent from a year ago to $152,100.
The West was the only U.S. region to show a drop in sales, sliding down 5.7 percent to a pace of 1.15 million in January and 5.7 percent below levels in same month of 2012. The median price in the West was $239,800, a 26.6 percent increase above January 2012.

Latest in Steel Products