Steel Products
Durable Goods Lose Ground in January
Written by Sandy Williams
March 1, 2013
---
Written by: Sandy Williams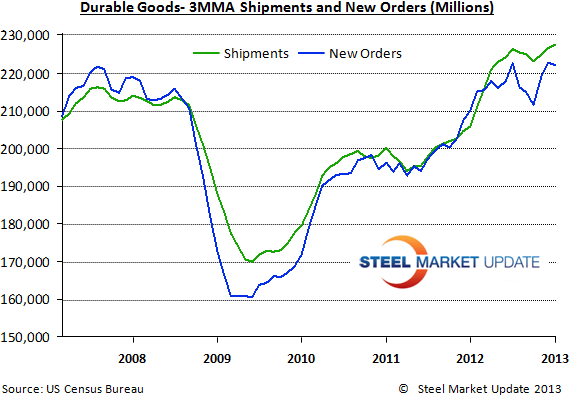 New orders of manufactured durable goods decreased 5.2 percent to $217.0 billion in January according to Department of Commerce data. The downturn in January followed four consecutive months of increase including a 3.7 percent rise in December. Transportation equipment declined three of the last four months, dropping 19.8 percent from December to $59.7 billion in January.
Shipments of manufactured durable goods dropped after four months of increases to $226.1 billion, a 1.2 percent dip. Transportation equipment shipments showed the largest decrease at 2.3 percent to $64.7 billion.
Unfilled orders for manufactured durable goods in January decreased 0.2 percent to $989.2 billion following a 0.8 percent December increase.
Inventories have been up 15 of the last 16 months and increased 0.2 percent in January to $374.8 billion. Transportation equipment helped drive up the overall inventory for the month, with an increase of 0.9 percent to $115.8 billion.
Nondefense new orders for capital goods in January fell 0.1 percent to $72.2 billion. Shipments decreased 1.7 percent to $70.5 billion. Unfilled orders and inventories increased 0.3 percent and 0.9 percent, respectively.
Defense new orders for capital goods in January dropped 69.5 percent to $4.9 billion. Defense shipments and unfilled orders both fell in January. Inventories were up 0.2 percent to $21.5 billion.
Revised December Data. Revised seasonally adjusted December figures for all manufacturing industries were: new orders, $483.4 billion (revised from $484.8 billion); shipments, $483.4 billion (revised from $484.9 billion); unfilled orders, $991.3 billion (revised from $991.7 billion); and total inventories, $614.9 billion (revised from $615.5 billion).

Latest in Steel Products