Steel Products
Iron Ore and Coking Coal on a Downward Slide
Written by Sandy Williams
March 18, 2013
---
Written by: Sandy Williams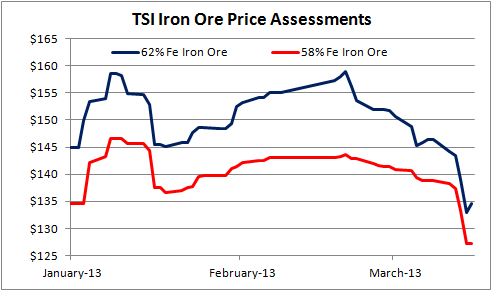 Iron Ore slid this week to its lowest level since mid-December. As of March 15, ore price at Tianjin Port reported by The Steel Index was $134.6 /dry tonne (Fe62%)—a drop of 8 percent in one week. Coking coal fell as well, dropping to $161 a tonne on March 14 from $173/tonne on February 21 according to Platts.
Analysts expect prices for both to continue to slide. The pressure on pricing is blamed on China which consumes 60 percent of the world's iron ore. As overproduction in China leads to production cuts and less raw material demand, iron ore is expected to suffer sharp price correction. The economic activity in China during the past year has begun to flatten out, slowing demand and leaving high inventories in its wake.
In addition, China's State Council, in an attempt to tighten the real estate market, revealed new taxes and payment requirements on property sales. As a result, steel end-users in the housing sector have been rushing to de-stock said Standard Bank analyst Melinda Moore in an article in The Australian.
High steel inventories and weakening steel prices in China, according to Daniel Scott in a report by Cowen Securities, are "squeezing mill margins and pressuring input pricing lower." Unlike the U.S. and Europe, China is in position to determine met coal prices said Cowen.
The CRU said recently it expects met coke prices to drop significantly due to removal by the Chinese Government of a 40 percent tax on met coke exports.

Latest in Steel Products